Photos: January in the Jungle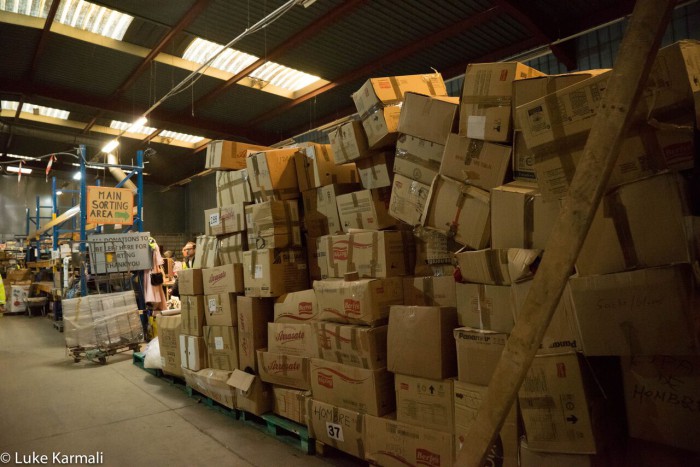 As European winter weather finally begins living up to its reputation, volunteers continue to travel to refugee camps on the North French coast.
Photos by Luke Karmali.
The inspiring, testing and never-ending aid efforts in Calais and Dunkirk welcomes new and recurring, temporary and permanent assistants all the time; last week, at the suggestion of my sister – a recurring volunteer – I, and a group of eight friends from Bristol and London made the short trip to join them. I always get seasick. Here's some photo evidence of my pallid, grim face as I only just manage to keep down half a Pieminister (yeah, on a ferry…for a fiver.) Luckily my fragile constitution only had to hang on to itself for an hour – the trip from Dover to Calais was far quicker than I'd assumed.
Other than how easy and cheap it is to book an Airbnb, a ferry and hop over to France, what struck me was the challenge to my expectations. I had expected there would be little in the way of food and donations now that the sensational footage of migrants jumping onto moving lorries had fallen out of media vogue, and that both volunteers and refugees would be fairly depressed. In fact, those in the camp greeted us all with a sympathetic smile, the main co-ordinator at the warehouse gave a rousing speech every morning about the successes of the aid effort, and volunteers bonded over how many donations end up on the 'silly' pile, and how much the dust from long-unworn clothing was making them sneeze.
We spent one day in the warehouse, sorting through the ever-increasing mountain of donations, listening to a range of volunteers' playlists (Bieber is far more tolerable when followed by metal-infused dubstep and French hip-hop), and one day clearing rubbish and broken tents in the camp. Clothing and food donations are pouring in – money for infrastructure is not. This is the crucial issue now: if you want to help the effort in Calais and make a difference to the lives of those seeking asylum, either get yourself over to France for a few days, or donate what you can to ACTED, who, alongside Médecins Sans Frontières, are struggling to provide for the camps the sanitation, and dignity, that we take for granted.
The French and British governments have contributed only fencing and policing to keep those who are trying to begin a new life penned into what they feel is a prison – as is often the way, it is up to the public to band together and build what is needed for survival, as a community of solidarity.