It's not all strikes and marches: Bristol's struggle for fun, leisure and knowledge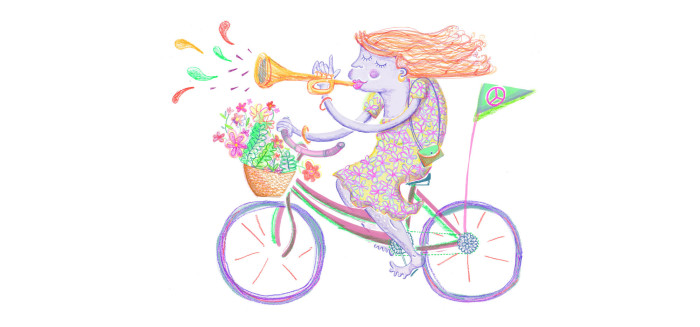 Despite Victorian workers' crushingly long hours, many who strived for a better world were determined to make the best of it in the here and now.
That didn't necessarily mean heading to the boozer. Many of Bristol's early socialists were passionately anti‐drink, determined to use what little leisure time they had for 'self‐improvement'.
"Readings, recitations and music" may not sound like fun to today's activists, but were remembered warmly by early trade unionists who gained insight into new ways of seeing the world. "It lingers in my memory as some enchanted Hall of Dreams," recalls one participant in Samson Bryher's 1929 book An Account of the Early Socialist Movement in Bristol. "There was music and dance" and "the comradeship of song".
Rambling (country walking) and cycling became an important part of the alternative vision for a more equitable world. Over 100 members of the local Rambling and Propaganda Society would set out from Bristol.
"Miles of lanes and fields were traversed, tea being partaken of at a pre‐arranged beauty spot, after which games were participated in." The Society's choir "delighted all by rendering of part songs and glees, and the walk home in the evening was enlivened by the singing of Socialist songs".
Not that propaganda, or in today‐friendly terms 'outreach' work was neglected – "there was never a jaunt without a paste pot and brush handy with which to affix Socialist mottoes and texts to gateposts, stiles and the like". The reaction of local farmers to discovering the words: "The paradise of the rich is the hell of the poor" attached to their fences is not recorded.
Today's politically motivated cyclists were preceded by the local Clarion Cyclists, who were equally determined to change the world. Describing them as "a cheery band", Bryher turns to block capitals to record their main ambition – "TO CONVERT BATH", no less.
While those ambitions had a comical side, the vision that inspired them was serious. It was articulated by the famous artist and socialist William Morris in a speech at the Bristol Museum in 1883. "The workman must have due leisure," insisted Morris, "and the duration of the day's work must be legally limited." Attacking the prevailing education system as "a monstrous oppression of the poor by the rich", he argued that "all should be educated according to their capacity and not according to the amount of money which their parents happen to possess".
Workers who had been enabled to read made the most of the opportunity during their meagre leisure time. In his book The Intellectual Life of the British Working Class, Jonathan Rose argues that it has been
"proven beyond reasonable doubt that the great books had plebeian readers, [that] reading has long been a necessity of everyday life for ordinary people, and that books were an important part of the material culture of most working‐class homes".
This was true well into the twentieth century. The 1944 Annual Report of Bristol Public Libraries records that Dickens, Hardy and Austen were the second, third and fourth most popular novelists in its libraries. But in local theatre there seems to have been a clear division: the Bristol Old Vic for the middle and upper classes, the Empire Theatre on Old Market for the working class.
Early evangelists for change didn't confine themselves to marches, strikes and speeches – some set out to create a counterculture. In an essay in Bristol's Other History, Sally Mullen quotes a Mrs Pearce who went to Socialist Society meetings in Shepherds Hall, Old Market as a child: "Oh we used to have some nice times. I can remember they used to have an orchestra and singing and piano playing."
The Society set up the first Socialist Sunday School in Shepherd's Hall in the 1890s and held a 'Libertie Fayre' in 1911, featuring "a variety of entertainments, including concerts, a play and an orchestra". Even during the First World War, when so many of its members had been sent to prison for opposition to conscription, the Independent Labour Party was planning the Socialist Sunday Schools it aimed to create when war was over.
There seems to have been little involvement in sport however, perhaps reflecting some Socialists' puritanical outlook. (The much later emergence of the Easton Cowboys and Cowgirls shows that it's possible to enjoy sport and be politically involved.)
It's reassuring to find the word 'pleasure' in a song quoted by Bryher in his history of Bristol's radicals. EJ Watson wrote it as a contribution to the campaign for an eight‐hour working day and asked –
Is rest for idlers only
Who grind and starve the bees;
That they may live like sultans,
In affluence and ease?
Shall workers ne'er have time for thought,
For pleasure, rest and play?