The real costs of Bristol Port's coal imports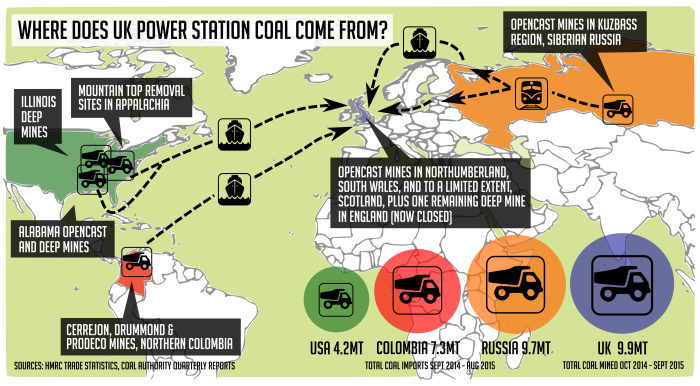 Report highlights how Bristol port's role in supplying coal to UK is linked to destruction
While coal is often talked about as a driver of climate change, little is said about where the coal comes from. A new report by the Coal Action Network shows that the UK is sourcing coal from areas where coal mining is causing grave problems for local ecosystems and communities.
The Ditch Coal report – named after its conclusions- also traces the journey coal from foreign mines to seven UK ports and power stations. With 2.48 million tonnes (MT) of coal imported through its docks, the port of Avonmouth is a key point of entry to the UK. On 11th November, the Glory Pegasus unloaded coal from Russia and the Madredeus unloaded coal from Virginia, US.
The majority of coal is unloaded at the larger Royal Portbury docks. Up to 600,000 tonnes are stockpiled there for later loading on to trains at the Portbury railhead, or taken via Europe's longest coal conveyor belt to another railhead in Avonmouth.
98 fully laden coal trains departed from Port of Avonmouth carrying coal in the week beginning 16th November. The trains head through Long Ashton and  Bedminster, or via the Severn Beach line, to Rugeley, Fiddlers Ferry, Aberthaw, Uskmouth, Ratcliffe and Cottam coal fired power stations.