Why is my curriculum white?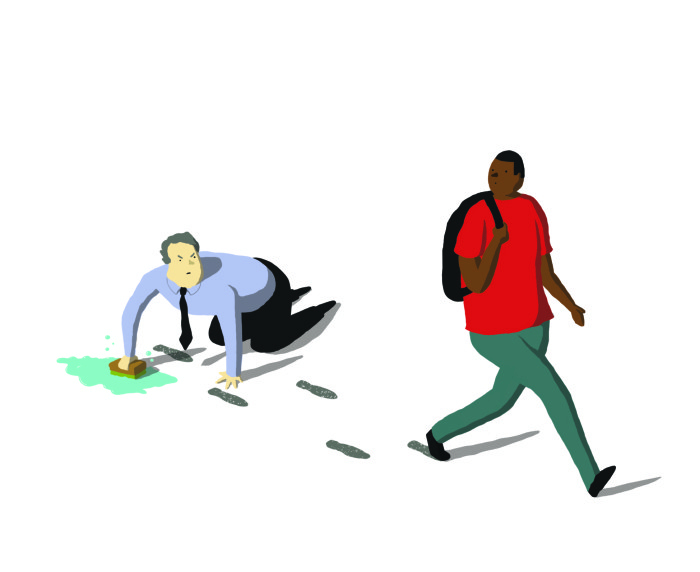 Students in Bristol are challenging the status quo of what and how we learn.
Words: Noha Abu El Magd, University of Bristol Black and minority ethnic officer
Illustration: Andy Carter (www.andycarterillustration.com)
The question above is being asked more and more by students in higher and further education, challenging the European domination, lack of diversity and overall 'whiteness' of university curriculums. A campaign, founded at University College London, called Why Is My Curriculum White? (WIMCW) has led to a wave of initiatives, events and educational series led by students all over the country.
To understand why 'white' curriculums have persisted for hundreds of years, and indeed 'whiteness' itself, it is important to recognise what whiteness is. It's not just a question of skin colour but of the overall dominance of certain ideas and cultural trends that go deep into every aspect of our lives. As a legacy of colonialism, whiteness is a phenomenon in which certain forms of knowledge are considered morally and intellectually superior to others. In this way, it influences society's perceptions of ability, potential and the value of certain ideas.
As further and higher education establishments have a fundamental role to play in the progression of thought and social development, it's no longer acceptable that they remain predominantly white, both in terms of outlook and staff diversity.
Universities love to boast about their values of equality, diversity and inclusivity, but this is seldom reflected in the diversity of the student body, academic staff or curriculum. The whiteness of universities has some incredibly detrimental effects on students. A curriculum that systematically omits Black, Asian and minority ethnic (BAME) students' ancestral histories and contemporary developments, and so fails to intellectually challenge and stimulate, is a major contributor to the BAME attainment gap. BAME students are 20% less likely to achieve a 2:1 or a 1st in their degrees compared with their white counterparts, despite achieving the same grades or better before entering universities.
Analysis has shown that BAME staff are also grossly under­represented in the higher education sector and constitute only 1.54% of the total academic population, despite making up 14% of the general public. White people by contrast represent 87.54%, which is in fact an over­representation (albeit a slight one) of their 86% proportion of the broader UK population. 92.39% (15,905) of professors in UK academia are white, while 0.49% (85) are Black – just 17 of whom are women. And only a tiny portion of those Black academics occupy senior management roles, compared to almost one in twenty of their white colleagues.
The lack of representation in universities, both in individual fields and in senior management roles, means that BAME academics have an isolated experience. According to Aiming Higher, a 2015 Runnymede Trust report, the failure of higher education to recognise certain subjects taught by BAME academics as 'core' subjects means BAME academics are over­scrutinised compared with their peers and more likely to receive temporary or part­time contracts. This threatens job security and incentivises conforming to the white curriculum, thereby reinforcing it. As a result, BAME academics generally leave their institutions at a faster rate than their white counterparts.
WIMCW is a student­led, grassroots campaign that aims to challenge whiteness in education. Working in partnership with both academics and student unions, the movement has already seen many successes from initiating postgraduate research in certain fields to the recognition of institutional racism. Why Is My Curriculum White? recently launched at the University of Bristol. We will be continuing throughout the academic year as a series of reading groups and events ­ all led by students to provide the education they wish to seeand try to bring the university up to date.