A people's history of St Pauls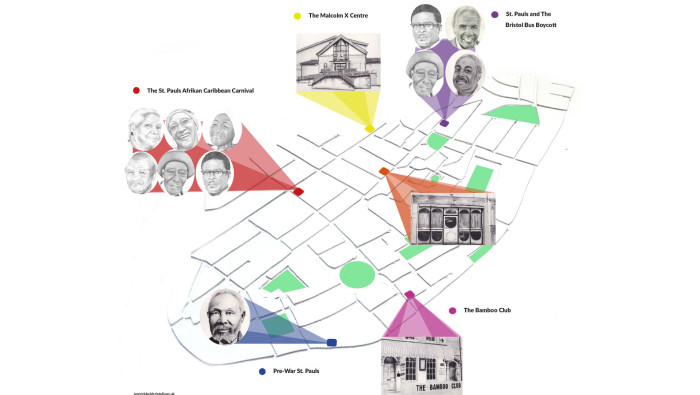 Words and Illustration: Michele Curtis, creator of Iconic Black Bristolians
St Pauls is a famous neighbourhood. But newcomers to Bristol are most likely to have heard of it for one of two reasons. The first is Carnival, currently sadly under threat. The second is the uprising in April 1980 that followed a police raid on the Black and White Cafe in Grosvenor Road. Similar riots would follow in other UK cities against a backdrop of social and racial tensions, high unemployment rates and aggression by the police. Here we take a closer look at some of the area's history.

Pre-war St Pauls
St Pauls' grand Georgian architecture shows the area was once favoured by Bristol's wealthy elite, which included slave owners and merchants. In the 1870s the landmark Brooks Dye Works Company opened, becoming an established employer and attracting more residents to St Pauls.
There wasn't a large African-Caribbean presence in St. Pauls before the 1950s, but there were exceptions. According to the Discovering Bristol website Henry Parker, an escaped American plantation slave, was one of the first Black residents. He settled in Callow Hill, St Pauls in the 1850s, working as a preacher in a local Baptist church and as a stonemason, marrying a Bristol woman called Louisa and fathering seven children.
St Pauls and the Bristol Bus Boycott
"Bristol was a very cold city… both in terms of the weather and the people…" – Guy Bailey
Bristol, as a result of colonialism and migration, is rich in diverse culture. In the 1950s and 60s, migrants came to Bristol (predominantly from the West Indies) as they did to many UK cities. The government invited them to live and work for the 'motherland', promising employment and a 'better life'.
Many settled around St Pauls and Montpelier – but found the government's promises rang hollow. They found limited, low-paid work, meagre housing options, exclusion and racism. In 1962, residents Owen Henry, Roy Hackett and Clifford Drummond established the Commonwealth Coordinated Committee (CCC), aiming to improve the quality of life for people in St Pauls and beyond, promoting integration and equal opportunities. They met regularly at Drummond's Speedy Bird Cafe or Henry's home, both on Grosvenor Road in St Pauls.
The CCC wasn't the only Black-led organisation in Bristol at that time. There was also the West Indian Development Committee (WIDC), established by Paul Stephenson (later awarded an OBE for services to equal opportunities and community relations), and the West Indian Dramatic Society.
In 1963, 18-year-old Guy Bailey attended an interview for a bus driver's job for the Bristol Omnibus Company, only to be turned away because he was Black. It was Stephenson who Bailey approached for help regarding his treatment by the bus company. The CCC, WIDC and WIDS campaigned together, with the support of Bristol Students Union and city residents, against the 'colour bar' on Bristol's buses, and boycotted them.
Stephenson became the spokesperson. The protest was successful and the bus company employed its first non-white bus driver, Raghbir Singh, an Indian-born Sikh who'd lived in Bristol since 1959. The boycott helped drive changes in UK legislation, in the form of the Race Relations Act 1965 that forbade discrimination on grounds of colour, race, ethnicity or national origins in public places.
The Bamboo Club
"You couldn't go into pubs in Bristol on your own if you were black… you'd get a hiding…" – Roy Hackett
In 1966, Bristol businessman Tony Bullimore opened The Bamboo Club in Portland Square, St Pauls, which – in a first for Bristol – welcomed Afro-Caribbean people. The Bamboo Club was more than simply a nightclub: its emphasis was inclusion, uniting Bristolians under a love of music and entertainment.
"In the 1960s there were no social or entertainment centres in Bristol that welcomed West Indians… when they walked into the Bamboo Club they felt like they were walking into Jamaica," Bullimore would later recall. "They came in and were 100 percent relaxed – it was their place."
The Bamboo Club hosted five bars; DJs played Jamaican and American reggae and soul. The club also had two performance stages where local and international artists including Bob Marley and the Wailers, Ben E. King, and Derek Morgan and the Mighty Diamonds performed.
Bullimore has talked of 400–500 people from as far as Liverpool, Birmingham and Manchester attending on busy nights. The Bamboo also had the Orange Grove Caribbean restaurant and the Cave Bar, which hosted darts and dominoes, and was the HQ of the Bristol West Indian Cricket Club and its football team. Sadly, in 1977 the club closed after a fire.
The Malcolm X Centre
Named after the famous Black revolutionary, the centre's existence is largely attributed to the fallout of the 1980 riots as a way to address community concerns. Since then it has hosted dub nights and sound systems along with community groups, such as the Bristol West Indian Elders Group for over 30 years, and Bristol Refugee Rights. The management is currently in a drawn-out dispute with the council over management of the centre.
St Pauls Afrikan Caribbean Carnival
According to the organisers of the world-famous Carnival, Bristol-based Caribbean people and other migrant communities and Church groups set about creating an event for the community to gather and enjoy themselves and for people to learn more about the cultures of the area. St Pauls Festival was born in 1968, later morphing into St Pauls Afrikan Caribbean Carnival . However, due to funding and organisational issues the Carnival's future is under threat.