Bristol: University of Sanctuary?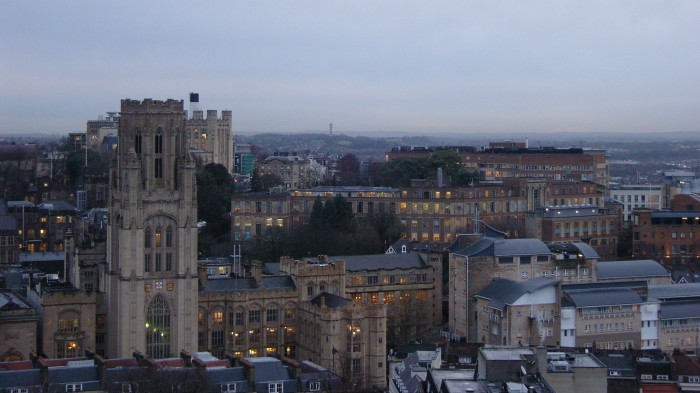 Refugees and asylum seekers should have equal access to higher education, say student campaigners.
STAR Bristol's video features a prospective students wishing to be a doctors, engineers and journalists. It shows the people behind the headlines – young people who have the same hopes and dreams as the rest of us.
Bristol is supposed to be a City of Sanctuary – a place open and supportive to refugee residents. One recent student-led campaign is highlighting how the University of Bristol is failing the celebration of diversity that is fundamental to the city.
The campaign by STAR Bristol (Student Action for Refugees) is following in the footsteps of other groups in Cardiff and Sussex to change the status of asylum seekers and refugees in university applications  from 'international students' to 'home students'. This designation is discriminatory and makes attending higher education impossible for those from refugee backgrounds.
International students are often wealthy. They have to be, considering the average cost of tuition at a university like the University of Bristol, which is from £15,600 a year up to £35,000 a year. In contrast to these sizeable fees, an asylum seeker is typically surviving on around £36 a week, or £1875 a year. Comparing these figures shows how impossible higher education is to access for people with asylum seeker status.
"A small scholarship programme is a limited gesture and doesn't address the root of the problem."
Calling asylum seekers 'international students' is misleading, unhelpful and negative. It's like when the press incorrectly call refugees 'migrants'. Except in this case it is not only dangerous in its negative effect on public opinion, but has a real, significant effect on a young person's life chances.
Recent success from STAR nationally has seen two asylum seekers receive fee waivers from Sheffield University, and £10,000 annual bursaries, nearly ten times what they receive yearly from the government.
The University of Bristol's response to this has been the creation of five scholarships for refugees. Vice-Chancellor Hugh Brady's statement was that "These new studentships will complement our ongoing work with city partners to ensure that refugees arriving in Bristol are able to live comfortably and integrate successfully into society". But a small scholarship programme is a limited gesture and doesn't address the root of the problem.
To those who think these changes would be too expensive to implement, the stats don't back that up. Considering that less than a single percentage point of the population are refugees, and that over two million people were students in 2013/2014, the impact of taking on asylum seekers as home students, even to the individual university, would be minute.
The problem is that while the individual university, Bristol included, reviews each case and doesn't prohibit asylum seeker's application; the issue is not just allowing, but enabling, access to higher education.
This is Anna Lewis of STAR's problem, and one that she and the group are finding hard to move past. The next step, she says, is "collating research into numbers of asylum seekers that have applied to other universities once equal access was offered, therefore demonstrating how it would financially impact upon asylum seekers as well as the university".
Combating the problem of ensuring equal access to education for refugees and asylum seekers is a dual battle against perceptions and finance. The two are strongly linked, and together form an impossible barrier. As part of the City of Sanctuary network, Bristol seeks to celebrate its diversity and welcome those who wish to make it a home. This the University of Bristol's chance to play its part.