My friend, A: a testimony to the need for better mental health services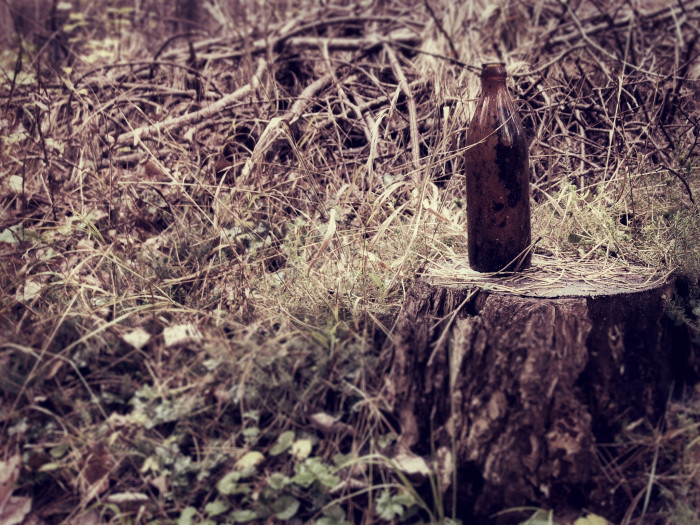 In the fourth issue of the Cable I submitted a powerful photo essay on the subject of a friend of mine, A. She was struggling with severe mental health and addiction issues whilst living out in the community. The photos, and accompanying article, documented the reality of A's life and were a powerful and personal critique on the lack of care provision that she desperately needed.
In the end, the photo essay was removed from the site, a controversial decision that I have contested.* Without the photo essay, I still think it is important to tell her story.
Her's is a story that I believe that has resonance for thousands of people in the UK. People are harmed because the UK mental health system is under-resourced, without enough importance given to patients who need more follow-up care while living out in the community, who are not well able to judge their own needs. Far more monitoring and supervision of people like A is needed than at present.
I first met A about six years ago while we were both attending a self-help group for people who want to get, or are trying to stay, clean. My background is that I too have a history of intravenous drug addiction, and have been clean for 15 years. Initially our relationship was based on me trying to help her do this, and over time we developed a friendship. Before I photographed my friend for a few months in 2014, we had already known each other for several years.
There were two main reasons that I wanted to take these photographs. The first was because I felt there was more that could be done by the mental health services to help my friend whilst she was living out in the community. I also felt her subsequent drug use after leaving rehab prematurely – due to no fault of her own – had escalated as a direct result of this early departure.
By taking the photos, I hoped to demonstrate how difficult my friends struggle was, and how close to death she constantly seemed to be. I felt so utterly powerless to do anything else that I hoped the taking of the photos could at least do this to help.
A's story
A was diagnosed with depression in her early twenties, although a diagnosis of Multiple Sclerosis (MS – a debilitating neurological condition) wasn't made until several years later. Her alcohol misuse first started prior to her MS diagnosis, when she was attempting to do a degree whilst struggling with undiagnosed symptoms. Later this misuse included other drugs, including heroin.
Fast forward several years, and in January 2013 A was ready to attend drug rehabilitation. At this point she should have been referred to a primary treatment facility on completion of a detox. These facilities give intensive support and accommodation for people who've just completed a detox, away from their usual environment.
Instead, she was referred to a second stage facility, unequipped to deal with the needs of someone who has only just come off drugs. But her care manager in charge of this decision had recently gone on leave, so her case was taken over by someone new.
During this detox from Subutex, diazepam and antidepressants, my friend was given anti-psychotic drugs to medicate the psychosis that had been triggered by it. After two days she was asked to leave the secondary stage facility because they couldn't deal with her psychotic behaviour.
She was put on the train on her own while still in a psychotic state, without her family being given a chance to collect her, and drank. This drink was the start of her relapse into drugs and alcohol, and may not have happened had she been accompanied. When she next saw her doctor and social worker, she was put back on the drugs she had just spent two weeks coming off.
During this first psychotic episode she was nursed at home by family, and received one hour-long daily visits from the mental health 'crisis team', who deal with high-need individuals who are not at hospital. This was due to no hospital beds being available for patients who hadn't been sectioned.
After 'coming round' from this episode but still displaying, in the words of her family, 'odd behaviour' (who say it wasn't noted by her care team or doctor) she then relapsed into dangerous psychotic behaviour and was sectioned. At that time she went to the nearest bed which was in Devizes, only later being moved to Bristol.
But after only a month she was again sent home with just one hour a day supervision from the crisis team, and no follow-through if she didn't answer the phone. During this time she didn't take her medication as advised, which led to increasingly strange and dangerous delusions and behaviour. She was a danger to herself and attempted suicide several times.
On one occasion in July 2013 she was discharged from hospital yet again after an attempt to kill herself by jumping in the river. She still wasn't seen as a great enough risk to herself to be sectioned.
A's family desperately tried again and again to get someone to help.
On one occasion I rang the crisis team myself, after a conversation with my friend left me convinced that she was about to try and kill herself again. When I made this call I was told there was nothing the team could do unless the person in question asked for the help themselves.
In autumn 2013, after eventually being sectioned again, my friend then absconded from the facility. Once again, she was in lethal danger but luckily survived. When she finally returned in December 2013 after the section ended, she remained as a voluntary patient.
However, this ended suddenly after she returned from a weekend's home leave to be told that if her partner could look after her for a weekend he would be able to do it full time. A's partner suffers from a condition called Trigeminal Neuralgia, often described as the most painful condition known to man and involving debilitating attacks. As a result of one successful home visit, she was discharged.
In 2014, out in the community again, my friend kept missing appointments with the mental health team due to her unstable condition and it seemed was not properly monitored by the Community system. It was at this point that I started taking photographs.
Also now wrestling with an ever increasing drug habit, my friend struggled through a year whilst before eventually being arrested by the police for making a minor nuisance of herself, who recognised that she was ill and not a criminal. They kept her safe and in January 2015 she was sectioned again, initially in Bristol and then in a slightly more secure longer term placement out of Bristol. Now, thankfully, A is getting the psychiatric help she needs.
Currently, resources are very thin and safe supervision levels are impossible – better rehabilitation facilities and support are essential. How many more families will suffer unbearable stress or worse, tragedy, before mental health care gets the resources it so desperately needs?
*Cable note: The reasons for taking down the original photo essay were complex and it was not a decision taken lightly. We understand Hester's frustration about this, and are very grateful for this written account of her friend's story and the important message it carries.
Photo credit: Roberto Verzo/ Flickr CC