The Bristol Cable AGM '16: A different type of media shareholders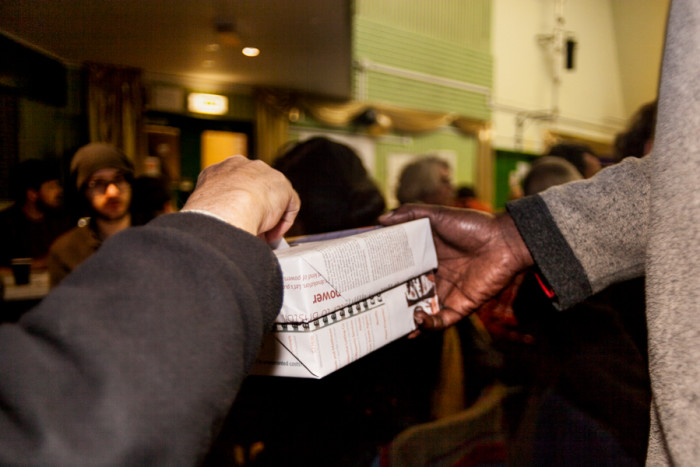 120 people turned out to shape the future of The Bristol Cable.
Annual General Meetings are notorious for being dry and drawn out. Not so at The Bristol Cable 2016 AGM. This was a media shareholder's meeting based on one person one vote, without a single billionaire present (to our knowledge). Conversations, discussion and direct democracy took place with almost 120* people attending the Malcolm X Centre, on Monday 14th March, to participate in the legally required meeting. Members were presented with key practical and political decisions on both operational and editorial questions facing the Cable. In small groups around tables, (and supplied with cider, beer, juice and samosas) members discussed, questioned and voted on everything from the strategic financial plan of the Cable, electing directors, to whether the Cable's media was too serious or not. (Check out the charts below for people's views on Cable journalism and a short video.)
Despite a massive meeting with a range of people, the discussions were dynamic with a keen sense that the aim was to get stuff done, and to enable the Cable to build on successes and momentum so far. A key theme of the evening was balancing the politics and principles of the Cable with the financial pressures facing the co-op. Crucially, members of the Cable's organising team we're asked to account for certain decisions and most proposals were amended prior to voting.
Members overwhelmingly voted for the proposed budget, which amongst other things sees the introduction of a flat and equal freelance payment across the organisation, as well as significant expenditure on a long term training programme. Six people were also elected to join the board of directors, along with several other items of interest such as revising and strengthening the advertising charter. Full minutes,  results and supporting documents as available on the night are available here: The Bristol Cable AGM Minutes and Results 2016 (Draft). (If you're a member, check your emails soon for a chance to comment on the draft minutes.)
Members also prioritised the use of journalistic resources within the Cable. A clear preference for investigative journalism, among other things, emerged (see graphics below).
Overall a good night for redefining media! Here's what a couple of members said on social media:
Radical media is alive and well (and growing!) at @TheBristolCable AGM. Very excited to be a member! pic.twitter.com/Wbh1LTWiHe

— Kitty Webster (@kittywebster) March 14, 2016
Thanks @TheBristolCable – intense and totally worthwhile AGM!

— Aurelie Brockerhoff (@AMBrockerhoff) March 14, 2016
Fantastic turnout, excellent contributions and solid decision making @TheBristolCable AGM tonight – proud to be a member!

— Mary Prescott (@M_Prescott) March 14, 2016
top work (& samosas) from @TheBristolCable at this year's AGM pic.twitter.com/vQoVW0wdIy

— belladonna of radness (@_ednakrabappoly) March 14, 2016
@TheBristolCable AGM w/ 130 members, kudos to the coords for keeping it together and almost on track :-) pic.twitter.com/51YRtqdb8e

— Tim Pushman 'جلال' (@jalalski) March 14, 2016
Democracy in action at the @TheBristolCable agm Malcolm X centre cider samosas & sedition @Ujimaradio pic.twitter.com/QmRoN4b0Ve

— Paul Hassan (@cymyem) March 14, 2016
Well done @TheBristolCable – interesting AGM – just the right amount of democracy vs efficiency – good discussions. Good luck!

— Miles Bullough (@milesbullough) March 14, 2016
Looks like @TheBristolCable has achieved the impossible – Making an AGM a desirable thing! https://t.co/J8v4CgG1QA

— Simon Perry (@simonperry) March 15, 2016
See you next year!
*Although fewer than 25% of members were present, all decisions will be taken as indicative and approved in line with the co-op's primary rules at a Monthly Member's Meeting on 11th April, 6.00pm, 14 Hillgrove Street, BS2 8JT