Fascists and Anti-Fascist activists clash in Stokes Croft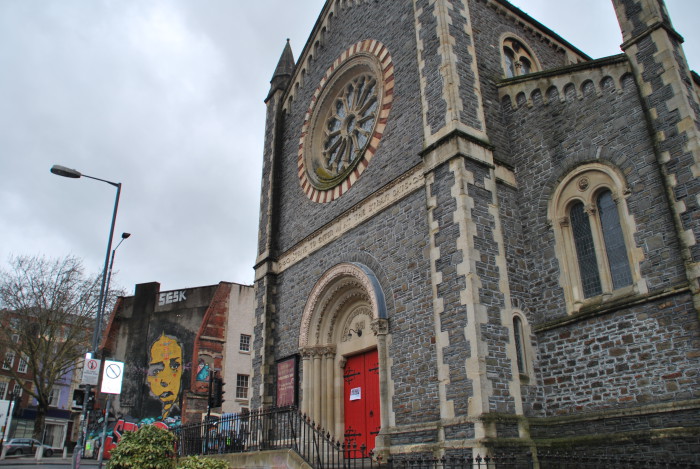 Last night saw unusual scenes in Stokes Croft when the extreme right-wing turned up.
A fight kicked off last night outside City Road Baptist Church in Stokes Croft where a Stand Up to Racism meeting was taking place. The clashes began as a group of between 7-10 men began to unfurl flags including the St George's Cross and the fascist cross, the latter widely used by neo-Nazi groups and violence prone fascist organisations. Within seconds they were on the back foot as anti-fascist activists appeared to confront them and defend the meeting. A series of quick clashes ensued, with the fascists clearly coming worse off and rapidly retreating down Stokes Croft, with some clearly showing signs of injury. Anti-fascist activists continued to keep watch outside the church until the meeting was over 2 hours later.
It is unknown what organisation, if any, was behind the attempted disruption of the anti-racism meeting. However groups such as the South West Infidels and the New British Union of Fascists are known to have activity in Bristol. The fascist action in a known multi-cultural and anti-fascist area may suggest an escalation in tactics by the extreme right in Bristol.
The Stand Up to Racism meeting, attended by around 100 people, continued with several speakers. They were mayoral candidates Marvin Rees (Labour Party) and Tony Dyer (Green Party) as well as Joanne Kaye, South West Regional Secretary for Unison. A representative from the Jamia Mosque in Totterdown, which was subject to a racist action in January, was also present.