Wha' gwan me babber?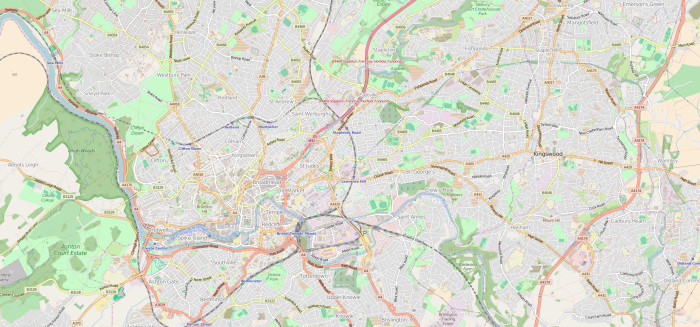 Bristol's annual quality of life survey yields some interesting results
Important: This survey was completed voluntarily by a small proportion of citizens, with black and minority ethnic (BME) and low-income people particularly under-represented. Findings should be considered in light of these factors. Read
full data and infomation
Words: Adrian Canup
Design: Emily Dann
Are you satisfied with life? Is domestic abuse a private matter? Can you influence decisions that affect your local area? Since 2001, these are some of the questions Bristol City Council have been asking thousands of residents in order to "provide an annual snapshot of Quality of Life" in our city.
In 2014, 24,300 residents were selected in randomised surveying, with just 3,500 answering. Nonetheless, the results are certainly interesting. Here we take a look at just five of 130 indicators of quality of life in our fair city.

Do you feel you can influence decisions that affect public services you use?
18.7%
Democratic empowerment seems in short supply, with less than a fifth of citizens feeling they can influence decisions. Interestingly, the figure is slightly higher among Muslim respondents (21%) and disabled ones (22%). At ward level, Clifton rides high on 27%, a long way from Hengrove with just 8%. Maybe (ahem) a new, quality local media source could help…
Do you see family and friends as much as you want?
53.1%
Depending on family relations, this could mean not at all! But seriously – family and friend networks are crucial. Facing some of the highest levels of deprivation in the UK,  66% of people in Whitchurch Park say they see loved ones as much as they want. There's a gender divide in the average, with 48% of men agreeing compared with 58% of female respondents meaning either that male respondents see friends and family less than they would like or female respondents actually seeing their loved ones more often than men do.
Do you agree people from different backgrounds get on well together?
61.2%
Despite the best efforts of UKIP and others, Bristol has stayed steady on this count since 2013. Against a backdrop of rising Islamophobia and scare stories, 70% of Muslim respondents agree, compared with 58.1% of Christian respondents. Wards with the lowest levels of ethnic minority residents (Filwood, Whitchurch Park, Stockwood) report the lowest levels of agreement with the question (40%) while also suffering the highest levels of deprivation. This suggests mixing with different groups actually encourages positive relationships, and that the root causes of inequality need to be tackled, not left to anti-immigrant groups to capitalise on discontent.
Are you very concerned about the effects of climate change in the UK?
28.1%
Although up from 22% in 2013, this is still pretty meagre. Topping the ward list for those freaking out about floods and freak weather is Ashley – maybe the Afro-Caribbeans of St Pauls and the hippies of St Werburghs share a concern for Mother Earth. In contrast, just 13% of respondents in Stoke Bishop are very concerned. As for 2015's results, it'll be interesting to see whether a year of greeno handclapping and backslapping has had an effect.
Do you agree that domestic abuse is a private matter?
7.2%
This has fallen from 14% since 2012 potentially thanks to some great community organisations and other initiatives. More needs to be done though – Bristol Fawcett Society reported 14,273 women and girls aged 16-59 in Bristol were estimated to have experienced domestic abuse in 2013. Check out Bristol Against Violence and Abuse and Lighthouse Victim and Victim Care for advice and information.

Is your main meal prepared at home from fresh and raw ingredients at least four days a week?
83.3%
A healthy diet means a healthy life, said someone somewhere – and it seems Bristol, living up to the stereotype, is a city of fresh-food eaters. Bishopston, with high levels of prosperity and Gloucester Road's grocers on hand, registers a 94% for food preparation and even at the lower end, Frome Vale scores a high 73%.
Are you satisfied with life?
72.2%
Bit of an odd question, but one that suggests overall contentment. Perhaps predictably, there's a gulf between Filwood (56%) and Henleaze (86%), Bristol's second most deprived ward and least-deprived ward respectively.