Carry on doctors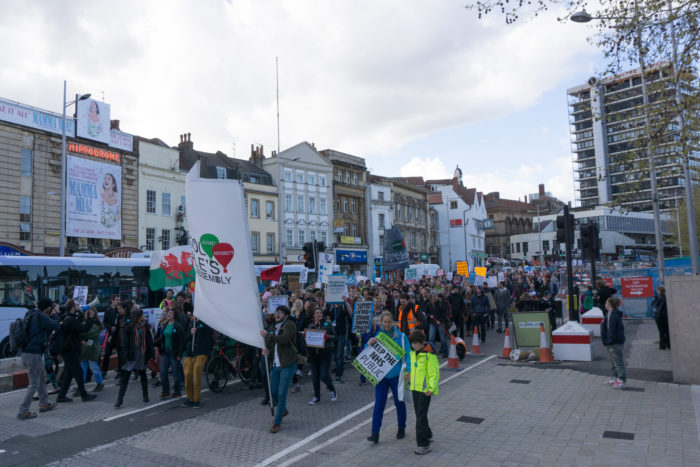 One big strike, sit-down protests, public marches and pickets – the junior doctors aren't going down without a fight.

Words and photos: Lucas Batt
Junior doctors on pickets in Bristol yesterday enjoyed public support all day in a chorus of car horns, as they once again walked out of work over proposed new contracts. Two hundred and sixty people staged a sit-down protest at midday, medical masks covering their faces. Meanwhile, a public march by the People's Assembly marched through town later in the day.
Wednesday is day two. This time, the stakes have been raised, as striking junior doctors have withdrawn emergency care, which includes A&E, maternity, and intensive care.
Concerns that patient safety could be put at risk have been addressed by teams of consultants covering junior doctors' shifts. Yesterday at Bristol's BRI hospital, six intensive care consultants covered a shift usually performed by just one consultant and three junior doctors.
Patients have been chiefly impacted if their appointment had to be rescheduled. University Hospitals Bristol, a trust covering 8 hospitals, report 191 elective surgeries and 1,184 outpatient appointments cancelled for today and yesterday. But even this effect is muted when compared to the pre-strike cancellation rate of between 10% and 12%. Internal documents by the trust suggest industrial action by junior doctors in January increased outpatient cancellations by only 1.5%.
Striking doctors claim that rather than risking patient welfare they are actually fighting for it, as they do every day in their roles as physicians, and now also as campaigners.
For many, the new contract is seen as much more than personally and professionally problematic; it is seen as the first assault in a Conservative strategy to privatise the NHS. A contingent of GPs not directly affected by the new contract joined their colleagues in solidarity, holding placards and giving out stickers to passers-by.
Doctors on the BRI picket line yesterday reported low morale amongst the profession, feeling "under-appreciated, disheartened and demoralised". The next escalation in industrial action, they suggest, will be an indefinite strike. However it is not clear how sustainable such a strike would be, testing the patience of junior doctors foregoing pay and vital experience necessary for training progression, consultants covering shifts, and patients awaiting appointments.
Some suggest the nuclear option: leaving the NHS. Speaking to The Bristol Cable, Dr Kumaran Selvarajah, a junior doctor working at St Michael's Hospital, just up the hill from the BRI, claimed to personally know twelve junior doctors who were leaving the NHS to take up positions in hospitals in New Zealand, where doctors are reportedly better paid and provided with a more supportive environment.
Junior doctors are striking again today, 8am – 5pm, with pickets in Bristol at Southmead Hospital and the Bristol Royal Infirmary.
Check out one junior doctor's argument against the new contracts