Exclusive: Just 13 rough sleepers housed in Council empty home Task Force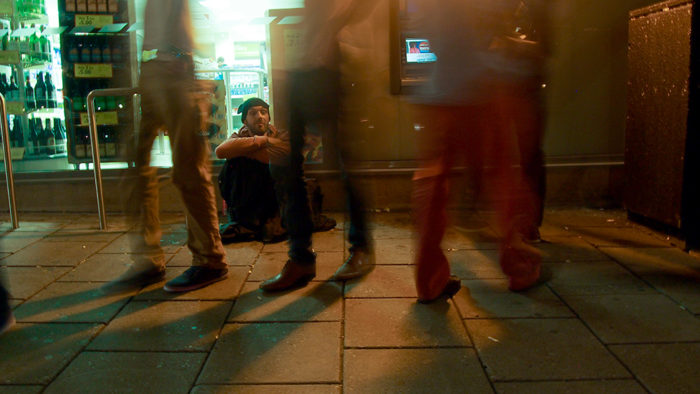 Manchester Council accommodated hundreds.
Photo: Arvind Howarth
Following the delivery of a 12,000 strong petition, in December Mayor Ferguson announced a "Rough Sleeper Task Force" to open empty council properties to accommodate those sleeping on the streets.
Now the Cable can exclusively reveal just 13% or 13 of Bristol's 97 recorded rough sleepers (as of Nov 2015) have been put up by the council between late December and mid March, with just 13 beds available at any one time. Along with the use of 3 vacant council buildings, 32 additional beds were made available by St Mungos Broadway charity.
These figures are likely to be much worse as statistics on rough sleeping are notoriously inaccurate, as recognised by the council itself and by the UK Statistics Authority.
By comparison, Manchester City Council told the Cable that 244 separate individuals had been directly accommodated by the Council as a part of a similar scheme. 40 beds were made available by the council at any one time. Only 70 rough sleepers were recorded in Manchester at the last count in December 2015 but the council, acknowledging the flaws in statistics, accommodated hundreds more. As in Bristol, third sector and other groups added to this total of direct provision.
With Manchester's population at 514,417 and Bristol's at 442,500, these revelations come as the latest  official figures show Bristol having the highest proportion of rough sleepers among major cities outside of London.
Whilst the there was a total of 379 "person night stays" at council properties, the Cable asked the council whether the Task Force has been a failure and how and when the council would be increasing use of empty properties. A spokesperson told the Cable:
"Since the group was set up in December more than 120 people have used the new services that have been made available. These include the following additional services: a 20 bed emergency assessment centre provided in conjunction with St Mungo's, a 15 bed central shelter operated by a faith based organisation in the city and a scheme utilising empty buildings to provide longer term beds for up to 13 people.

We have also increased our direct offers of social housing, which has freed up bed spaces for rough sleepers to go into in supported housing […].

The group remains committed to working with partners from across the sector to tackle the issue of homelessness in the city. Future priorities include; engaging with local businesses, offering outreach support to people being discharged from hospital and simplifying the path through the system to make it easier for people to access long term accommodation."
Whilst Bristol's property market is booming, anxiety and anger is building in the city over the housing crisis with protests against the sale of private auctions of council houses, dramatically rising rents and the complete failure of the council to force private developers to include genuinely affordable housing in profitable new developments.
Things are set to get worse with planning applications for major new developments in St Werburghs and Easton not including a single reduced rate home. When will the the public and the city's leaders finally say enough is enough? Check our article for some tentative solutions by experts in the city.
Source:RoughSleeperTaskForceFOI