Library workers get militant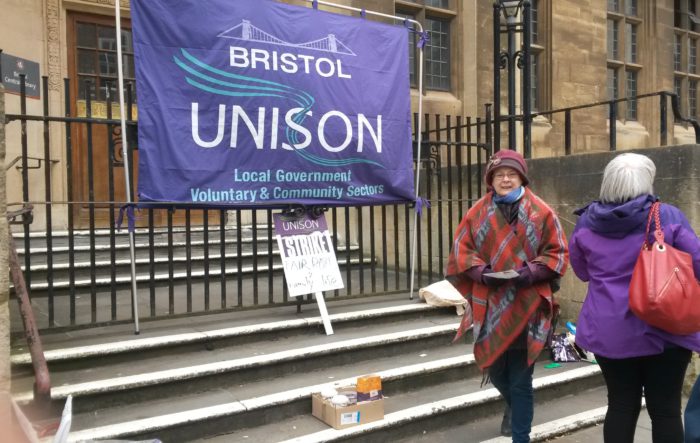 It wasn't just the doctors striking this week. Libraries closed across the city yesterday as library assistants went on strike.
Words and photo: Yasmin Aston-Patel
Library assistants, supported by Unison, were on strike yesterday in Bristol to protest against working hour changes that were part of the library service's restructuring.
Outside libraries across the city and then at Central Library,  library assistants stood at the picket lines armed with chocolate and helpful flyers to let passers-by and library visitors know why they forced closure for the day.
Senior management at the council began imposing the new structure from April 2016, where staff are made to work longer sessional hours throughout the week, including weekends and evenings leaving single parents and others pushed to accept redundancy. Many staff feel the environment was already 'hostile' before the wave of redundancies began, leading to many staff resigning.
The new working arrangements disadvantages staff who have alternative family arrangements and other commitments preventing them from being able to fulfil the requirements of the role they originally applied for. Staff who work as little as 20 hours are, in some cases, obligated to work five days a week contributing to higher transport costs to get to and from work.
One striker said that the strike took place after negotiation with management did not work:  "We would like nothing more than to sit and have a fair discussion about this but this has never been possible."
Members of staff have been kept anonymous.