Where does the south west get its milk?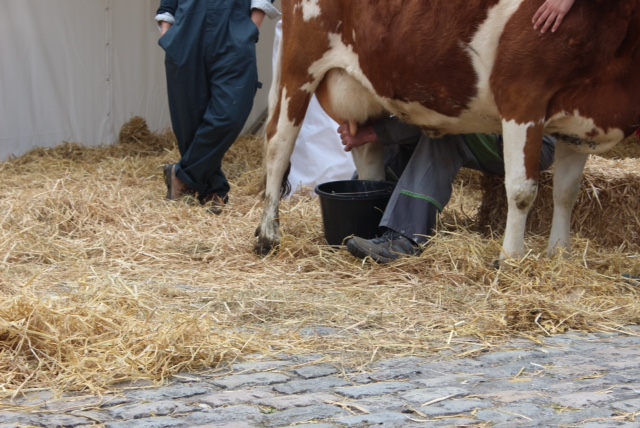 Artist reflects on dairy industry by living with cows in Bristol city centre for a weekend.
Words and photos: Holly Dove
Provocative installation The Milking Parlour, showcasing work by performance artist Vanessa Reid as she mucked, milked and lived with two Guernsey cows in a hay-covered temporary milking shed located at Anchor Square in Bristol's harbour-side, came to an end this Monday after five days of interaction between famers, the public, artists, politicians and environmentalists.
The deliberately controversial exhibition, curated by Cape Farewell, an arts-based organisation connecting climate change and livestock production, invited the public to come watch milking sessions and ask farmers and the artist questions about agriculture, the dairy industry and its impact on the environment.
Speaking to Reid on her opening day, she told The Bristol Cable how the project began.
"The journey began 18 months ago because I wanted to understand deeper my relationship with food – milk was a great lens to look at [this] relationship because milk is the first thing we consume as children.
"Food is really complicated. It's deeply emotional… [The Milking Parlour] is provocative. It's not a project promoting the dairy industry, and it's not saying that we shouldn't have one; it's asking people to question a bit deeper where their food comes from."
"We need enlightened agricultural systems that can feed our burgeoning population, but also not cost the earth," Reid said.
"Can the dairy industry, currently so complicit in causing climate change, be part of the solution?"
Exposing the injustice of a market-system that devalues small-scale dairy farming and the environment, Reid's asked a difficult question; can the dairy industry, currently so complicit in causing climate change, be part of the solution?
One thing is for certain, though; the current model of wide-scale industrial farming does not appear to be working very well. Currently the price of milk is less than a bottle of water.
South West farmer Will Best pondered solutions with The Bristol Cable. "I converted to organic twenty years ago, and never looked back. There is an argument that if everyone did, the market would collapse and nobody could make a living as organic farmers, but still, that is what I would do, wherever I was, because I would be comfortable with what I was doing to the environment and the animals."
His advice to fellow farmers was to "think outside the box".
"[Don't] just go with this ever intensification flow [as it] is actually a road to nowhere, because you create more and more milk, the world gets swamped with milk , price goes down and down, and farmers get less money."
"In the very old days, when I was a young farmer, we had the milk marketing board in England, which regulated the price of milk, and the government, the farmers, the dairy trade and the retailer sat down once a year and agreed the price from the farm on the doorstep to the process, it agreed all the prices, so everybody had a margin. But you just can't do that now because regulation has gone out the window with the free market, so you get all this fluctuation."