Accountability is not a smear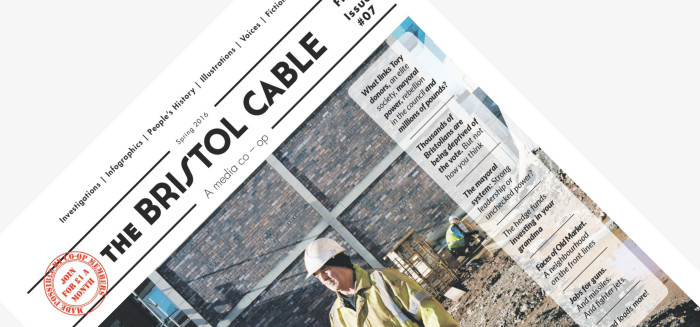 A few words from the Cable media team
On Tuesday night we published a story detailing that Bristol Mayor George Ferguson and senior Council officials knew, prior to the controversial sale of the Council's port land, that Bristol Port Company had intentions to exploit oil and gas, including through deep well fracking.
This information was repeatedly hidden from the public and elected officials during the sale process and has only been revealed now. The Mayor and the Council claim they eventually negotiated a commitment from the Port Company to not pursue oil and gas exploitation. Whilst the Port eventually decided on this occasion to withdraw their application for an oil and gas licence, the council have refused to provide evidence of whether this commitment applies to companies related to the Port Company. Indeed, the Mayor and Robert Orrett, the director of property, have made contradictory statements on the matter.
Equally, as a result of the sale of the land, the Council have admitted that any third party could now apply for oil and gas licences, without restriction. Indeed the Council were told by the Port Company that they would consider selling land "probably to an oil company". In addition we have confirmation from the Council press office that a 'mines and minerals' clause was excluded from the contract at the Port Company's insistence, leaving the possibility open for natural resource exploitation. This information was never made public and was not relayed to all councillors. Now there is a major contradiction from the Deputy Mayor about who knew what and when.
Some have accused the Bristol Cable of playing political games in the timing of this article. Let us be clear, we received 72 pages of correspondence between the Mayor, a senior Council official and representatives of the Bristol Port Company from a Freedom of Information Request on April 19th, only two weeks before publication. To do properly these stories take time.
We requested comment from all parties with ample time to respond.The responses were hours over deadline and avoided key questions. As such we submitted follow-ups and contacted Robert Orrett over the phone for clarification. Comments were incorporated into the body of the article and complete responses have been made available as attachments, along with the complete FOI disclosure.
The Cable co-op is committed to holding power to account, not serving it, including all political parties. The Cable will hold to account whoever wins on May 5th. We are currently following leads with all parties about their knowledge of the fracking potential. The Mayor and the Council have repeatedly been offered the opportunity to clarify this matter through full disclosure of the contract documents. The Cable calls for the Council to make public the freehold's sale contract. It is crucial there is accountability and transparency, particularly at election time. Is that a smear?