Behind the bike: Bristol's bicycle couriers talk their trade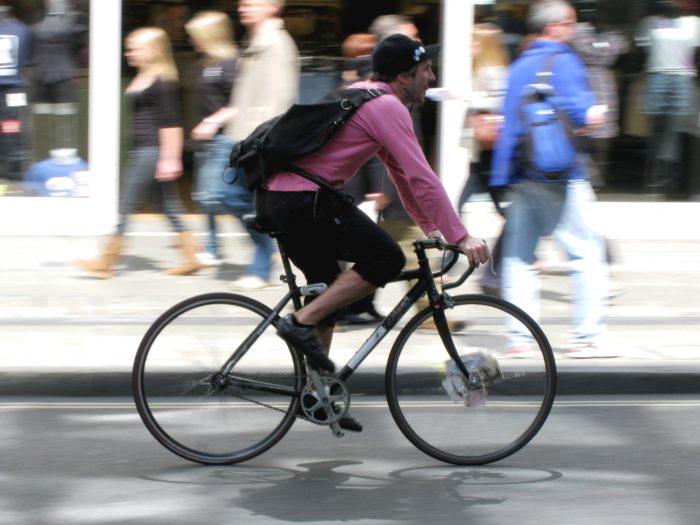 Cycle couriering has been changing in Bristol of late – what's life like for the people who pedal?
You may have noticed an explosion in numbers of cycle couriers in Bristol recently. One company, Deliveroo, seems to be everywhere. Now an international operation, it delivers food from local restaurants (think posh takeaway) and in the UK has grown 25% every month since it was founded in 2013.
Deliveroo, like Uber, is part of the 'gig economy' – its couriers are self-employed and many work flexibly according to availability. People in steady jobs at the firm get some nice benefits, such as subsidised gym membership, but these don't extend to delivery riders. Furthermore, cycle couriering, despite having something of a romantic allure, isn't without its downsides. Workers in the industry have in the past complained of poor working conditions, bullying managers, sexism, racism, danger from riding on busy roads in all weather and a lack of sick or holiday pay.
To find out more about the current picture, we interview a group of Bristol bicycle couriers who agree to talk to the Cable about working for Deliveroo. As some worry about being identified, we've kept them anonymous.
A week in the life of a Bristol bicycle courier*
Distance covered: 291km
Calories burned: 9000
Number of drops: 56
Incidents: two near-misses with vehicles**
Cost of repairs: £25 per week
All the riders we spoke to emphasise feeling happy to be working from the seat of a bike instead of riding a desk but, like most workers, they also want decent money, plus respect for the skill – and risk – that goes into their occupation. 'Traditional' cycle couriers in Bristol, who deliver packages containing everything from legal documents to urgent medical supplies, can earn around £100 for a day that can be finished by mid-afternoon. But the Deliveroo model undermines this.
A hardcore working life
Couriers tell us they make, on average, about 10 'drops' a day, between 15 and 20 on a good day and potentially fewer than five during a lull. They no longer have set shifts but 'log in' when available, picking up their first job in Bristol's 'Central Zone', roughly between Whiteladies Road and the Cascade Steps fountain in the centre. Once on the clock, riders are GPS-tracked and work is assigned to whoever is closest to the next pickup.
On 6 March 2016 Deliveroo changed its pay structure of £6 per hour, plus £1 per drop, to a new rate of £3.75 per drop Monday to Thursday and £4.25 per drop Friday to Sunday – in other words, no hourly rate. Some riders were angry, others had a 'wait and see' attitude to see if this boosted or reduced their monthly wage. A company representative we speak to insists such 'flexibility' is something the workers love.
It doesn't take long chatting to riders to realise that there's a strong community culture associated with couriering, albeit quite a macho one – being proud of doing a 'hardcore' job, doing a lot of drops in a day, pushing yourself to the limit. All the riders we speak to are men; among Deliveroo's 80-strong Bristol fleet (which also includes scooter drivers) we're told almost all are male and aged 16 to 25, with only three female staff. Some 15 to 20 are full-time riders and the rest, students and those with other jobs, are part-time.
Riders hang out together in cafes during downtime and follow each other on Strava, an online service and app that lets you upload exercise maps and get achievements and kudos from followers – another sign of couriering's mix of camaraderie and competition. However it's apparent that if a rider crashes out they could find themselves with no wages very fast. "We're 'self-employed', on zero-hours contracts," says one. "If one of us were to incur an injury that meant they couldn't work, there's nothing set up to help pay rent, bills or anything."
Insecure existence
Part time, insecure piecework and zero-hours contracts are a feature of modern working life and 'flexibility' is touted as a benefit for all. But being 'self-employed' at companies like Deliveroo seems a way of shifting costs onto workers – who in this case have to pay for their bike maintenance and repairs – the equivalent of working in an office and having to pay for your own computer. This is something that many riders are clearly unhappy with. "We want to be paid a fair wage for the difficult, sometimes dangerous job that we do, some kind of protection for if someone gets hurt and a fund for bike repair and maintenance," says one.
Encouragingly, there's been a recent development in the wider industry; cycle couriers in London have been organising with the Independent Workers Union of Great Britain (IWGB) for better pay and conditions. They've also begun campaigning around the issue of how they're classified as workers, with a view to accessing paid holidays and sick pay. If the riders we speak to are anything to go by, don't be surprised to see something similar in Bristol soon.
*Data used in the box-out is an average based on responses from couriers who shared Strava data with the Cable and who provided a rundown of an average day or week at work
**Riders reported that there had been two accidents/injuries in the week before we spoke to them