Jobs for guns: Bristol MP's ties to defense contractors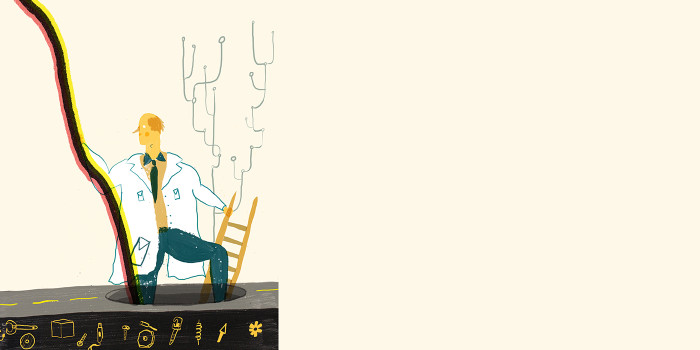 Illustration: Mish Scott
Riyadh, Saudi Arabia, 2012. Three Tory MPs, a Lib Dem Baroness, and an all expenses paid trip to Saudi Arabia. What happened on this visit, paid for by the Saudi government, remains somewhat unclear.
One of those to make the visit was Jack Lopresti, MP for Filton and Bradley Stoke. He registered that he "met with Members of the Shura Council, Government Ministers and various human rights groups", while in the Saudi Kingdom. Oliver Colvile MP had a slightly different recollection of the trip: "we were there to promote arms exports", he explained.
A few months later and Lopresti's memory jogs. He amends his register of interests, remembering he in fact went as part of the UK Defence Forum (UKDF) delegation – a body of corporate lobbyists, members of the armed forces and politicians – "to gain an understanding of the political and security framework as related to the Saudi Government." Fancy that!
Bristol Green Arms Capital
One might wonder why the MP for Filton and Bradley Stoke may have been promoting arms exports to Saudi Arabia. The answer, in fact, lies close to home. Bristol houses one of Europe's largest aerospace and military engineering sectors.
Operating hand-in-hand with the sector is a hidden web of economic and political interests, tied in complex ways to corporations, local MPs, universities and our communities. Bristol's very own military industrial complex.
One small part of this web is local MP Jack Lopresti. Trawl through parliamentary minutes, lists of trips abroad, MPs registered expenses, and Freedom of Information requests, and a picture quickly emerges of an MP who promotes the local aerospace and defence sectors in and out of Westminster (which sometimes involves trips to sunnier climes.)
Just look back at a parliamentary session in 2011. Lopresti, at this time an MP for just over a year, is keen to show his commitment to bolstering arms exports. Speaking from the back benches he asked, "what more can the Government and industry do so that we take an even better approach to exports throughout the whole of the UK defence sector, including MBDA and many other companies in my constituency, to maximise opportunities for the UK?"
Of course it is perfectly proper for a local MP visit local employers, and in a celebratory circuit of his constituency in 2010-11, the newly elected Jack Lopresti visited an array of arms companies. He spent time at Selex, the Italian multinational military technology company, a part of the Finmeccanica group. (A Wikileaks leaked email exchange shows that Selex trained and supplied equipment to President Assad's forces in 2008). Visits were also made to Rolls Royce, the manufacturer of the Eurofighter Typhoon jet engines, and Airbus. Airbus alone employs over 4,000 people in Filton. Not only is Airbus important to the local workforce, but by 2011 it had donated £10,000 to the South West Region Conservative Party (now totalling £16,000).
It is by no coincidence that the MoD's procurement wing, Defence Equipment and Support (DE&S), is headquartered in nearby Abbeywood. A Freedom of Information request submitted by Campaign Against the Arms Trade shows that Bernard Gray, the MoD's chief of Defence Materiel, met with Lopresti for what was listed as a private 'introduction' in 2013, despite them having met before, in 2011. Lopresti declined to comment on what was discussed at this later meeting.
The sky's the limit: Arms and Airshows
For Lopresti, private meetings with arms procurers, parliamentary receptions endorsing arms conferences, and trips abroad thanks to Kurdish oil companies are apparently just part of the job for a local MP, and the list goes on. Take Farnborough Airshow, 2012. Beneath the red arrows Lopresti lunched with David Cameron, and the chairman of Aerospace, Defence, Security, Space (ADS), the industry body. ADS openly profess to "influencing the policy debates of most importance to [their] industries."
Lopresti's fellow diners also included then Managing Director of missile manufacturers MBDA, the UK boss of Finmeccanica, and CEO of BAE systems. BAE, the UK's largest manufacturing employer, was the corporation behind the largest and most corrupt weapons transaction in history; the Al Yamamah, or "The Dove", a deal with Saudi Arabia.
Parliamentary records show that Lopresti's 2012 trip to Saudi Arabia wasn't his last to the Middle East. In November 2015 he attended the IISS Manama security summit in Bahrain, courtesy of the Bahraini government. Conference sponsors include Lockheed Martin, BAE Systems, Airbus, MBDA and Thales.
His most recent trip to the region was to Bahrain in January 2016, where he had the pleasure of enjoying the 4th Bahrain Airshow. Meeting constituency employers at fancy airshows does seem to be a recurring trend. Thanks to missile manufacturers MBDA, who have a site in Filton, Lopresti has been on fully funded trips to the Paris Le Bourget Airshow both in 2011 and 2015.
Boeing to Big Ben: representing corporate constituency interests
In May 2014, Lopresti paid Boeing, the manufacturers of the Apache attack helicopter, a visit. David Pitchforth, Managing Director of Boeing Defence UK, welcomed Lopresti, saying "we are fortunate to have him as a local site MP for Bristol." In parliament later that year, Lopresti asked the Secretary of State for Defence, "Does my right hon. friend agree that to maintain our essential Apache helicopter capability a procurement decision for the upgrade must be made soon?" At £20 million a pop, David Pitchforth of Boeing must have been pleased.
Sure enough, Lopresti has almost always voted for use of UK military forces in combat operations overseas. The day after Lopresti and Parliament controversially voted for airstrikes in Syria, BAE Systems, Europe's biggest weapons manufacturer, rose by four percentage points on the stock markets.
It doesn't take a mathematician to work out that the arms industry creates jobs. It props up a large section of the local economy, and has carved itself a seat – or throne – in our city and South Gloucestershire. As a result, thousands of Bristolian livelihoods now depend on it.
On the face of it, Lopresti acts rationally, defending skilled local jobs and therefore constituency interests. But this economy props up undemocratic, often barbarous states – such as Saudi Arabia and Bahrain. BAE systems and Rolls Royce, companies with local sites, have profited from multimillion-pound contracts with Saudi Arabia. UK defence sales to the country are now facing a parliamentary enquiry for their use in human rights violations, and the deaths of thousands of civilians.
Amnesty International UK's Arms Control Director Oliver Sprague told the Cable, "The Rolls-Royce Patchway plant is at the centre of manufacturing for Eurofighter Typhoon jets, which the UK is sending in large quantities to Saudi Arabia even as Riyadh has mounted a devastating and apparently indiscriminate bombing campaign in Yemen."
Questions of international impact aside, Lopresti's interactions with local defence companies demonstrate on a local level the tight-knit relationship between government, and even junior MPs, with defence contractors. Does pandering to the demands of private shareholders in groups like BAE and Boeing tally with the interests and security of the public, locally and nationally? Lopresti didn't answer our request for comment, but he seems to thinks so.
The Cable repeatedly invited Jack Lopresti MP to comment but received no response.