Judge finds against Avonmouth housing rights occupation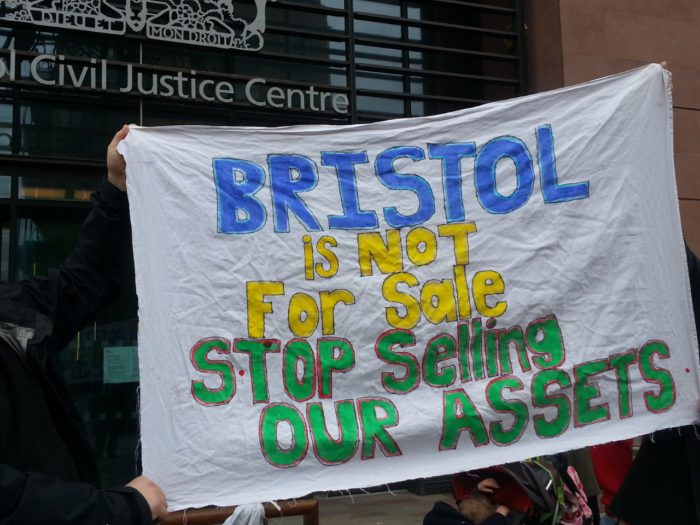 Council granted right to evict housing activist protesters from council home auctioned last month.
Photo: Lorna Stephenson
Protesters who occupied a property to protest the council's controversial sell-off of properties at auction last month appeared in Bristol Civil and Family Justice Centre this morning, where the judge found in favour of the council's right to evict them.
A possession order, giving the council the right to forcefully remove the protesters, can now be served immediately on the property.
A last minute defence was submitted on behalf of the defendants, Norman, Palmer and unknown persons, based on articles 8, 10 and 11 of the Human Rights Act 1998. The central premise is the distinction existing from prior cases' judgements between 'squatters' and 'protesters', whose actions are aimed to advance political aims.
The defence asked for an adjournment – a postponement of two weeks for further preparation –  and another hearing, to debate points raised about the right to protest based on court cases of previous occupation-based protests at the University of Sussex and Occupy London.
Representation for the appellant, Bristol City Council, argued that property rights were paramount and the occupation was preventing the council from completing the sale of the home.
After retiring to consider, the judge delivered the ruling, declaring:
"I am not convinced there is a legitimate defence available to the defendants".
The property, 44 Richmond Terrace, Avonmouth, is the last of the batch of 21 auctioned by the council last month. It was initially occupied by Anthony Palmer, a homeless ex-serviceman who was living in a homeless hostel with his son, on 20th April.
Palmer has been supported by other campaigners, who maintained a permanent presence at the property although none of them lived there full-time. Around 15 members of the public were present at the court and a banner was unfurled outside.
The council now have until the 1st of June to serve the possession order, and will likely employ bailiffs to evict the property at a date yet to be confirmed.