"What do we want? Equal Pay. When? 1970."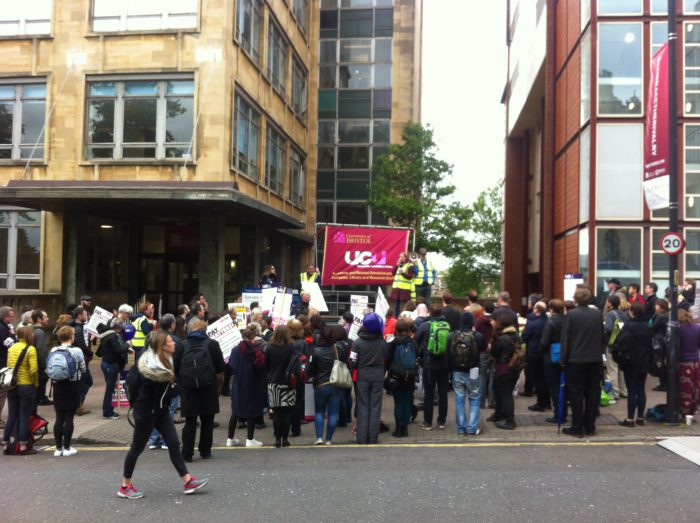 Despite sector profits nationally, universities lecturers strike over poor pay, insecurity and gender inequality
Staff at the University of Bristol and UWE have joined a two-day national strike taking place at universities across the UK, today Wednesday 25th and tomorrow, Thursday 26th.
The dispute arose following a pay offer of 1.1% from the employer body, the Universities and Colleges Employers' Association (UCEA), which the union has described as 'an insult'. UCU said universities could afford to pay more and that the latest offer does little to address the real terms pay cut of 14.5% that its members have suffered since 2009.
Strike action also relates to gender pay gap –estimated to be £6,103 in 2013- and the amount of staff on insecure, temporary, short-term contracts, which UCU estimated at 40%.
A presence from other unions such as Unite, Unison, NUT could be seen in the rally's audience. Universities staff and students proceeded to march from the Senate House to the Wills Memorial building to the sarcastic chants of "What do we want? Equal Pay. When do we want it? 1970."
Harriet Bradley, Professor in Women's Employment at UWE and newly elected Labour Councillor for Brislington West, said
"We are protesting the derisory pay rise that they are affording us. Students value contact with staff not buildings. Staff are overworked and haven't been rewarded for that extra work. It's about a failure of keeping up with the increasing cost of living."
She also said results from a survey at UWE, showed a "gap at the professoral level is where the gender pay gap is predominant. Women are promoted later because they weren't sponsored by professors."
The squeeze on staff salaries comes at a time when pay and benefits for university leaders have increased, on average, by 3%, with the average pay and pensions package for vice-chancellors standing at over £270,000. The University of Bristol vice-chancellor earns £344,000, while the University sat on a surplus of £35.7m in 2014/15.
Nick Varney, UCU regional official, said "the cash cow is the student fees going up, but they won't put the wages up. There is money in the sector, but this is a classic pay dispute. I've never known a time when the differential in pay between the managers and the academics has been so huge. Nationally, the university sector has seen its cash reserves increase by 72% to £21bn."
Laura Ho, Postgraduate Representative Officer at the Students Union said "Our interests lie with the students, and the working conditions of the teaching staff is having a negative impact on students."
"We are mandated to be here by student policy. Any political stance that we take have to be voted on by student opinion. We have active policy that mandate us to support UCU in striking. There is general sympathy within the student body."
UCU staff will be working to contract, which means they will refuse to work overtime, set additional work or undertake any voluntary duties like covering timetabled classes for absent colleagues.
Around two thirds (65.4%) of members who voted backed strike action and over three quarters (77.3%) voted for action short of a strike.
Bristol UCU President Tracey Hooper said "industrial action which impacts on students is never taken lightly, but staff feel that they have been left with no alternative. It's time for universities to invest in teachers, researchers and administrators."
If no agreement is reached in the coming weeks, UCU members have agreed to target further strike action in June and July. The union also said it was beginning preparations for a boycott of the setting and marking of students' work, to begin in the autumn if an acceptable offer has still not been made.