Council face barricades and fail to evict Avonmouth protesters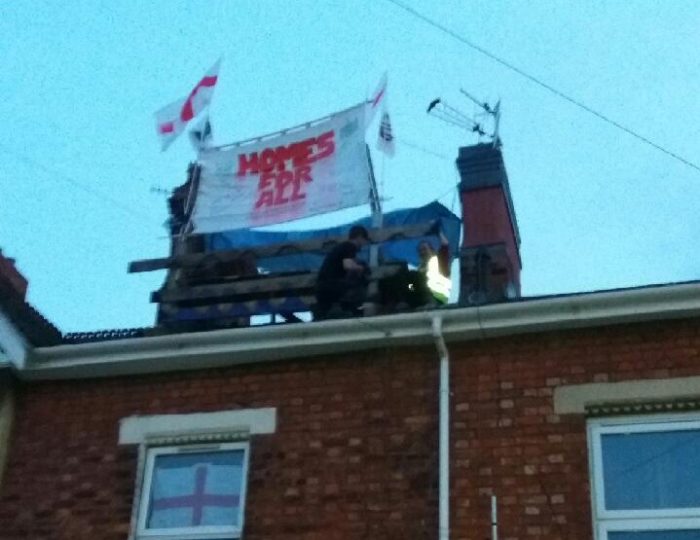 Occupiers of 44 Avonmouth Terrace are still in situ, as council eviction order expires.
Photo: Steve Norman
In further developments of a long running story, at 5am Tuesday morning, council-employed bailiffs joined with police officers to try to remove the housing rights protesters, seeking to block the controversial sale by private auction of council homes claim.
However the enforcement officers could not gain entry into the building, which had been reinforced from within by the protesters who were determined not to get evicted.
After a court hearing last week, the council was granted the right to serve a possession order on the property – giving them the right to forcefully remove occupants and regain control of the property. The possession order expires at midnight tonight, meaning the council will have to revisit its approach.
The house is a council property that was sold by the council at April's controversial auction. Even before the auction took place, protesters had occupied the property – the first being ex-military Anthony Palmer and his son, who were living in homeless accommodation.
In the last week, Palmer was informed he had been moved up the housing list and was considered Band 1 priority, and was then offered a home in Withywood. Campaigners have claimed the development as a victory, but are stating that they will not leave the property until they receive confirmation from the council that the building will not be sold to a private buyer.
Given the new administration has been sworn in under Mayor Marvin Rees – who stated during his election campaign that he would not sell any further council homes – the campaigners may find their demands met. Protestor Steve Norman told the Cable that "we need assurances that the house will not be re-sold if the sale collapses. Once we've had these assurances, they can have the house back."
The council for their part are staying non-committal, telling the Cable, "We are in the process of reviewing the situation at the property and have no further comment to make at this time."