"Ethical" landlords doorstepped by community union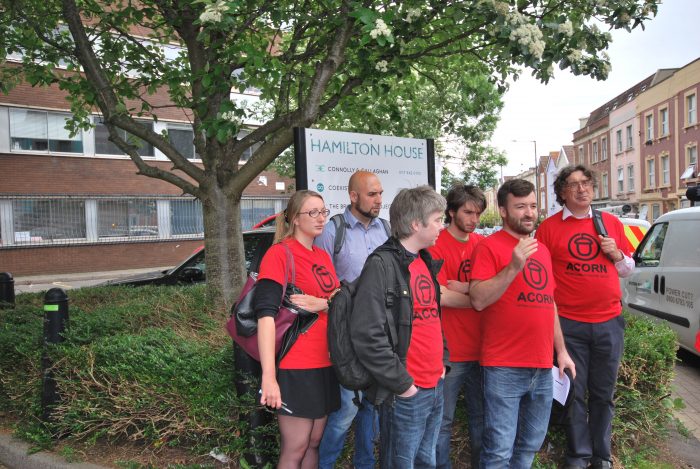 Connolly & Callaghan paid a visit by ACORN as Council look into issue.
The Cable recently reported that that Connolly & Callaghan (C&C) evicted settled tenants from Carpenters Place in Knowle West in order to convert their homes into high-rent emergency accommodation and profit as a result. It is understood that at least one of the evicted tenants is homeless as as a result, with others in a vulnerable situation.
In response to these revelations, members of Acorn community union doorstepped C&C's head office at Hamilton House, Stokes Croft, issuing a set of demands. C&C management were nowhere to be seen, and when called by an employee declined to meet the protestors.
Building on a recent petition, Acorn demanded that C&C stop evicting tenants, halt rent increases, and improve conditions in their housing stock.  Commenting on yesterday's action, Ann Cullum, spokesperson for Acorn said:
We were hoping to gain a firm commitment from them that actions will be taken promptly and that their unethical practices will stop. We felt that it was important to confront the directors face to face to show that the community will hold these individuals to account and that they cannot hide in board rooms or behind their company bureaucracy.

It was disappointing that the directors were unwilling to speak to us and left a junior member of staff to speak with us on their behalf. This attitude sends a clear message to us about the direction and forms that our fight against their practices will need to take going forward.
Take a look at a video here:
In a sign that Bristol City Council are taking interest in the matter, Paul Smith, the new cabinet member for homes and communities, tweeted:
@TheBristolCable@MarvinJRees thanks yes have read your report and am looking into this

— Paul Smith Bristol (@bristolpaul) 31 May 2016
In the meantime, the Cable will continue to investigate so keep your eyes out!