Notes from City Hall: Metro Mayor marches onwards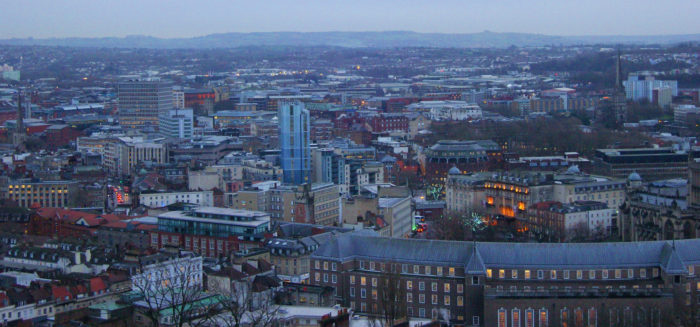 Council Correspondent Sid Ryan, gives his opinion on proposals for a new Metro Mayor – due to be voted on by the Council this evening.
Last Friday I spent a shellshocked (52%…) morning at the Joint Scrutiny Committee. Being a joint committee, it's special, made up of members drawn from across the West of England region. And yeah, everyone else was pretty shellshocked by the referendum result too. They cracked a few jokes, but no one was really smiling.
The context of this meeting is that the Joint Scrutiny Committee is there to decide on and implement strategic solutions to the region's housing and transport issues. And they're about to be abolished. Kindof.
This is because of the government's new 'Metro Mayor' plans, dubiously billed as 'devolution' and due to be voted on by the Council this evening. If you're reading the proposals for this new 'Combined Authority', this Joint Scrutiny Committee is a failure, along with its associates: the Joint Transport Board and Planning, Housing and Communities Board.
The process is too slow, none of the constituent councils can ever agree, they don't have enough staff or support to do their job properly and any plans they make have no legal force – so whatever they decide, it'll get ripped up during implementation so what's even the point anyway.
I thought I'd go along to the meeting and see whether the Joint Scrutiny Committee is really such a pointless appendage of the state. I saw people who lived here, and who had travelled here, so fitting for the committee remit of housing and transport. The structure allowed a diverse set of people, passions and approaches to discuss problems honestly and look for solutions. Not quite the warring tribes that the 'devolution' plans seek to replace with a single person.
The Powers
The current constellation of joint committees have spent about a year working up the proposals for a 'Joint Spatial Plan' and a 'Joint Transport Plan', a 36 year-forward transport strategy which Metro Mayor will get to inherit. Convenient. Doubly so considering it's a big list of potential projects which he (because of course it will be a 'he') will get to pick and choose from when he takes office.  
On top of that work the joint committees are helping to administer a £230m Local Growth Fund and the City Deal, another funding package worth £500m over 25 years. But a Metro Mayor will be better for some reason. Actually, sorry. There is a reason, it's 'governance'. I have no idea what it means either. Something about being better managed? Probably have to hire consultant to find out.
"If it isn't broken, why fix it?" said North Somerset's Cllr Terry Porter (C), whose council have already rejected the Metro Mayor proposals. It reflects the general sentiment, but isn't quite true. There are a couple of things that could be improved about the current regime.
The main one is because the committees are voluntary as opposed to statutory, their plans don't carry as much weight. Not only could the changing political make-ups of the constituent councils throw a spanner in the works, but it's harder to resist the developers who all want to apply pressure to the Council. For instance: the ability to build on nice, plush greenbelt or build luxury flats for accountants rather than what actually works for local people.
Regional scale, long term planning needs to happen. It is currently happening. The problem is that the structure needs formalising. And who's responsible for formalising it? The government. At the drop of a hat, it could say: 'Sure thing buddy! Let's get you those legal powers you need, a little bit of money for a few officers to help you out, maybe a couple of hundred million pounds in another City Deal if you fancy it?' But no. The government want to create a random new elected office instead of working with what's there.
So not only will there be a Metro Mayor, a Combined Authority, and a whole new scrutiny structure, the old version has to continue to exist alongside to oversee the funding deals already underway. At that point the JSC really will become a waste of twelve people's time. It's also worth mentioning that with North Somerset now gone from the deal (but still absolutely required) the plans for 'joint transport planning' are pretty screwed.
The Money
The 'official' reason that this deal will be good is that it secures £30m per year for housing and transport. It works out as £150m in the first five year planning horizon. Literally no idea what actual projects could be funded. I asked, but no answer. And let's be honest, people in the surrounding counties aren't going to care too much about Bristol's housing. This deal is about roads and rails.  
The allocated budget is in no way suited to the amount of work Bristol needs. As far as I can tell the offer of £900m, £30m a year, has been plucked out of thin air. But on the other hand, the actual funding figure doesn't matter so much when the Council isn't going to be building or buying anything. It'll be borrowing for it. So, the government devolve power to the Combined Authority… only for them to hand the reigns to international finance, which cares about Bristol even less than the Government does.
Financiers  look at this agreement and don't see houses and roads, they see a 100% secure, government-backed income of £15m a year in debt repayments and another £15m a year to suck up in consultancy fees. Luckily, the new Metro Mayor and the Combined Authority will be sharing an office in the Engine Shed with UK Trade and Industry so London visitors can be greeted off the train and introduced to everyone. Much more 'efficient', don't you think?
There is also an additional bung of £71m of central government transport money which, reading between the lines, is the only reason this mess is named a 'devolution' agreement. Sounds good but the worry is that in a few years, months in the current climate, government are going to look at that that £71m and wonder whether the constituent councils really need what's left of their roads budget…
Other extras include £60m for adult education during 2018-2020 for 'aligning skills to economic need and promoting economic inclusion'. And now, because of the aforementioned 'better governance' the region will be rewarded by their lords and masters in the Treasury when disbursing the £1.8bn of national Local Growth Funding. Oh and a Combined Authority has better access to EU funding…
The Deal
I really feel that the council officers are in a total bind. They've been told to work up this plan without any meaningful guidance from the Government. You can't write a council report like a column. Spelling it out straight just isn'tdone. It leads to the bizarre degree of double-speak in all the plans surrounding this devolution deal.
The 35 page 'Governance Review' is turgid, repetitive and utterly confusing. It looked at the current problems and potential solutions, and I'll summarise: Options 1-4: don't work because the government won't give us any powers or money. Option 5, a Metro Mayor and a Combined Authority, works because the government gives us powers and money.
That this 'Devolution Agreement', the statutory powers, the sketchy money and the mayor, is being presented by the government as a 'no negotiation' offer, frankly, is bullshit. Normally the government would just ram the proposals through, like the much maligned Housing and Planning Act, but this feint at democracy means that they have to at least go through the pretence of giving people a choice.
If you're to believe the only local polling on the issue of actually having a Metro Mayor, North Somerset's parish survey, people hate the idea. Judging from a lot of the comments over the last week, if anyone had been asked they would also tell you that they hate the name 'Metro Mayor'. I'd definitely agree with that last part. 
But what are you going to do? Me, you, Bristol, the West of England region, the councillors, the council officers and the Mayor have found this false choice dumped in front of us. I'm not going to pretend to know what the outcome will be, but I'd hazard a guess that no-one else does either.
The government's position has always been: 'Just sign it and we'll work out the details later.' From the Council's perspective, this was described as: "Tantamount to running around on the edge of a cliff with a blindfold on'. It's just silly. And if it you might not have agreed last week, right now…
Imagine this: six days before three councils are supposed to simultaneously decide on this gigantic 30 year package split across about six different government departments, someone actually has to ring up, the Treasury I presume, and say: 'Um, considering the economy is tanked and so is the government, are we still good for this deal?' The answer right now is a less than emphatic: yeah.
The vote this evening is going to be close. All three remaining Councils need to approve the agreement for it to go forward, and Bath and North East Somerset is wavering the most. With 65 Councillors, only 33 need to vote against. The antis have already got 15 votes in the Lib Dem group, and the largest party the Conservatives 36 councillors aren't getting whipped, so have a free vote.
The choice is this: A new ruler and some pirate gold, for the legislative recognition that seems necessary. Or take a gamble on who'll be in power in the next few months and try and get what you want separated out from what you don't. The risk is, with politics the way it is, god knows whether this deal will still be on the table in a week, let alone next year. But if the West of England turns it down, are the government really going to deny the region what it needs because of…spite?
My feelings? It's dumb. This'll just end up like 'Foundation Trusts' or 'Police and Crime Commissioners' a democratic veneer over a pointless restructuring. For god's sake, if we were in the United States you'd have to amend the constitution to perform this kind of vandalism of the electoral system. The Treasury certainly would be able to toss off a policy for the budget statement and then cram it down everyone's throats just because they feel like it.