The stories of tenants evicted by Connolly & Callaghan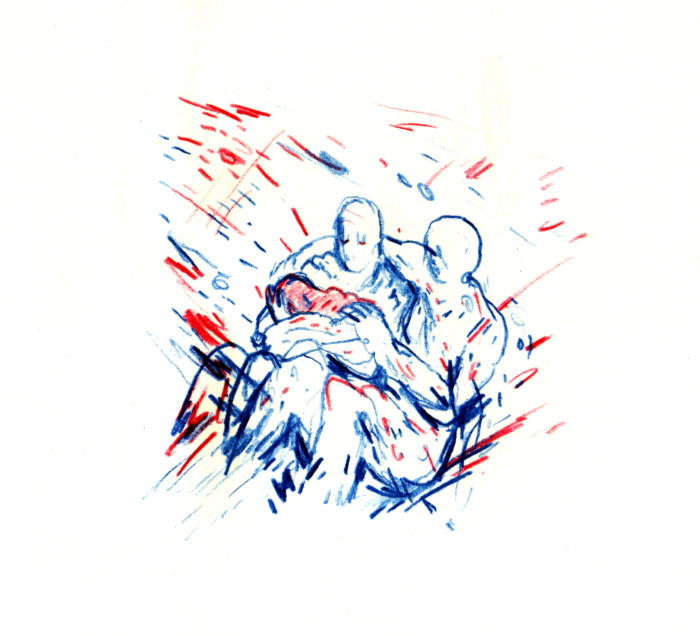 Pregnant, made homeless, and refusing to leave: Meet the tenants evicted by Connolly & Callaghan, Bristol's "ethical" emergency housing provider.
The Cable recently revealed that Connolly & Callaghan (C&C), Bristol's largest homeless accommodation provider, has evicted tenants from Carpenter's Place in Knowle West. The block of flats were purchased by C&C and promptly converted into emergency homeless accommodation, evicting settled tenants in the process. C&C is now reletting flats as high-rent emergency accommodation for homeless families, paid for by the council.
As a local campaign group protest and the council state some level of investigation, below are testimonies from three sets of tenants who were evicted, or are fighting to stay put.
All Illustrations by Sam Knock
Click here for a link to the full response from Connolly & Callaghan.
Pregnant yet evicted
Anya (not her real name) says she was three months pregnant when she and her partner received the eviction notice.
"We were very surprised when we got a letter from the new owner that we have two months to move out. When we got the letter I was in the third month of pregnancy – it caused us a lot of stress and worries because it is not easy to find a flat or house in such a short time," Anya says.
"We wrote a letter to the new owner, asking maybe we could stay longer because we need more time to find a new place at a similar price especially in our situation, we expect a baby." "We waited for an answer but without answers, I called few times but got no answer. I think after 2 weeks we got the call back with answer – we have to move out and we do not get more time."
Anya says that she and her partner went from paying £550 at Carpenter's Place to £850 per month at a new flat; an increase which Anya says has made a "very big difference" to their situation.
"At the end we were all forced to move out without any right to stay two or three months longer and find something suitable."
The family resisting eviction and threatened with legal action
A couple with a four-month-old baby are resisting eviction from Carpenter's Place.
From their one-bed flat, Gary and Lilla explain what they've been up against these past months. Lilla is on maternity leave. Gary studies and works as a care worker on a zero-hours contract.
Gary and Lilla claim Connolly & Callaghan are bumping up rent for the family from £500 per month to £675 per month this June, an increase of 35% (See image). "We tried to negotiate with them as CAB (Citizens Advice Bureau) advised.. like 550-560 per month but they said no" says Lilla. She tells the Cable they simply can't afford to move out or pay the extra rent – and will refuse to.
"At this time and with a baby, I don't want to move… It's difficult for us to pay that much," she says.
"We tried to move out… But we have to prove a £24,000-a-year income, which is a bit difficult at the moment!" says Gary. "They'll take two professionals who work full time… they're not going to chose us," Lilla adds.
Lilla claims C&C has threatened to take them to court if they don't vacate the property or pay the full increase in rent. "They (Connolly and Callaghan) tried quite well to get us scared because they said they'd take us to court next week".
Documents seen by the Cable show that for a flat of similar size in the building, C&C is charging in the region of £1,300 per month for housing an emergency accommodation tenant. Gary joked that if evicted, they could find themselves back in the flat… but as emergency accommodation tenants. "We can stay here. It'll be much easier for everybody!"
Made homeless…. by homeless accommodation provider
She wants to say anonymous. Let's call her Hannah. We meet in a nondescript cafe in town to hear how her life has changed since being evicted by Connolly & Callaghan.
"They pulled the carpet from under my feet. In one day everything was changed for me – I have nothing," says Hannah, who lived for a number of years at Carpenters Place. She's now homeless, staying in temporary accommodation and trying to get rehousing help from the council.
Back in February 2016, when C&C took ownership of the building, Hannah was emailed the new payment details; she tells us she obliged and paid the rent. Hannah was abroad visiting family when the Section 21 eviction notice was posted through her door. She claims C&C didn't notify her by email, and that therefore she had no knowledge that her tenancy was being terminated.
Two to three weeks after the section 21 notice was posted to tenants, according to Hannah's former neighbour Natalia, C&C representatives pinned a notice to Hannah's door stating that they considered the flat to have been abandoned. This was despite the rent having been paid, she says.
"My neighbour, she met me out of the taxi and said, do you know what happened? Your flat is gone," says Hannah of the night she thought she'd be returning home. "Tonight you can sleep with us [they said]. But Saturday [the next morning] they had to leave their flat too."
Hannah claims she asked C&C about the failure to notify her by email about the Section 21 notice. "(C&C) told me on May 9th, 'We aren't obliged to serve notice via email, only mail'," she says.
According to Hannah, C&C lost and damaged some of her possessions when they moved her property into storage. She shows a picture of a washing machine on her phone, which she claims is still in her old flat and being used by the new emergency accommodation tenants.
Hannah tells us she is is still seeking a new flat in Bristol. "It is very expensive [to find accommodation], and they want references, and I'm not working at the moment… I don't understand how they (C&C) could have pressured other people to leave their flats when they had nowhere to go."