A long overdue victory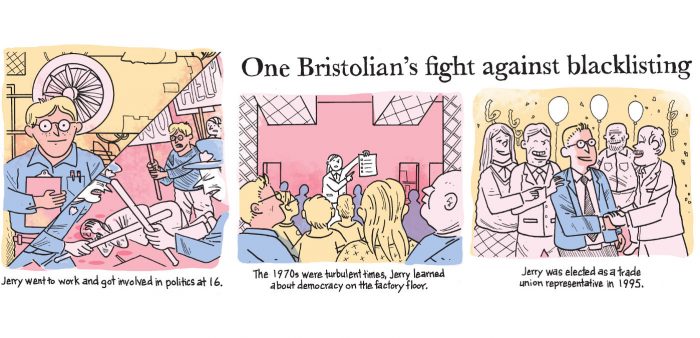 A story of one Bristolian's struggle against the giants of the construction industry
Interview with Jerry: Dean Ayotte
Illustration: Will Dinski
With thanks to Phil Chamberlain
One morning in 2009, the government's Information Commissioner's Office raided the premises of the Consulting Association. Inside were files on thousands of constructions workers. The files were compiled by the Consulting Association over 16 years on behalf of the biggest building companies in the industry, in collusion with parts of the police and security services.
The most common feature shared between the 3,213 workers is trade union membership. The files were used by the companies to monitor and prevent the employment of workers who they saw as troublesome to business. In fact, these workers were only exercising their rights, mostly to bargain for pay and conditions and to raise health and safety concerns.
In May 2016, after years of political and legal struggle between workers and the companies, it was announced that hundreds of blacklisted workers would be awarded financial compensation. While the extent of blacklisting is yet to be fully uncovered, due in part to the non-cooperation by the companies involved, the recent victory is a crucial step in recognising and repairing these gross breaches of workers' rights.