Arms industry funding for Bristol University continues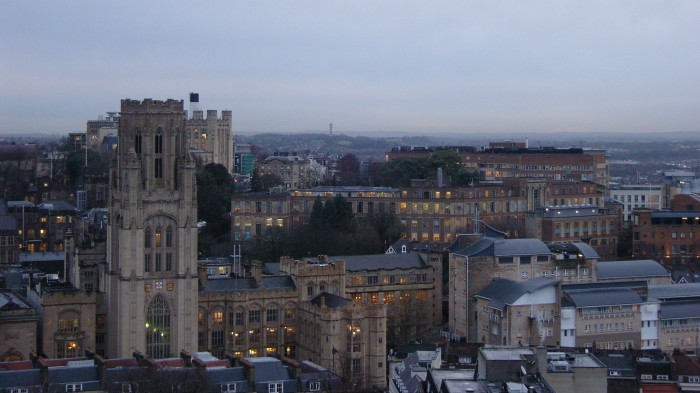 University defends 'robust ethics of research policy'
Outlining its research priorities, Bristol University says it aims to be a "beacon of good practice" and "contribute to the social, political, environmental and economic well being of the region, the UK and the wider world".
Totals donated by 4 companies to engineering department.
| | |
| --- | --- |
| 2010/11 | £1,308,691.77 |
| 2011/12 | £774,235.28 |
| 2012/13 | £678,804 |
| 2013/14 | £566,665.83 |
| 2014/15 | £593129.32 |
Source: Freedom of Information request
Yet the university's engineering department research budget benefits from substantial investment – almost £4 million since 2010 – from companies related to one of the world's most corrupt and damaging industries, the arms trade.
From 2014/15 the aerospace engineering and mechanical engineering departments both received £152,564.66, 7% of each department's yearly research funding, from BAE Systems. In the case of the former, the figure rose from 3% the following year.
Additionally the aerospace engineering department received £288,000 from Rolls Royce (14% of its research funding). In the past, aerospace engineering has also benefitted from investment from other arms trade-related companies, including Cobham, QinetiQ and GKN. While most have civil engineering sections, all are heavily involved in the production of military equipment including the latest in drone and robotic warfare.
The engineering design course has an industrial partnership with Rolls Royce, which is among the world's top 20 arms producers and provides placements to Bristol students. Last year the university signed a partnership agreement with Airbus Group, Europe's second largest arms producer, to develop outreach scholarship programmes.
This investment could explain the willingness of the university to allow such companies a presence at careers fairs. It has consistently provided a platform to companies like BAE Systems, the world's third-largest arms producer. In October 2015, student activists from Bristol Left were threatened with arrest after protesting against the presence of companies related to the arms trade at an engineering and IT careers fair. Students also staged a 'die in' protest outside the BAE Systems stall at a careers fair in 2014.
Fuelling conflict?
Amnesty International has alleged that Saudi Arabia's ongoing bombing of Yemen is aiding BAE Systems' growing sales figures. The company has strongly denied that sales to the dictatorship were helping fuel the conflict in Yemen.
Yet Saudi Arabia (which is ranked a shocking 163 out of 167 countries on the Economist Intelligence Unit's 'democracy index') is the company's third-largest market, with the air force primarily using fighter jets jointly produced by BAE and Airbus. The Saudi-led campaign in Yemen has claimed over 6,400 lives. Among the dead are more than 900 children. The High Court has now granted a judicial review into U.K arms sales to Saudi Arabia as a result of these atrocities. In 2015 BAE saw an increase in sales from £1.3bn to £17.9bn from the previous year.
BAE Systems has also previously been involved in illegal activities. Not only does it export to dictators and regimes accused of human rights abuses; in 2010 the firm pleaded guilty to false accounting and paid out record criminal fines following a corruption probe by UK and US authorities into sales of radar and air traffic control systems to Tanzania. The following year the University accepted £165,000 from the company.
In February 2014 the Bristol Students' Union Annual Members' meeting voted for the union to support 'any action that seeks to raise awareness of BAE's questionable business practices or oppose their presence on campus'. A motion calling for the Union to put pressure on university management to ban BAE from future careers fairs was however defeated. The university continues to receive funding from companies related to the arms trade and promotes employment with them among the student body.
Successful campaigns
At other universities across the country the student body has already successfully campaigned for links with arms companies to be broken. In 2009, UCL, previously the largest university investor in the arms trade, was forced to sell its shares in Cobham plc, under pressure from student groups. Closer to home, in 2013, University of West England students successfully protested for a conference exhibiting companies including BAE Systems and Chemring to be moved off the UWE campus.
"The University has a robust ethics of research policy that covers the sources of funding for research," says a Bristol University spokesman. "We also have an ethical fundraising policy. These policies provide a strict framework in which to consider the implications of accepting funding from different organisations."
The university maintains that it conducts no research into arms development. But while it might not be developing bombs, it is aiding the development of the planes that drop them. The university directly benefits from companies profiting from the arms trade and promotes careers with them. While companies related to the arms trade continue to invest, the university will continue to promote such careers to its students.
Are universities stuck between a rock and a hard place? Investment for research and development is hard to come by. With highly profitable arms manufacturers in constant need of a specialised labour force and technological innovation, they are perhaps a natural investment partner for institutions which also benefit from high graduate employment rates. But for this cycle to be broken, and for Bristol University to fulfil its 'beacon of good practice' commitment, it must develop alternative funding streams and reject arms company investment.