Bristol's Chilcot campaigners have work to do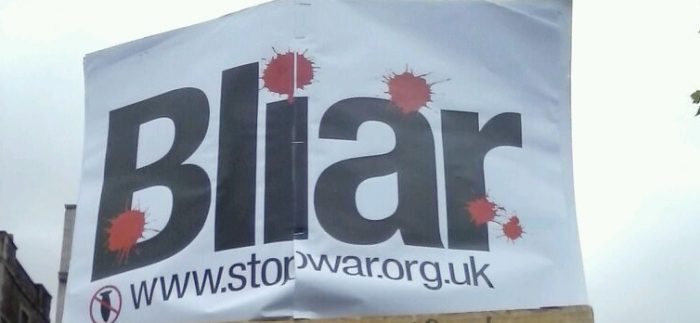 Thirteen years ago more than a million activists gathered in central London for Britain's biggest ever political demonstration, to resist the invasion of Iraq. People stood united against the decision to go to war, yet despite the sheer volume of the outcry, it fell upon deaf ears. Now, after more than a decade, we have the Chilcot Inquiry report on the war.
It states that military action was "not last resort" and that there was "no immediate threat" from Saddam. Tony Blair has since taken to the plinth to express sorrow, but explicitly stated that he did not regret his actions. This was received with scorn by many, including at least 150 to 200 Bristolians, who gathered at the fountains on July 7 to express their feelings on the report, and call for action to be taken.

Photo: Jen Russ
The organisers, Bristol Stop The War Coalition, put on a pantomime-esque demonstration, in which a bloody-handed Blair was carted off and placed in shackles in front of the cheering crowd. Several speakers took to the megaphone calling for unity and the arrest of Blair, followed by activists talking about parallels between imperialist agendas in both Iraq and Palestine.
Several of the speakers highlighted Labour leader Jeremy Corbyn's position on the invasion, and called for people to support him during the party's current civil war. While this may be a positive for those who support Corbyn, this choice of narrative risks alienating those who do not support the controversial leader. There was little mention of the silence of Marvin Rees and  Thangam Debbonaire on the matter.
Whilst the subject of Palestine was broached there was little mention of the effects of the war on the situation in the Middle East; ISIS were not mentioned, and the refugee crisis caused by the displacement of millions was also barely touched upon. Quite a surprise considering the public's wide-reaching concern on these matters.
If headway is to be made on this issue more active campaigners will need to step up and help with the petitioning of representatives, and organise larger marches in order to maintain post-Chilcot momentum. We need a more unifying approach, to gather a greater street presence, and create a more powerful voice for this campaign for international justice.