Hacking away at the problems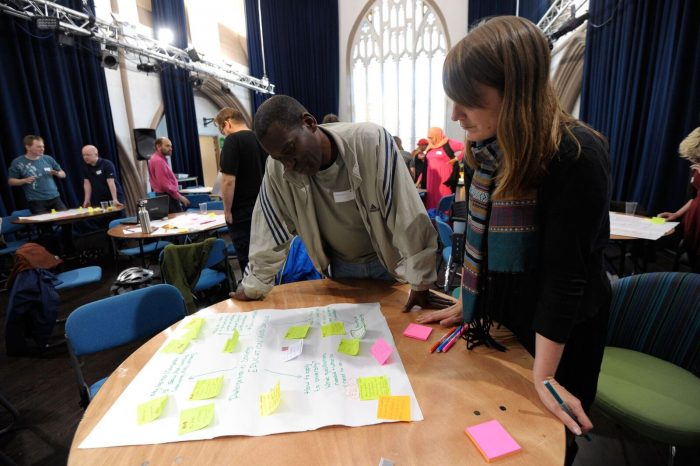 Positive news for a Friday: techies and people with experience as refugees create projects together in Bristol's first Refugee Hack Day.
Photos: Lorna Stephenson
While most were still reeling from the referendum result, a exercise in mutual help and collaboration to solve urgent social problems was taking place in the Trinity Centre last weekend.
People with refugee and asylum status joined together with people with tech skills for Bristol's first Refugee Hack Day, to develop innovative IT solutions for real problems people face in Bristol to keep safe and access services.
"So many people in the city are interested in IT and coding, and they like to teach other people. And there's people like me interested to learn more, or people who have ideas like myself," explains participant Esam Amin.
'Hack days' or 'hackathons' are essentially events where people skilled in coding and web development come together to do some intense work in a short time period (caffeine-fuelled all nighters optional) with something new to show for it at the end.
When hackers meet people with a thorough understanding of issues and solutions, the results are often impressive.
Some of the projects from Bristol Refugee Hack Day:
Contact Guardian
By far the most technically impressive project was the Contact Guardian, a phone service designed to help people who have been detained. This often occurs as people attend their regular sign-on appointment for the Home Office, where people find themselves behind bars – suddenly and without warning.
In this situation the person's phone is taken away and they are given a replacement and their SIM card to make a single call. The problem is that you can lose access to your phonebook so don't know who to call, and may not have credit in the first place.
Contact Guardian allows users to prepare a contact list ahead of time, so if they are detained a single call to the automated service will dispatch text and voice messages to allow friends, family and supporters to be made aware that this person hasn't disappeared off the face of the earth – they've been detained by the Home Office.
Asylum Dawn
"The idea is to help asylum seekers and refugees who are new to the country, and they can't speak English or read English, don't know where they should go when they need help," explains Esam of the project for a new website and smartphone app he's begun to develop with four other teammates. He talks about the maze of organisations and practical issues to consider – from the Home Office and immigration, to housing, bills, education, "anything".
Esam is a volunteer with Bristol Refugee Rights, Borderlands, Bristol Defend Asylum Seeker, and occasionally also works with the Red Cross and Refugee Action, who has been living in Bristol for nearly nine years and is a refugee. He says he's seen a huge increase in groups working to support refugees and asylum seekers in the city but that progress can be made in terms of connecting people to the help available.
"With this project, they can visit it online and they can select their language…They can choose what they need and find the organisation they need, when it's open," says Esam. "Information about communities, groups and organisations in Bristol helping those people. I see this project as a connection bridge between new asylum seekers and the organisations." Esam hopes the project, which is still in development will be replicated in other cities in the UK.
Refugee Stories
While some projects hope to offer migrants and refugees some practical support, others focused on the emotional support any refugees need. The Stories project was led by Light. He wanted a place where refugees like himself could talk about their common issues.
"Everyone has a story of where they came from, how they got here and what their life is like," Light said. "Some people aren't ready to share their whole journey just yet, but want to try and get something off their chest."
The idea is to provide a forum to communicate, and break some of the isolation that comes with being a refugee.
The website will allow for uploading of text, video, drawings by refugees. If the site develops further, the team would like to be able to provide translation services for the works uploaded and support from artists and illustrators to create a thriving social hub.
Skills and resources
Two projects focused on creating networks of support for refugees and homeless people. The Bristol Food network attempts to tackle a serious problem in the city – that there isn't regular food provision for homeless people seven days a week. The site is addressed towards two type of people, people who need food and those who want to provide it.
The network allows people and organisations to list themselves as providing a regular open kitchen, or having made a big meal one evening that they're open to share or simply having a lot of extra food close to the sell-by date that they want to donate. It's an updating register of places to eat as well as a centralised system to support on-the-fly volunteerism.
A similar scheme attempted to link up all the resources for people who want to get more skills through courses available in the city, whether languages, employment advice, technical skills or just for fun.
More information about the projects developments is on the Hack Day website.