The profitable world of housing Bristol's homeless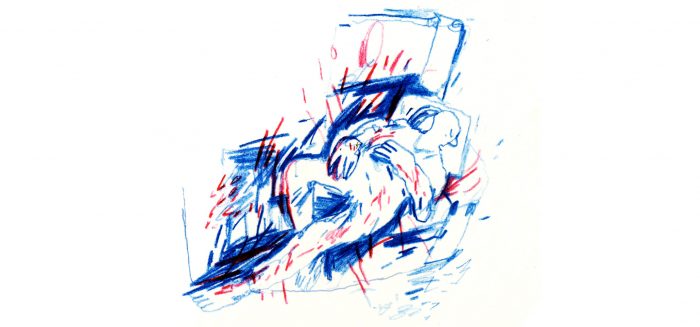 In May the Cable revealed that Bristol's biggest provider of emergency family accommodation had been evicting settled tenants to turn flats into high rent emergency housing. Here we look further into the murky, profitable world of housing the city's homeless, and find out what needs to change.
Words: Alon Aviram and Alex Turner
Illustration: Sam Knock (sknockers.tumblr.com)
Podcast Production: Eliza Lomas
"Why is a provider like C&C feeding the situation by turning people out of their homes?"
On a warm May evening, the Cable is outside a small block of flats in Knowle West. We're listening to two irate women discuss unfavourable experiences they've had in Bristol's emergency accommodation system since losing private rented homes.
But they're not the only angry ones – or the reason we're on Leinster Avenue. The block, Carpenters Place, has been bought by Connolly and Callaghan (C&C), best known for owning Hamilton House on Stokes Croft, along with ventures in renewable energy and sustainable living. What is less known is that C&C is also Bristol's main emergency accommodation provider for families, housing 898 people in 2015/16 (up by 540% from 140 people in 2014/15).
Shockingly, we're told, this self-styled ethical business has been evicting settled tenants at Carpenters Place. Why? To make room for housing recently homeless families on a per-night basis. These 'spot-purchased' rents cost the council more than £300 per week for each one-bedroom flat. Carpenters Place residents receive notices asking they vacate "so the company can continue with helping the ever growing need of homelessness".
Demand for emergency accommodation is rocketing in Bristol, as tenants lose homes because of rising rents or landlords selling to a booming market, on top of other personal and economic triggers for homelessness. With social housing unable to cope, the number of households placed by the council in private, by-the-night temporary housing of the kind C&C provides leapt from zero in April 2012 to 136 in September 2015. So why is a provider like C&C feeding the situation by turning people out of their homes?
Profit and loss
The company is acting with the best of intentions, according to C&C director Martin Connolly, who we meet at Hamilton House in the wake of an initial Cable news story highlighting the Carpenters Place evictions.
"We're a profit-making company – we wouldn't be doing emergency accommodation [otherwise] – but we aren't driven by profit alone," he says. (And good business it is, with Connolly and Callaghan Ltd reporting average annual profits of over £1.1m over the past three years, a figure that doesn't include income from other non-emergency accommodation companies directed by Connolly.)
According to Connolly, consultant Thomas Beale (also involved with Coexist, which runs Hamilton House) and chair of C&C's advisory board Craig White, the organisation has done nothing wrong at Carpenters Place. Beale says the flats were sourced after statutory agencies requested C&C find more South Bristol accommodation. Connolly shows us a letter advising that the block was originally to be delivered up free of tenants. The previous owners, he says, were in financial trouble and kept it tenanted so as not to lose rent before the sale. Better, he argues, that C&C take over the block and help tenants find new homes, rather than abandon the sale and leave them to be evicted following a repossession.
We see a thank you note from one former tenant; two others are given leave to remain at the block, albeit on significantly inflated rents, while they wait, possibly indefinitely, to be housed by the council. But the Cable also hears from former tenants who paint a different story, claiming they were not supported by C&C after being told to leave and have now found themselves paying high rents elsewhere in the city. C&C's marketing manager Manjit Kaur claims another ex-tenant – whose flat was cleared while out of the country and who tells the Cable she's been made homeless as a result – had given the impression she'd abandoned it. However, the former tenant claims she had kept on paying rent to C&C while abroad.
C&C's line is that no one has been forcibly evicted. But its actions have forced tenants to leave settled, relatively affordable (£525 per month) homes, so that others – many of whom have also lost private sector tenancies – can be housed at the council's expense. And at the same time as the Carpenters Place story is unfolding, further allegations against the firm emerge.
A fit for purpose provider?
Researching this article, we speak to five housing support workers and seven tenants in C&C emergency accommodation, as well as six from Carpenters Place. "One family were, for over seven months, provided no seating in their living room apart from a solitary dining chair," a charity housing worker who represents tenants housed by C&C tells the Cable. "When we complained, C&C said they had no idea – despite having been into the flat every day during that period."
A mother still housed by C&C phones to share her story of life at C&C's accommodation in Easton, on condition of anonymity. "There was lots of cases of no hot water running for days, in most rooms," she says. "We all have children, I mean that's why we are there… nobody could wash their babies."
"Landlords must ensure accommodation is suitable, stuff gets fixed and they don't evict or raise rents unreasonably"
Another current C&C tenant says her heater was broken for about six weeks during the winter in her Bedminster residence, and "was still not fixed or replaced by the time they moved me to another one of their properties in a different area of the city, at a day's notice".
Mak, meanwhile, another young mother, calls her time at two C&C properties "vile – the most traumatic experience of my life". Describing conditions at one, in St Andrews, she says that "water in my basin came out black from the moment I was there to the moment I left".
We obtain details of council inspections of C&C properties – including one mentioning dirty water coming from taps in December 2015. Others relate to cockroaches, rats, overcrowding and damp. Arguably, ongoing complaints and repairs are normal for a company managing a large portfolio of properties and not necessarily indicative of bad management – provided they're handled promptly. C&C denies properties are kept in a poor state; at our meeting, Beale says it gets around six callouts a day. "These might include leaky taps, heating not working, seeing a rat, a major leak – sometimes stuff just happens," he says. "We have a 48-hour target, which we blow out of the water."
Not all of C&C's residents are unhappy. Following our initial news story, supportive Facebook comments appear from tenants. However, it's sometimes hard to tell what's genuine and what is part of a coordinated PR strategy – with associated individuals and local housing groups apparently encouraged to publish open letters defending and clarifying the firm's actions. (Initially C&C hires CHA, a 'crisis and reputation management specialist', to handle communications. The company boasts online of having handled media for firms during "corporate fraud", "manslaughter charges and mass redundancies", and of having expertise monitoring social media networks, forums and blogs. But soon, C&C apparently drops CHA for independent PR spokesperson Elisabeth Winkler.)
Homelessness sector sources we speak to express ambivalence about C&C. Some are critical of Bristol Foundation Housing (BFH), a charity founded by C&C housing single homeless people that went bust in 2014, partly because the council cut its housing benefit payments after an inspection reported a lack of consistent service provision. Profit-making homeless accommodation providers, one manager says, inevitably occupy something of a grey area. Desperation on the council's part means such firms have it "over a barrel", they add.
The challenge for Bristol council
Can the council do anything? "C&C are the biggest family emergency accommodation provider, and may not be the worst," says Paul Smith, new mayor Marvin Rees' cabinet member for housing. "For me it's about, how can we get more council houses let to reduce numbers, so we don't have to use these organisations?"
"Desperation on the council's part means emergency accommodation firms have it 'over a barrel'"
Long-term, Smith says he hopes to negotiate with local housing associations, because the large numbers needing temporary housing mean the council may be able to guarantee booking their accommodation up in blocks. This, he suggests, could reduce expensive ad-hoc spot-purchasing from private firms.
But Smith acknowledges that the council, under extreme pressure, may have set standards too low when putting together the 10-year framework under which C&C and other similar providers are commissioned – something he says he'll review. Pressure, Smith adds, may also be why people report being moved between flats at short notice, with the council desperate to place others and emergency housing providers seeing opportunities to cram in the maximum number into their properties. He says emergency, as well as regular accommodation, should be subject to standards like those set out in the Ethical Lettings Charter drawn up by community union ACORN – which was recently invited to join the council's housing strategy board.
"In a city as wealthy as Bristol, entitlement to decent accommodation in whatever sector should be a basic right," says Smith. "Landlords must ensure accommodation is suitable, stuff gets fixed and they don't evict or raise rents unreasonably."
Since our conversation with Smith, C&C claims to have "appointed a new person to review every aspect of Emergency Accommodation and report to the board", and to have invited "an independent person to gather an independent group to inspect all our buildings providing Emergency Accommodation and contribute to the report". It's a positive step.
But with demand for emergency accommodation likely to remain sky-high – unlike council budgets and staff levels – oversight of private housing contractors will remain a challenge. Rees, who won on a ticket of improving housing, and Smith, his housing expert, will have to take bold decisions to ensure the state of our city's emergency accommodation is as it should be.
Time for Bristol's new leaders to step up
This investigation isn't about malicious intent. Nor is it about director Martin Connolly or C&C's other business activities, which many in the city commend – from Hamilton House to sustainable building development. But such ventures don't invalidate the numerous testimonies and evidence collected by the Cable.
Beyond our pages, a problem of some magnitude has been identified. Paul Smith, council cabinet member for homes and communities, is conducting an internal council inquiry into the points raised and has proposed a series of actions to address them, as covered in this article. Community union ACORN has also launched an independent campaign. Meanwhile, C&C has stated it will carry out its own independent inquiry.
Serious questions have been raised by housing professionals, elected officials and tenants, regarding C&C's business practices and management. With the company reporting average annual profits of over £1.1m over the past three years, courtesy of the public purse, the onus should rightly be on C&C, and all other emergency accommodation providers, to achieve the highest standards for the city's most vulnerable. We look forward to seeing them do so.