Positive News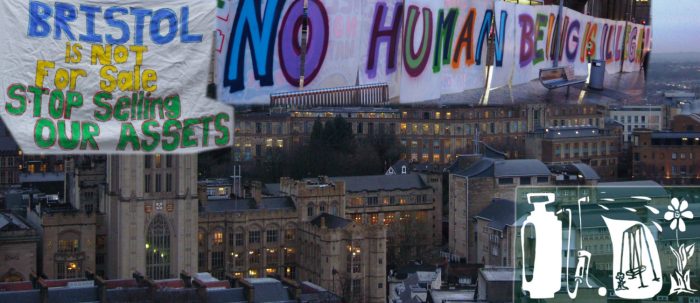 The country is in turmoil, the political establishment is tearing itself apart, the future is unknown… and on the whole, Bristol didn't vote for it. Seems a good time to celebrate a few bits of positive news and local victories from around the city…
Is a glyphosate-free city possible?
This spring Bristol council stopped using glyphosate weedkiller in parks and on pavements, in one trial ward and other tester parks in the city. As we reported in issue #5, the chemical (the active ingredient in Monsanto's 'Round-Up' pesticide), was last year classed by the International Agency for Research on Cancer and the World Health Organisation as "probably carcinogenic to humans".
Citizens' campaigns throughout the UK have persuaded councils to put the spray gun down, from London to Newcastle to Cambridge. Bristol is now trialing different weed control measures for a year, though it's not yet going swimmingly. The use of horticultural vinegar (stronger than your table variety) has led to complaints about the smell.
Housing activists' demands met
Campaigners who occupied an Avonmouth address in protest against auctions of council property during a housing crisis celebrated a victory last month. The home, one of 15 to go under the hammer in May, will remain in council hands after its buyer pulled out. Anthony Palmer, a formerly homeless ex-serviceman who initially occupied it, during April, has been rehoused with his son.
ACORN joins Bristol Homes Board
In other housing-related news, tenants' rights organisation ACORN has joined Bristol Homes Board, which will help coordinate the council's housing strategy.
ACORN was set up in Easton in 2014 and aims to "fight locally to end evictions, rip-off tenancy fees and unhealthy housing" by supporting members to organise in their communities. It has made headlines for a direct approach that often involves protest outside the offices of those accused of unfair practices, and rallies in support of people at risk of eviction.
It has also spearheaded a campaign to implement an Ethical Lettings Charter encouraging landlords and agencies to adhere to standards in quality, security of tenure and affordability, which is supported by the council.
Sanctuary Scholarships at the University of Bristol
Following a six-year campaign by Student Action for Refugees (STAR) and campaigning from the Migration Research Group, Bristol University has announced a Sanctuary Scholarship fund for prospective students with refugee or asylum seeker status.
Other universities nationally have introduced scholarships for refugee applicants, but usually with a limit on the number available. Bristol has not placed a limit – although this year there was only one month from the announcement of the fund to the deadline for applicants for September 2016.
Campaigners are trying to spread the word about the new fund to encourage a bigger take-up next year. There are concerns the university needs to be shown there is significant interest in the scheme to run it again in the future.
*Note: This article was edited 01.08.16 to correct the fact that the glyphosate-free trial is taking place in certain parts of the city, and not city-wide, as previously implied. Thanks for the member feedback to clarify this.