Subvertising in Bristol: 'A service to your local community'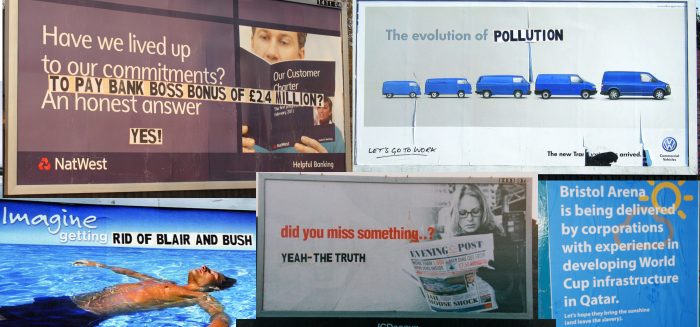 The art of hijacking Bristol's billboards to create new meaning
Words: Alec Saelens (more by author)
Subverts & Photos: St Just Mob, Don Pedro & A0 Facts
You'll have seen it during election campaigns. Amid the noise of party political posters and slogans plastered all over the city, disgruntled people have taken up their felt tip pens, pots of paint and spray cans to change and challenge the intended message, or subvertise. Last year, UKIP's hysterical campaign got significantly mocked and defaced in what became a countrywide display of satire.
Billboards and bus shelters are familiar landmarks – and valuable marketing spaces. The relentless splash of advertising constantly changes, promoting big brands, products and ideas. The messages are unwittingly absorbed by us as part of the everyday experience of the urban landscape.
If taking ownership of advertising spaces back from private companies seems unlikely, subvertising is at least a way to take a crack at influencing public perception. "It's a political act," says a member of the St Just Mob, a well-established collective of subvertisers in Bristol. "Illegality is important to challenge the clampdown on public space."
A corporate advert can become a nice canvas to highlight hypocrisy and push subversive ideas. Using crafty methods to make witty statements is what makes a good subvert and separates the trashy from the creative.
The strategy and purpose are simple. "You have to confuse the viewer. By distorting a message as if it was a part of it, you create an interaction, present new knowledge and help with education," says our veteran subvertiser. "It's a service to your local community."
Although Bristol's history of unofficial public artwork is notorious, here is a selection of lesser-known feats from recent years. By the way, a side-effect of spending cuts to the council is that "they spend less on cleaning up street art and graffiti". So, more to come?