Talking St Pauls Carnival: from words to action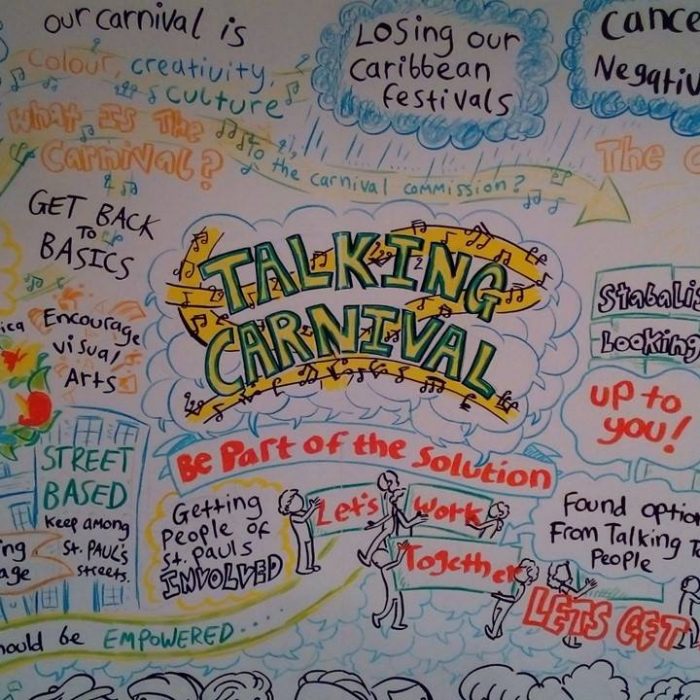 The rewards are self-evident: a return to the splendour and beauty of Carnival. But is the event going to make a comeback?
On Ujima radio mayor Marvin Rees recently said, "St Pauls Carnival is a Cultural institution… It's an investment in skills… evidence of contribution by West Indians… it's important it stays in place… Carnival has cultural anchors firmly planted in Bristol."
Issues such as gentrification says the mayor, have made "people feel they have lost a physical and cultural foothold which can contribute to social crises". Meanwhile, Rees recently announced Bristol's candidacy for the European Capital of Culture bid, with St Pauls Carnival taking a lead role.
In light of core funding for the Carnival having ceased, and support from the Council being cut in November 2015, a grass roots-formed Commission came together to address these issues. The individual commissioners come from a range of professional backgrounds, including accountancy, law, youth work, event management, culture & arts, and media and community development. Their mission, to create a self-sustainable festival that would be an integrated part of Bristol's cultural life while addressing the needs of the community.
Supporting the cause
Since late 2015 the Commission has organised public events and reported on the future sustainability of the event. They aim to get the Festival back on track for 2018 with a big celebration. In line with their brief, the Commission has organised a series of consultations to represent the thoughts of all interested parties – the community, event organisers, businesses, funders and founders. Their report, released in June 2016 has provided a clearer picture of the challenges and prospects for the future organisation.
Julian Davis, member of the commission and Ujima's external relationship manager, "We are just like you… concerned citizens who care passionately about the Carnival's sustainability…"  Introducing Talking Carnival 2, a platform for consultations, he described Carnival as "a co-created celebration that nobody wants in the place it's in."
The meeting was labelled 'Planning a Future for St Pauls African Caribbean Carnival'. Julian added, "one simple aim of the report is to make constructive and potentially game-changing suggestions towards stabilising, strengthening and securing a sustainable future for an authentic Caribbean Carnival on the streets of St Pauls."
The commission insist the event should remain "co-created", and efforts be made between Carnival operators, community support structures, as well as partners such as the Police, to make resources available and shared. They underlined that, "core funding, ring-fenced for an African Caribbean Carnival celebration, had been withheld by the Arts and City Council, not withdrawn," indicating that funding is available.
The general feeling surrounding the Commission process, from observers and participants alike, is one of hope. Off the back of Talking Carnival #2 meeting mid-June, Roy Hackett, Bristol civil rights campaigner and Carnival co-founder, said, "I felt good about what I've heard today," showing a confidence in current discussions.
Carnival's future character is not yet set in stone, with the Commission welcoming the views and contributions from all Carnivalists. Anyone can request a copy of the 60 page report and get more involved.
If you're inclined, don't hesitate to get involved. Talking Carnival #3 is Wednesday 27th July, a public consultation where you can "share your thoughts, or help co-create a clear plan of action to refresh, revitalise and relaunch a sustainable Carnival…" (Carnival Commission). See the Carnival Commission Facebook page