'We're just as human as you': one woman's experience of being transgender and homeless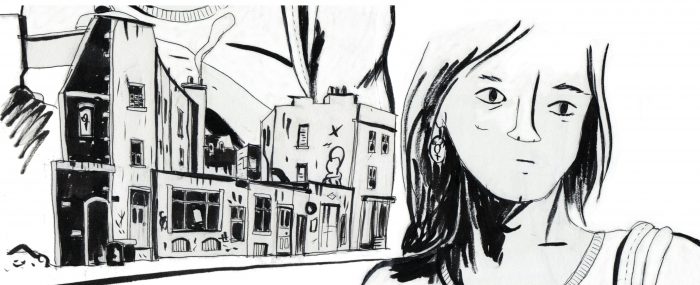 Words: Koel Mukherjee
Illustration: Jes Hunt
Bristol's housing crisis means outreach services struggle to provide enough emergency accommodation, and homeless people scrape by on the streets. And despite better coverage of trans issues in recent years, and attempts by LGBT groups to better acknowledge and include the 'T', transgender people are still marginalised and oppressed in various ways. Anna*, 24, who we meet through a friend, is determined to speak out about her experiences of how these situations overlap.
Anna was kicked out of her home in Wales aged 14, when she came out to her mother as transgender.
"I've always known, but by the time I was old enough to put words to what I was feeling, I was about 13. I hid it for a year – I'd sneak away, dress up, trying to build confidence in myself. Then I told my mum, and that was that – she battered me and threw me out on the streets."
A vulnerable teenager, she was taken in by two homeless men.
"They lived in a squat; took me under their wing. One was on crack, but threatened to kick my head in if I ever touched it. He was like, 'Don't become me'."
Bouncing between towns for a decade, Anna has been in Bristol for a year, sleeping on sofas, in squats and on benches. She has gender dysphoria and numerous health conditions.
"Getting healthcare as a transgender person is difficult – you have to jump through hoops to prove what you're saying is true and lots of people won't believe you, especially if you've had a rough childhood. My doctor thinks part of my psychological problem could be that I'm homeless. But I'm homeless because I'm transgender.

"Do you think if I wasn't transgender I'd still be homeless? I would've crept back to my mum going, 'Sorry, it was just a phase'. It's been a decade now."
Even if Anna was prescribed medication, she says she would struggle to afford it. In the meantime, she deals with the hardship of being transgender on the streets.
"Being homeless you get attacked. Being trans and homeless, you get attacked more. You'd be amazed the amount of people that treat transgender people as if they're sex objects. It's disgusting – makes me feel shit about myself.

"'Do you want to come and suck my dick?'… 'I'll give you a place to stay for the night, if you give me some'… 'I'll pay you 60 quid if you give me a blow job'. That's the value people hold on us. It's worse because I'm homeless and vulnerable. People have tried to rape me.

"Bristol is more accepting, but there's still a lot of stigma."
Getting away from the dangers of the streets has proved difficult.
"They need to set up an LGBT hostel. They won't put me into a male hostel because I'll be attacked, and other things could happen. But they won't put me into a woman's hostel because I'm still 'equipped'. No offence to women, but the only reason I'm interested in what you've got is cos I'm jealous – I want one!"
An accomplished fluteboxer (an extension of beatboxing, using a flute), Anna survives by busking, but earnings are sporadic and finding more stable work is hard.
"I earn more than I need to live on the streets, but not enough for a flat. I try to get a job – I've applied to kitchens, offices, call centres, but they don't want a 'stinky hobo'. They don't want some 'transvestite'. That's not the face they want for their establishment – and I can't always promise I'll turn up exactly on time, because I don't always know where I'm going to be sleeping. It's difficult."
The intersecting challenges people like Anna face aren't talked about enough. She speaks to me a day after a suicide attempt by her partner, and tells me she's been considering prostitution as a last resort.
"I've got my dog and my partner – they need me. They need me to fucking survive. So I'm willing to do fucking horrible things, for them. I've been abused most of my life and I'm finally getting to a point where maybe, maybe I'm worth more than that. But I'll actually earn more money giving one person a blow job than I will do during a whole week's busking.

"I don't know what to do. What am I supposed to do in this situation?"
Anna has survived with the help of others, from when she was first thrown out of her home to her time in Bristol. She's paid it forward, supporting younger people on the streets, looking after her partner.
But while struggling people show immense compassion and humanity to one another, society and the state need to do more to help.
"Raise awareness… start looking around. There are many of us, and it's difficult, and we're just as human as everybody else."