Do Bristol schools pass the admissions test?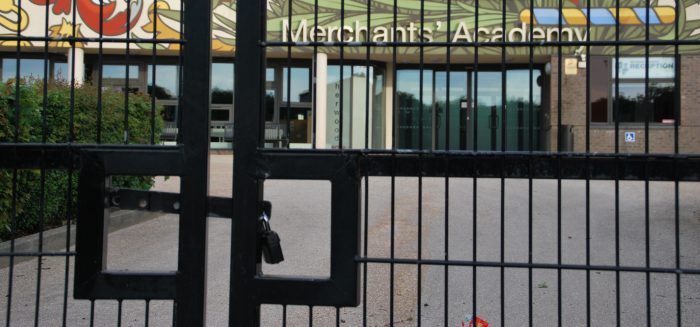 Local authority oversight raises questions about equality of access to education
Words & Photo: Alec Saelens
The question of equal access to education in Bristol arose to varying degrees on the recent mayoral campaign trails. While Christine Townsend put herself forward as the candidate dedicated to raising the profile of issues within Bristol's school system, the process of admissions also featured as a manifesto priority of Marvin Rees, who said: "To tackle educational inequality, children from lower socio-economic backgrounds must have the same choices as those from wealthier parents."
For most parents, finding a school for their child is bewildering, so understanding unlawful obstacles to schools admissions – let alone reporting them – is not a familiar exercise. The purpose of admissions regulations is about facilitating parents or carers' access to preferred schools, and having a clear and non-discriminatory selection criteria.
The Office for Schools Adjudicators (OSA) is the governmental body ultimately responsible for reviewing schools' admission processes and requesting legally binding changes. However, it does not begin new investigations and depends entirely on referrals from organisations, members of the public and the local authority.
The type of objections raised include: faith-based selection, holding interviews for prospective pupils, testing ability rather than aptitude (capacity to learn), requesting unnecessary personal identity and family information, and unclear information about the catchment area.
In Bristol, the OSA has investigated nine schools since 2014 and upheld, at least partially, the objections made against the school's admissions process. For example, the Merchants' Academy in Withywood was found responsible for 11 breaches of the Schools Admissions Code, but refused to comment on the subsequent changes made.
Of these OSA investigations four were based on objections by a member of the public and three put forward by the Fair Admissions Campaign (FAC), begging the question – what is the local authority up to?
Can't trust the Trust?
Oversight and accountability mechanisms are dwindling as schools change status. As most schools are now academies, the local authority's role in scrutinising admission processes has been passed on to the governing bodies of individual schools or school chains – the academy trusts. Professor Anne West, from the London School of Economics' Education Research Group, has said: "the fact that admissions decisions are carried out at school level is problematic: it is not possible to know what goes on 'behind closed doors'."
None of the previous objections submitted to the OSA were from the local authority. In the last year, four schools failed to make their admissions arrangements available. Meanwhile, in its annual report to the OSA, the council declared itself 'confident' that admissions policies and procedures of schools were lawful.
Bristol council is "turning a blind eye."
Paul Jacobs, service director for education and skills at the council, said "where issues arise [we] will challenge schools on admissions practice and support parents as appropriate." However, addressing the lack of reviews, Christine Townsend, who sits on a region's admissions appeal board, claimed that Bristol council is "turning a blind eye."
The criteria for challenging the admissions process have recently been threatened by the education secretary, Nicky Morgan, wishing to prohibit faith-related objections to admissions practices. This was met by criticism from Lord Watson, Labour, who claimed that "the level of segregation of pupils by faith – and thus often by ethnicity – and by socio-economic position is dangerously high."
Have you got problems with school admissions in Bristol? Get in touch with the Cable.