Bristol Council to axe 1,000 staff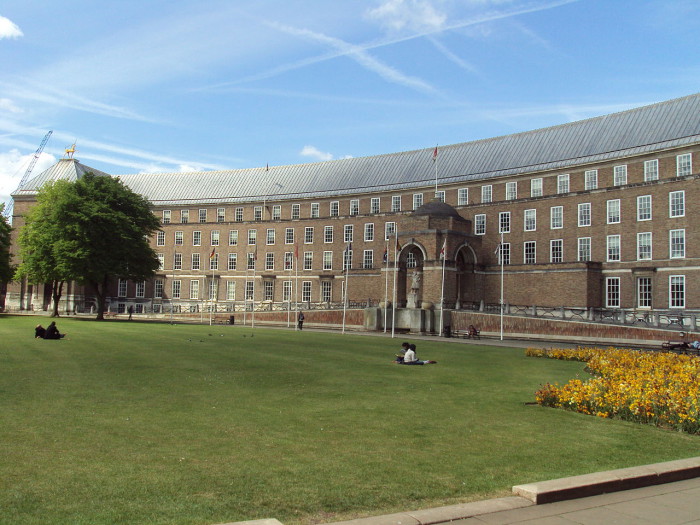 One sixth of the Bristol City Council workforce are offered voluntary redundancy in hope of closing £43m budget crisis.
Words: Sid Ryan
Bristol City Council has made a shocking announcement – that it is seeking voluntary redundancy for nearly a sixth of its entire workforce.
The 'voluntary severance scheme', to launch later this week, aims to get 450 full time positions off the council's books by the end of September, with the remaining 550 positions to disappear by the end of the financial year. The Council hopes that this will save £29m.
The severance package is being offered to any and all staff. The Council has stated that it will focus on protecting jobs that provide frontline services, such as housing, education and social care – on the basis that it is legally obliged to provide them and it risks legal challenge if it suddenly ceases to.
Bristol City Council currently has 6,600 people filling 5,750 full-time positions. The Cable has previously shown that the workforce has already been slashed by 2,240 posts since the 2011. Despite this, spending on agency staff has rocketed, with a total of £19m spent in the last financial year.
This is straight-up cuts to frontline services. There can be no other way forward.
Planned savings, or emergency cuts?
"I have inherited a huge financial challenge which is proving bigger than we knew even a month or two ago," said Mayor Rees. "We continue to make savings in many ways, but we cannot close the gap without reducing the number of jobs at the council."
The big financial challenge for Bristol City Council is to cut £60m from its budget in the four years to 2020. The 'bigger' financial challenge Mayor Rees refers to is that the current 2014-17 programme of cuts is by no means complete, requiring £43m of cuts this financial year.
The 2014-17 financial plan currently being executed was drawn up under Mayor Ferguson. It imagined the council making savings of £34m through measures such as: Savings in delivery (£9.1m), improving business efficiency (£8.3m), reducing Council running costs (£6.5m) or a review of the library service (£1.1m). In addition to that, extra pressure on social care has increased the amount the Council needs to save by an additional £8m.
Nowhere do the plans mention shedding a sixth of the workforce and it is not clear whether the Council still expects to make all of the savings identified by the previous administration. What is clear, is that if the Council hoped to make £34m of 'efficiencies' across its entire operation and now, having reviewed its progress, needs to make £29m of job cuts, then something has gone seriously wrong.
This has led Unison to speculate whether the failure to meet 'efficiency savings' links to the cull of Bristol City Council senior management, with the chief executive, finance director and director of business change all departing since Mayor Rees took office.
Unite regional officer Stuart Davies said: "Our argument would be that the reason they were unable to save that £43m is because the original cuts were impossible to achieve. If they could have made the cuts and the headcount reductions – they would have done. It's clear that the capacity isn't there to do it.
"I wouldn't subscribe to the idea that there was any fat in the system anyway. But even if there was then that is long-gone. This is straight-up cuts to frontline services. There can be no other way forward."
There is still a further £60m worth of service reductions yet to even be planned.
What's the damage?
The impact of the proposed job cuts is unclear. The council is going to ask staff to resign, and then make an assessment about where further cuts can be safely made.
Trade unions have commented that the danger is that that this ad-hoc approach hollows out certain services through redundancy, putting the Council in the position of either re-hiring people to provide the service or axing the remainder of a shattered team.
The council will also be relying heavily on the voluntary and private sectors to provide key services which can no-longer be supported by the Council's budget.
Unions, and the Green Party, have both made an explicit call to Mayor Rees to push back against the cuts imposed by central government.
"One in six council employees could lose their jobs this autumn. This is devastating to the people concerned and their families, and will also have a serious impact on the delivery of vital council services," said Tony Dyer, the Green's Mayoral candidate. "Austerity is simply not working and it is vital that our local MPs, Mayor and councillors provide consistent opposition against these Tory cuts to local government finances"
Wherever the hammer falls in this latest round of job-cuts, it is unlikely to be the last. This recent news only addresses the inherited cuts. There is still a further £60m worth of service reductions yet to even be planned.