Byron Burgers: Protest in Clifton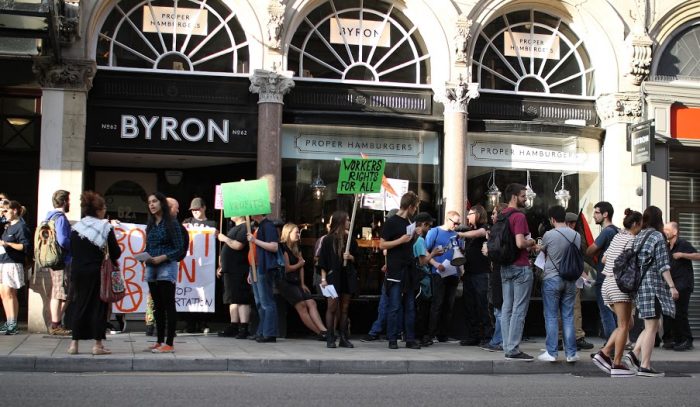 Demonstration at scandal-hit burger chain, part of national campaign following arrests of Byron staff by UK Border Force.
Photos: Dean Ayotte
Around 30 activists protested outside Byron Burgers in Clifton, Bristol, last night to protest the burger chains' actions on the 4th July, when it invited 35 London staff members to a "fake meeting" who were then arrested by the UK Border Force.
Bristol's was the latest in a series of protests around the country against the company since the incident last month.
The demonstrators blocked the almost-empty restaurant at about 7pm on Saturday night, and handed out leaflets to the public which claimed that Byron Burgers was "happy to earn money off the backs of migrant workers but to betray them in order to avoid a fine".
The company, which has over 60 restaurants nationally, has defended the July incident, claiming they "cooperated fully" with the Home Office as "it is our legal obligation to do so".
However, the campaign against them has picked up steam with pickets at restaurants and online under the hashtag #boycottbyron. They've also been hit with allegations of tax offshoring.
One of the attendees, John, who had travelled from Swindon, told the Cable:
"I am protesting against Byron today because I think migrants are welcome in this country, and I think it's unfair that a company uses low paid workers for a profit and then tosses them on the garbage heap when it's convenient for them."
The protest passed largely without incident. At the end of the demonstration activists said they had attempted to give donations to the waiters at the restaurant, but had been prevented from doing so by the manager. The manager said Byron had done nothing wrong and claimed staff at the restaurant were "supportive members of the Byron family".