Carillion's Southmead secrets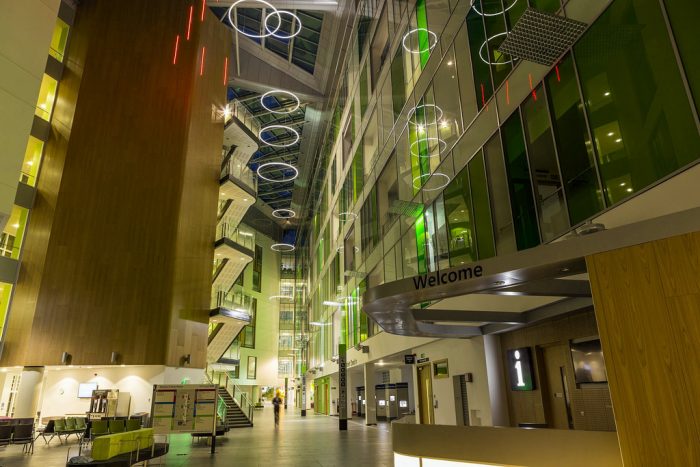 The latest on a long-running Freedom of Information Act battle, to try and work out how Southmead hospital will end up costing over a billion pounds. 
North Bristol Trust have recently been ordered by a judge to disclose details of the full cost of the Private Finance Initiative hospital at Southmead. Now Carillion, the private contractor which built and maintains the hospital, is launching an appeal to keep these details secret.
The issue revolves around a Freedom of Information request for the full contract between North Bristol Trust and the major contractor, the construction firm Carillion. I sent the request back in December of 2013, and it has spent two and a half years going through the appeals process.
All I really want to know is how a hospital that cost £430m to build will, 30 years down the line, cost the taxpayer a cool £1bn once all the 'confidential' finance costs, interest charges, profit margins and costs of services have been added.
At each stage Carillion's protestations about disclosing 'commercially confidential' information have been roundly rebuffed. As the current Tribunal ruling stands, Carillion have to release what they've described as their 'crown jewels' to the public, and tell us the true cost of the hospital and the profits they make on it.
Or that would be the case, if Carillion weren't appealing to a higher court to try and reverse the decision. Although it will be tough for Carillion to overcome the drubbing received at the last Tribunal hearing. As far as judgements go, this one was excoriating.
The case against Carillion
Carillion were noted as having 'tendency to make generalised statements without seeking to demonstrate their veracity'. Amongst other things, it claimed disclosure of the information from Southmead would impact its bid to build another PFI hospital, a bid it turned out Carillion had already won.
Carillion also made many submissions worrying about it's competitors in the construction industry learning its 'winning formula', neglecting the fact that it is actually partnered with most of them on different projects. If Carillion were really all that concerned about this they might be a little more hesitant about starting joint-projects with their supposed enemies.
Most interesting was when Carillion's witness was questioned on what he thought the damage from disclosure might be. 'Political pressure', he answered but was either unable or unwilling to elaborate. I can't work out what it means. Why would there be any political pressure if the PFI deal is as good as we keep being told?
The politics of PFI
If Carillion really is concerned about political pressure, disclosing their profit margins on Southmead Hospital should really be the least of their concerns. Carillion is going through a massive renegotiation (very nearly termination) of its PFI contract in Swindon in the wake of cleanliness and hygiene issues, and the fact that fifty employees went to an Employment Tribunal alleging being forced to handover cash-gifts, gold and jewellery in order to secure overtime and holiday. Nottingham is also raising serious concerns after bed closures due to virus outbreaks almost doubled on Carillion's watch.
Member of the Public Accounts Select Committee, Stewart Jackson MP, has called for a full inquiry into a string of PFI hospitals allegedly built in breach of fire safety regulations. Carillion find themselves the subject of another Information Tribunal appeal of mine, with an FOI asking how one of their reports ended up saying that there were no widespread fire safety defects in Hereford Hospital, when in fact there definitely were….
So to try and stem the tide of 'political pressure' Carillion are doubling down on secrecy. If they win their appeal the binding decision is that the public have no access to PFI finances. But if the public win, then it's open season for PFI hunters like me.
A Trust tied up
The unfortunate bystander in all this is North Bristol Trust. Not only do they have to pay through the nose for the PFI hospital itself, but they keep getting dragged into defending Carillion's unwillingness to be transparent. It's a huge burden for the already struggling Trust, but Carillion have more than enough money to hire a few fancy lawyers to drag the appeals process on for as long as possible.
Meanwhile, the NHS Trust risks derision for being 'pro-secrecy' if it supports the case too much, and if it doesn't support the case enough risks pissing off the contractors it's tied to for the next couple of decades and who have plenty of ways to make life difficult. So far it hasn't fought Carillion's corner with much enthusiasm, and it feels like that enthusiasm is waning further.
So transparency won't happen unless companies like Carillion agree to it. And isn't that a core objection to private finance? That it's very hard to be an open, honest and caring organisation when you've got some suit breathing down your neck the whole time, whispering about the impact telling the truth might have on their share-prices.
Carillion spokesperson offered the following statement:
"As the Tribunal process is still ongoing, it would be inappropriate for us to comment at this time."
North Bristol Trust felt more comfortable about commenting, stating:
The Trust has accepted the findings of the Tribunal and does not intend to appeal the decision.

The Trust made the decision to appeal against the findings of the Information Commissioner because it felt that Carillion had genuine concerns about the commercial prejudice that would arise from the disclosure of certain financial information relating to this Private Finance Initiative.

Being satisfied that disclosure would not result in any commercial prejudice to the Trust, the decision to appeal was made on the basis that it was the only means of enabling Carillion to protect information, rather than a desire by the Trust to conceal it.

A Private Finance Initiative was the only viable route available to the Trust in order to replace the ageing estate at Frenchay and Southmead. The old buildings would have required significant investment in order to maintain them on a long-term basis while the new Brunel building at Southmead Hospital gave us the opportunity to build the modern hospital designed to meet the demands of 21st Century Healthcare that our patients deserve.

Unlike some PFI deals the contract for the Brunel building does not include services such as catering, domestics, porters and laundry, which the Trust chose to retain control of.