Do me a solid!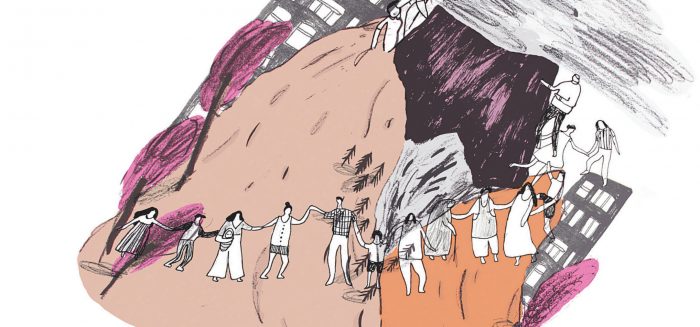 What does 'solidarity' mean for social and environmental campaigns in Bristol, and how can we work together better?
Words: Kat Wall
Illustration: www.ultravioletillustration.com
"If you have come to help me, you are wasting your time; but if you are here because your liberation is bound up with mine, then let us work together."
These words, from Lilla Watson, an Aboriginal elder and activist from Queensland, Australia, about the concept of 'solidarity', are as relevant in Bristol as they are in any other part of the world. All of us live in a society, in a city, that is grappling with big challenges right now – inequality, climate change, racism, the housing crisis and more. In order to overcome them we need to work together.
To discuss solidarity, I recently brought together people from a broad cross-section of social movements and political alliances in Bristol: from the junior doctors to the Malcolm X Centre, the Bristol Disability Equality Forum to the Bristol Energy Network, the ACORN housing rights campaign and the Edge Fund, which provides grants to social projects.
What does solidarity mean, how have campaigners experienced it, and how can we create more of it? And how does all that lead to concrete steps towards the changes we want to see?
"The main thing is to try and recognise the unity of our struggles despite their [differences]; and the need to provide unconditional – though sometimes critical… in a comradely and friendly/helpful manner – support, without the expectation of getting anything back." – Will Quick
Solidarity is about being an 'ally' to others in different circumstances. It means challenging behaviour that oppresses people – like racism and sexism, and it means educating yourself about causes and issues that you might not think are your own. As Mike Steel, a campaigner from the Bristol Disability Equality Forum, said, "It's about showing support for each other, as well as actively respecting our differences."
Sophie Pritchard, co-founder of Edge Fund and coordinator of the Bristol Energy Network, said that "movements should be led by those most affected". Asher Craig, Labour councillor for St George and former chair of the Black Development Agency agreed: "It means standing alongside a group that has shared interests and values, it's not about leading a campaign."
"Bristol really got behind us, it was amazing."
The people I spoke to shared many experiences of both receiving and giving solidarity here in Bristol. Amy Carson, a junior doctor involved in the recent strikes in Bristol, spoke of a powerful feeling of support from the general public and groups. Compared to friends and colleagues' experiences in other cities, "Bristol really got behind us – it was amazing", she said.
A frequent presence on Bristol picket lines is Will Quick, who has attended nearly every strike action in Bristol for the last year with his 'Solidari-tea' – hot tea and coffee for strikers early in the morning. "It's really hard to go on strike, we need to let strikers know people are with them."
It turned out that talking about solidarity even overcame some of the barriers between political parties. Asher Craig from Labour and Will Quick, trade union liaison officer for the Greens, spoke of the need to work in partnership – where possible – to make changes. As Quick put it, "We agree on nearly 90% of stuff, so let's work together on that."
Edson Burton, a historian, writer and film programmer, said that his experience of solidarity was rooted in "lending his voice and his support" to causes that weren't necessarily his own but that he supported, such as publicising a Sisters Uncut meeting about cuts to domestic violence services.
"Groups that should be in solidarity with each other have to compete for funding."
What prevents solidarity forming? "People are struggling to survive and the system pits them against each other," said ACORN organiser Jenny Stringer. Amirah Cole, trustee of the Malcolm X Centre, agreed: "It's capitalism isn't it? Capitalism and racism."
The system divides people into categories: white working class, BME, refugees, immigrants, disabled, on benefits – these different groups compete for resources. The same could be said of the funding bodies that supposedly support social change. "Groups that should be in solidarity with each other have to compete for funding," said Amirah Cole.
Sophie Pritchard said she thought "the charity model is a barrier to solidarity. Charity is often a top-down approach, where people who see themselves as experts impose their solutions on people they feel need their help. It also seldom addresses the root causes of injustice".
So how do we create more solidarity? Mike Steel talked about recognising and building on common experience, such as being tarred by the label 'scroungers' – a word that is used to devalue and dehumanise, then normalise attacks on the unemployed, immigrants/refugees and disabled people.
To create more solidarity across social movements in this city we have to make interpersonal connections. As Sophie Pritchard said, we need to "go out and meet people with different backgrounds and life experiences than our own" – then the connections can start to form.
The roundtable discussion I organised not only acted as a place to talk, but also to organise. Amirah Cole and Jenny Stringer discussed the possibility of a regular social for people from across the city to come together and start getting to know each other – and set about trying to make it happen. Watch this space…