In conversation with Ken Loach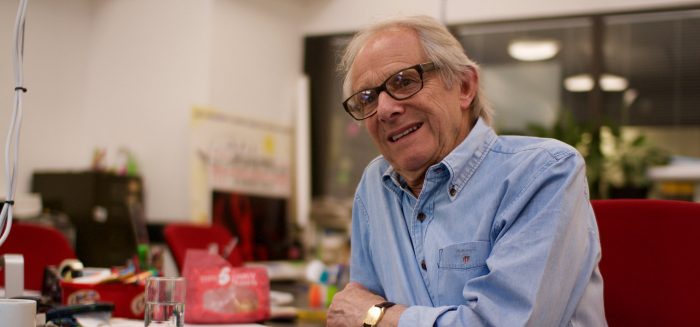 The Cable grabbed an interview with the godfather of political cinema to ask him about his latest award-winning film, I, Daniel Blake, and his famous socialist politics
Film director Ken Loach just won his second Palme d'Or – the world's most prestigious film prize – at Cannes Film Festival. The hard-hitting winner, I, Daniel Blake, exposes the cruelty of the benefits sanctions regime through the experiences of two working-class characters in Newcastle. It's his latest success in a career spanning half a century. Although, as we discovered, Loach is far from mellowing.
Bristol Cable: First of all, congratulations on winning the Palme d'Or.
Ken Loach: Thanks very much – it was a big surprise. What was good was that the judges actually endorsed a project, a story, which reveals the cruelty of the sanction regime. For the most prestigious festival in the world to endorse that is a political statement. I think that's the most valuable thing to come out of it.
Oddly enough, the protocol is that you get a message of congratulations from the government or the government minister for culture – and last time we won it, although it was about a republican perspective on Irish history, the then-minister for culture, Tessa Jowell, did send a message of congratulations. This time there's nothing, not a thing; they're bad losers.
BC: What are you hoping the audience will take away from seeing the film? How do you want them to feel as they walk out of the cinema?
KL: I hope first of all they'll be drawn into the story. Enjoy meeting the characters. Feel some solidarity with them. Share their choices and then maybe feel something on their behalf. What happens after the cinema, that's up to the people themselves.
BC: In your career you've had some really well received films and others not. Do you think there are some times, political moments, when audiences are more receptive to strong political messages?
KL: Certainly – the mood of people changes; the consciousness changes. We saw when Jeremy Corbyn was elected, for people who would be natural Labour supporters – there was a real mood that we didn't want Blair and his successors in charge any longer. Whether that mood still goes, I don't know. I think it's more polarised.
BC: Do you think you're freer to be more political in the medium of film as opposed to documentary making?
KL: There are different constraints. In television there is endemic political censorship. They manipulate consciousness very knowingly, I think. You can see the editorial line by the way they frame the questions, the assumptions of the questions, the language they use, the people they ask to speak, the way they draw the news together, the stories they tell, the ones they don't tell – but I think people should still try.
The problem with making films that have a political edge is that it's very hard to get started. We've been lucky and we've got a little niche, we got a head start because we managed to do those films in the 60s that gave us a profile. Getting that start now is very different. Often people say "How can we do it?". I honestly don't know.
BC: For people starting out in film-making, do you think they could be political from the outset or not – do you have to make a choice?
KL: I think you've got to be clever. Get in there, get a job, just get in the business somehow. Get paid employment, don't work for nothing if you can avoid it. Join the union. And just bide your time, be clever, but be careful of the compromises you make. Don't compromise your brain, keep critical.
BC: Do you see the benefits system changing any time soon?
KL: No, it'll get worse unless we get a change of government. I mean, in a way the Tories can't change. Because the whole pro-business politics generates unemployment. There's a pressure between the big corporations to constantly cut their prices – which isn't the best for us because it demands cheaper labour. And if the Tories don't support it, big business will get different Tories.
So the Tories can't change. Their policies have to show that if you're out of work it's your own fault, and you've got to reduce the number of those claiming benefits, because big business doesn't want to pay the taxes to support it. So there's a constant downward pressure on wages and to get rid of the unemployed figures, therefore sanctions have to apply.
So the only way we can change it is to change the government. But it's got to be a government that rejects the social democratic programme of doing a deal with big business. In a way, it's got to be a socialist government I think… What do you think?