Looking out for our wellbeing or spying on us?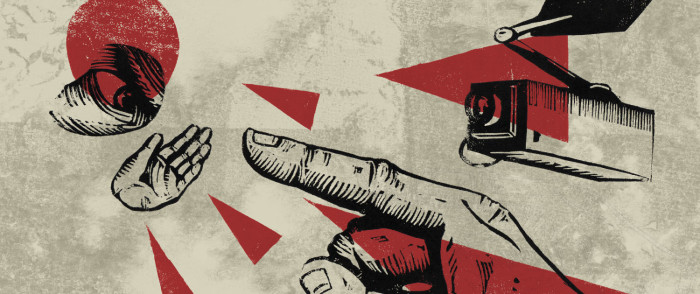 The anti-radicalisation Prevent programme in Bristol, debated.
Words: Koel Mukherjee
Illustration: Luke Carter
Started under Labour, Prevent is part of the government's counterterrorism strategy, and has been massively expanded by the Tories. It puts a legal duty on public organisations to look out for signs of radicalisation and extremism.
The programme has been overwhelmingly opposed by teaching and student unions, with the government's own Prevent police chief telling The Guardian that new expansions risked creating a "thought police".
In Bristol, Building The Bridge, a Muslim-led community organisation, implements Prevent alongside the council and police. Pete Anderson, Bristol council's lead Prevent officer argues that it's "safeguarding people who are being groomed, exploited… and potentially being drawn into terrorism."
We chatted to people on several sides of a difficult debate.
Bristol Muslims' experiences
Noha Abou El Magd, former BME officer at Bristol University, says Muslim students experience an atmosphere of fear, intimidation and scrutiny. "Muslim students are scared to even show up at an anti-Prevent event, even to educate themselves," she says.
Although advocates point out that Prevent also targets general political extremism, it's Muslims who feel its effects.
"I had a member of staff come to me and say, 'I think so-and-so's been radicalised… he hasn't come to college for ages'," says Faizul Ahmed (not his real name), a teacher and trained Prevent officer. "OK, that's a lot of students in college – what else is it? Oh, he's Pakistani," he says.
The student wasn't attending, Ahmed adds, because the Home Office lost his passport. "I think to myself, good God," he continues. "If I wasn't working for this organisation, what would happen to this child?"
But Kalsoom Bashir, Building The Bridge's community co-chair, argues that communication with Bristol's Muslim communities has been "really good". "Everybody's been given opportunities to air concerns," she says. "Mothers say they're worried about the risks of their religion being hijacked. We can't put our heads in the sand."
Concerns over training
"Weak and inefficient" is how Ahmed describes his Prevent training. "The scariest thing [was] the whole concept being rationalised into a flowchart – which will ruin people's lives. It will make young people angry, and the whole thing will become a self-fulfilling prophecy."
David Miller, professor of sociology at Bath University, argues that the training's inadequacy is a facet of the Home Office's deliberately broad-brush 'extremism' definition:
"Vocal or active opposition to fundamental British values, including democracy, the rule of law, individual liberty and mutual respect and tolerance of different faiths and beliefs. We also include in our definition of extremism calls for the death of members of our armed forces."
As this policy includes "vocal opposition" and covers non-violent extremism, it risks infringing on freedom of speech. British values aren't clearly defined; nor is what it means to oppose them. Because of this, according to Miller, 'extremism' could apply to anyone critical of British foreign policy.
Meanwhile, the government's potential radicalisation 'factors' cast a dragnet over a lot of people. Examples are listed as:
"Feelings of grievance and injustice, a need for identity, meaning and belonging, a desire for excitement and adventure, a desire for political or moral change, being at a transitional time of life, relevant mental health issues."
Safeguarding or spying?
Prevent, Miller argues, "essentially makes public institutions into spying institutions… it makes all of us spies." Bashir, meanwhile, insists this is a misleading exaggeration. "All Prevent is asking you to do is follow your usual safeguarding process," she says.
Not so, reckons Ahmed – Prevent "massively" changes the relationship between teachers and pupils. "Pre-Prevent, if you've got someone who's not doing so well, you'd offer extra tuition and support," he says. "But in this situation, when it's a minority group, could it be radicalisation? So you report them to Prevent."
Students in general, according to Miller, are scared. "I teach a class on terrorism, 100 students – they don't know if they're allowed to read the reading list," he says.
He also asks why the police are an early port of call in a pre-criminal, safeguarding process, and suggests it is about gathering intelligence rather than supporting vulnerable people.
Anderson counters that because radicalisation is often hidden, police intelligence is inevitably a key element. "[If someone is referred to the police Prevent team] it would be logged," he says. "Why wouldn't you keep it? It's the same as any safeguarding. The case may be closed but that information may be of benefit in the future, [as] for example with domestic violence reports."
While this process is described as pre-criminal, if the council supports referrals being logged by the police there's a blurring of the lines between safeguarding and criminalising. Building The Bridge has garnered praise for its community work, yet the only phone number currently on its website goes directly to the police Prevent team.
In the end, unclear and unfair definitions of the "values" breached, the "factors" to look out for, and the identification of "vocal opposition" as a threat leads in only one direction – the institutionalising of prejudice and the infringement of fundamental rights. There's only so much "positive community engagement" can do to undo such damage.