From cockfighting arena to protected green space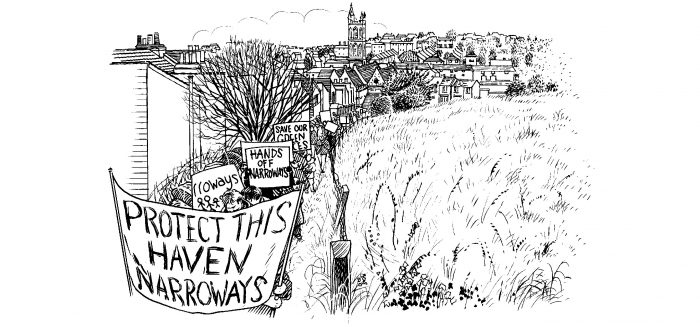 A history of a small hill in St Werburgh's
Words: Harry McPhillimy
Narroways Hill rises above St Werburgh's, bordered by allotments, fringed by trees and shadowing the City Farm. Originally called Northeway then Netherway, it became Narroways, perhaps defined by the narrow footpaths over the railways that arrived in the mid/late 19th century. This outlier of the Purdown range, now also simply known as 'The Mound', was slashed twice over like a giant hot cross bun by lines towards Severn Beach and Wales, and left scarred by cuttings.
Hundreds of navvies built them and local religious folk were concerned about payday hordes of drunken workmen, so one Rev. T Hacking and others set up a 'Mission to the Navvies'. They opened an evening school attended by 146 workers and constructed a shed by Narroways to sell cocoa – over 100 gallons during summer 1861, at 1/2d per pint.
"Towards Narroways 'the roughest class of the population gravitated', with prize-fighting and cockfighting their favourite amusements"
St Werburgh's began forming around this time, gaining its name from the church moved to Mina Road in 1879. It was described as an 'artisan district' with many poorly constructed houses. When hit by two devastating 1880s floods, one eyewitness described it as "a young suburb in premature decay".
Narroways Hill hosted some tough working-class sports of that time – towards it "the roughest class of the population gravitated", with prize-fighting and cockfighting their favourite amusements. Dog fighting was also in vogue – bull terriers were matched for weight and on a Sunday morning a circle was marked out with a line across, over which they fought until one was seriously injured. Later, in 1922, there was a report of seven men playing 'banker for money' at Narroways Hill. They were chased by PCs Coombes and Phillips, who charged cabinetmaker, Alfred Bidmead, with illegal gambling and striking a constable.
The City Corporation was under pressure to declare some land as public parks among the dense, expanding terraced housing – unlike many cities, by 1879 Bristol had created none. Narroways was considered, but rejected in favour of the future Eastville Park, possibly as being, at that time, too remote despite the enthusiasm of the Great Western Railway Company, which it was suggested could run 'People's Park trains' to nearby Ashley Hill station. In the 1880s Narroways included a wider sweep of remnant countryside – 70 acres, "already the summer playground of thousands of Eastenders".
Some local children, such as Charlie Portingale, remembered going up to the railway line and laying down a halfpenny on the track, which was flattened by a passing train to the size of a penny, making it fit in the gas meter. A hare that unwisely strayed on to Narroways in 1895 was chased by dozens of people until a Thomas Marshman caught him for a future meal. Church groups such as St Werburgh's Women's Bible Class would also visit the nearby green space. Local schoolchildren were sometimes taken on nature walks through the country lanes around Narroways, while courting couples would go for gas-lit walks. One 1913 excursion ended in tragedy when Ted Palmer (correction: This was initially mistakenly stated as Ted Fowler) stabbed his girl Ada James to death after an argument. He was found in Easton making a half-hearted suicide attempt with laudanum, arrested, tried and executed within two months. The lane up from St Werburgh's church (now climbing centre) is still sometimes known as 'Cut Throat Lane'.
Narroways became a forgotten place by the mid-20th century. Former local resident Jan Keats remembers them being called 'the secret fields'. People mentioned an eccentric Polish lady who tethered a small herd of goats there in 1970s.
The area was 'rediscovered' by people from the newly established City Farm in the early 80s. A wildlife survey by Avon Wildlife Trust proved that the undisturbed meadows and woods had flourished and were worth protecting.
It needed it. Development pressure on inner city land threatened the existence of this green space several times. In the mid-80s British Rail tried to build several three-storey blocks on the Church Gardens site. Public protest and the support of Bristol's city planners saw these ambitions halted.
There were more conflicted feelings about the next challenge. In 1990 the Advanced Transport for Avon organisation tried to compulsorily purchase Narroways as the storage depot for all their construction plant for a tram network in Bristol. A local coalition involving St Werburgh's City Farm resisted this and the scheme collapsed due to financial mismanagement.
The final existential threat to Narroways came in 1997, when Railtrack tried to sell the land to developers, but Narroways Action Group was set up with the support of the City Farm and WWF. Thousands of locals signed petitions and over 800 demonstrated on the hill on 9 February 1997. People raised funds and with the help of Bristol council the land was saved. It became a Millennium Green in March 2000, with a lease for the next 1,000 years, and this year achieved Local Nature Reserve status. Barring the occasional raucous night time party on the hill, the leisure pursuits are gentler now on Narroways and the once-scarred landscape is a genuine oasis for wildlife and all those local people who value a quiet breathing space and a breathtaking view.