Troubled waters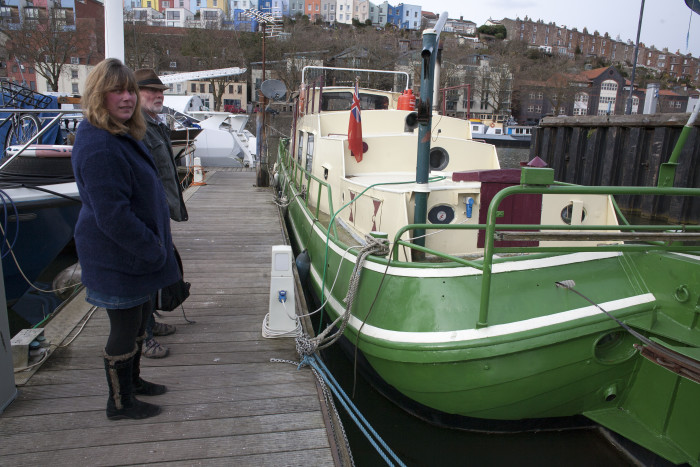 Housing law doesn't protect boat dwellers – as residents at Bristol's Floating Harbour have found out.
Words and photos: Carrie Hitchcock
Living on a boat might seem like an ideal choice for those looking for an alternative lifestyle, but boat dwellers can face hostility from all quarters, from public bodies to private marinas. The main issue is the lack of residential moorings, and it is a countrywide problem. There are an estimated 22,000 people who live on boats in the UK, but residential moorings are few and expensive. Most people live on leisure moorings, but there is no security of tenure, and they can be evicted on a whim.
The internet is teeming with petitions to stop boat evictions, and allegations of harassment of boat dwellers. Tactics range from turning off electricity to posting eviction notices on boats just before Christmas to undermine the moral and security of residents, who are often families or marginalised people. Fight backs have included legal actions and canal blockades.
In Bristol's Floating Harbour, neighbours Stewart Pimm and Emma Garbutt have lived on their boats in the Marina for over thirteen years. Emma bought a boat because she couldn't afford a house and moved on to the Marina with her partner fourteen years ago. Stewart bought his boat after he was divorced.
"To be a boater you have to like roughing it a bit…" he says. "I've always loved caravanning, camping, and I've always been drawn to water. This has been the happiest I've ever been living anywhere."
However, the pair now have to find new homes, after, they say, they received letters a few months ago saying that 'the Marina accept your notice to quit'. "There might have been grumbles in the pub, we were unhappy with the way things were going, but we never said we wanted to leave, never gave any notice whatsoever." says Stewart.
Stewart Pimm on the boat he had to leave.
Emma talked to a solicitor, "Basically the contract is all sewn up, they don't have to give a reason. Legally, they are not actually evicting us, they are ending our mooring contract. We have been offered a new contract as a visitor mooring which would cost us an extra £200 per month."
The two also spoke to their MP, Thangam Debbonaire. Thangam referred them so they could get legal aid, and she also dug up some information at the House of Commons about the Housing Bill to see if there was an amendment protecting boat dwellers. They found out that in the 2004 Housing Bill there was an amendment put through which included mobile homes, tents, sheds – anything you live in on the ground. But the Housing Bill doesn't stretch to boats.
"The housing law is something that really needs to be addressed. This would not happen if we were protected under that law," says Emma. "We only know the distress we're going through, and what's being inflicted on the rest of the residents here, but up and down the country this will be happening to people with families, children, people trying to work."
"This is something that should be tackled under human rights law."
The intervention of the Harbourmaster has meant that Stewart and Emma are now able to sell their boats with a mooring instead of the boats being evicted as well. They are thankful for this concession because it will give them enough money to find another home instead of being turfed out with their boats and no mooring.
"I've worked in Bristol all my life, I worked for fifty years, paid my taxes, raised my family and something like this can happen because there's not a law to cover it. That can't be right," says Stewart. "They're accepting people living on boats because it eases the housing crisis, but they're not prepared to back you when something like this happens. I believe myself this is something that could be tackled under the human rights law."
Life in the Habour
"People from all walks of life, people that can't afford houses, people that just like the water, all sorts of people here, it's just a lovely community. People will leave you alone if you want to be left alone, but they'll come and help you out, do anything to help you out, and you reciprocate. We've had some wonderful times here, some wonderful Christmas parties, lovely BBQ's on the pontoons, and meals on each others' boats."
Stewart
"When my partner Steve died eight years ago I don't think I would have survived if I was on my own. It was amazing the amount of people who did everything they could. I was never on my own, I had people coming in all the time, organising the funeral, it was one of the best funerals I have ever been to because there were so many people helping – I didn't have a lot of money – it was just amazing. You really know the community when you get tough times and everybody comes in. They're a fantastic bunch of people down here. All of them. Some have got their quirks, but you accept them for how they are. It's mainly single people on the Marina. I think it's a good place for people who are starting again."
Emma
The team at Bristol Marina wrote the following statement:
"It is common practice for marina operators to offer a maximum of a one year contract.  The reason for this is that unless the operator owns the freehold, ( most do not), they are restricted by the terms of their own lease, which specifically states that no security of tenure or tenancy may be created.  Bristol Marina's lease states that we may only offer berths for a period not exceeding 12 months and under the terms of the Yacht Harbour Association contract. 

In over 30 years there have only been a handful of cases where we have chosen not to renew a customer's contract.  In addition, the decision to allow a vessel to be sold with a "live-aboard" mooring within the marina substantially increases the value of that vessel."
*This article was edited on 19.08.2016 to include the statement from Bristol Marina.