A Big Housing Conversation to address a big housing crisis.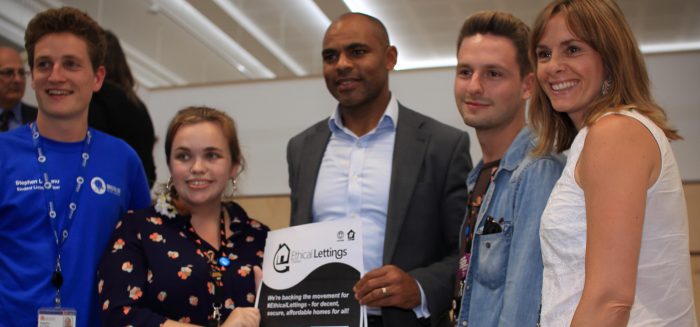 Yesterday evening tenants, activists, experts and councillors from across Bristol met to discuss solutions to the city's housing crisis at the first of a series of 'Big Housing Conversations'.
Photos: Dean Ayotte
In the grandeur of City Hall, over 80 people discussed Bristol's ongoing housing crisis. Topics touched on included poor standards in the private rented sector, the rise in homelessness, issues faced by disabled tenants, and how social housing could be increased through alternative approaches such as housing co-operatives and community land trusts.
Speaking at the event organised by community union ACORN Bristol, Councillor Paul Smith, Cabinet Member for Homes, told attendees about the scale of the challenge facing the city:
"We don't need to say there is a housing crisis in Bristol – we all know it, we can see it every day. Council housing has had to cut back on repairs, building and services and truly affordable housing is being built pitifully slowly. We have a system that says that social housing is something we shouldn't have."
Smith also told the audience that the council planned to formally announce plans for 60 new council properties in the coming weeks, and that four sites around the city formerly up for sale to private buyers are to be developed by Housing Associations for affordable and social housing. Smith also acknowledged the current rate for redevelopment was not enough to solve the crisis. Existing council properties previously scheduled for private have also been designated for use by charitable organisations as emergency accommodation.
Discussions amongst the different groups were lively, and many attendees offered challenges and solutions on the city's housing strategy. Activists from Bristol Zero Tolerance highlighted the importance of housing for women escaping violent partners, and representatives from the University student unions told the audience of the poor housing conditions in the private rented sector.
At the end of the session Mayor Marvin Rees signed and formally introduced ACORN's Ethical Lettings Charter, intended to set the housing standard for Bristol and replace of the current West of England Standard.
Tom Renhard, ACORN member and tenant, told the Cable:
"It's really good to see the work being done in partnership with the council and our grassroots community led organisation. We are going to build on the work started today and will ensure these meetings don't become just another talking shop and actually make change happen."
The next 'Big Housing Conversation' is due to take place in 4 months.