An ethics lesson for emergency housing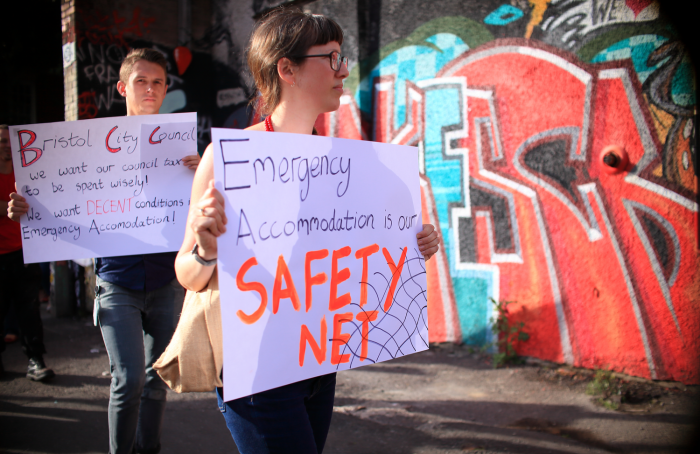 Bristol council this week announced it would be adopting ACORN's Ethical Lettings Charter as the standard for housing across the city. What will it mean for people who have already lost their homes?
Photo: Dean Ayotte
At last week's Big Housing Conversation event, mayor Marvin Rees and his housing boss Paul Smith dusted off a long-awaited announcement. Bristol council is adopting community activist group ACORN's Ethical Lettings Charter (ELC) as its rented housing standard for the city – a move that was rubber-stamped at Wednesday's full council meeting.
It's great news, and an affirmation of the work ACORN has been doing to promote renters' rights. The charter is voluntary within the everyday private rental market, so will act as a seal of quality rather than a hurdle landlords and letting agents must jump over. Hopefully, it will become widely adopted enough that it becomes a benchmark of what's acceptable.
But Smith also says ELC standards will be introduced to the terms by which landlords contract with the council to provide emergency accommodation. This, he claimed during the Big Housing Conversation, will mean organisations housing Bristol's ever-growing numbers of homeless households will have to be genuinely ethical in their behaviour rather than simply posturing in that direction.
Walking the walk
Regular Cable readers will have noticed plenty of space on the site devoted to this subject, in relation to allegations against Bristol's main local emergency accommodation provider Connolly & Callaghan (C&C), which sparked an inquiry by Smith.
To recap, C&C, which also owns Hamilton House on Stokes Croft*, bought a block of flats in Knowle West earlier this year, with the apparently noble intention of delivering more homeless accommodation. Unfortunately, many of the flats were tenanted when it got the keys to the building at Carpenters Place.
Worse, for an organisation supposedly helping Bristol's housing crisis, C&C served notices asking those tenants to leave so other people with no homes could move in. Many of the latter group will have landed in their predicament because of similar 'no-fault' evictions by other landlords.
Other C&C tenants and several housing professionals have also criticised the firm's record of keeping its flats, each of which cost the council several hundred pounds a week in rent, safe and in good order.
C&C insists such criticisms are wide of the mark, and that no one from Carpenters Place ended up homeless.
Demonstrations and deadlock
Since the Cable reported on these issues in the spring, C&C and ACORN have been in dispute over its alleged conduct. There have been demonstrations outside Hamilton House, but so far no meeting has taken place between the two sides – and rather than giving a blow-by-blow account of the stalemate, we asked both to give us their perspectives.
Click on the images below to read statements from each organisation:

What happens next is uncertain. C&C has said it's happy to sign ACORN's charter, but as things stand the ELC draws heavily on standards around deposits, tenancy lengths, inventories and so on, which are very useful to most private tenants; less so for people in temporary accommodation. While sections relating to repairs, maintenance and safety are more transferable, the charter may benefit from tweaks to address concerns around things like privacy and unexpected short-notice moves between flats, which some homeless households have raised.
Smith is well aware of the latter issue. It's the council, not C&C, which authorises such moves so as to squeeze the maximum number of homeless households into an inadequate number of properties. "I've had the issue raised by both Shelter and ACORN," he tells the Cable. "We want to minimise it but I can't say it won't happen – we haven't got to grips with the homeless situation, and it's getting worse not better."
There's also the question of how landlords already contracted by the council, of which C&C isn't the only one, can be retrospectively made to sign up to a new set of conditions – and how these will be policed by a council workforce set to shrink drastically under recently announced cuts. We've asked Bristol council for clarity and will update this article as and when we get a response.
The limits of ethics
Two things are clear though. First, it almost goes without saying that the sooner these issues are ironed out the better. Bristol is hardly the only city where landlords have been accused of making a fast buck via homelessness, but it faces one of the country's worst housing squeezes and there's an opportunity here to make some people's situations slightly less grim.
No amount of ethical practice is going to alleviate that squeeze though. As the Local Government Association pointed out this week, measures to improve homeless people's lot need to be partnered by an increased supply of homes.
Locally Rees and Smith have talked big about novel approaches such as temporary pop-up housing; this week also saw the first small signals that the 'new' Tory government may be retreating from its obsession with homeownership as a cure-all.
As Smith admits, even the former will take time. But ultimately more affordable homes are the only means by which Bristol can hope to wean itself off dependence on profit-making firms – an ethical grey area in itself – to house the city's homeless people.
*Full disclosure: the writer of this piece has rented space in Hamilton House for several years