A troubled generation? Discussing youth mental health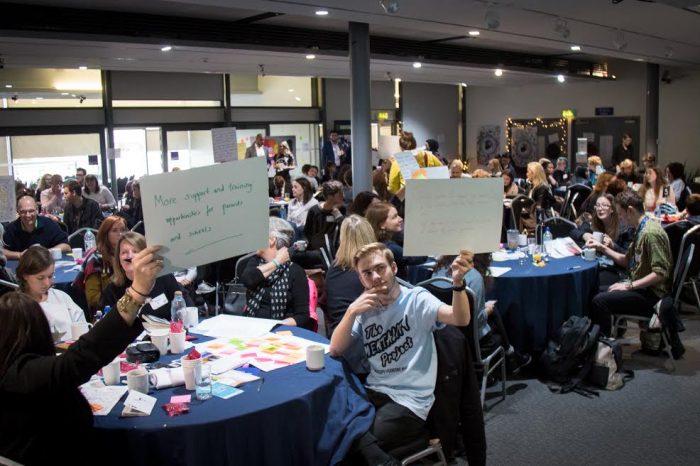 "I walked into the conference with the cynical belief that the mental health crisis of my generation was inevitable but came away with a clear sense of direction."
Photos: Jon Aitken
Mental health is the crisis of my generation. Between the 1980s and the 2000s, the number of young people aged 15-16 with depression nearly doubled. Today, 1 in 10 children have a diagnosable mental illness and almost a quarter of a million young people are receiving specialist health care for mental distress.
These numbers don't shock me. In fact, they seem like an underestimation of the problem we face. As a sixth form student in Bristol, hearing my friends confess to panic attacks, depression and suicidal thoughts is an almost routine part of my life.
But on World Mental Health Day, I found reason for hope. On a frosty October morning, nearly 200 campaigners, medics, service providers, politicians and young people descended on @Bristol to talk about what needs to change. The conference was the climax of Freedom of Mind Festival, a campaign for public engagement with mental health issues, and was organised in collaboration with Off The Record (OTR), a provider of free and confidential support for Bristol's young people.
The conference split off into a range of workshops addressing the way we talk about mental health. For example the Mentality Project, a group of young volunteers working with OTR, led a discussion about how we use the language surrounding mental health.
It was refreshing to see children and adolescents flatly reject the idea of silencing anyone who misused terms like 'OCD' or 'bipolar'. Instead they talked about engaging constructively with people to build a positive dialogue around mental health and avoid trivialising mental illnesses, remarking that 'If people knew what OCD really meant, they wouldn't use it to describe a tidy bedroom.'
"As someone who has sat through endless PSHE lessons, I was frankly appalled by how much crucial information I'd never been told."
I was also surprised by a workshop on the role of GPs in helping young people with mental health issues. As someone who has sat through endless PSHE lessons, I was frankly appalled by how much crucial information I'd never been told.
Dr Dominique Thompson, director of Students Health Services at the University of Bristol, clearly explained the process for dealing with mental illnesses in the NHS, the benefits of medication in certain cases, the most important steps for protecting your mental health (maximum sleep and minimal alcohol) and where to easily find information about looking after yourself (such as the ESC Student Health app).
Another girl in the audience, no older than 14, chimed with my thoughts when she confessed, 'I thought your GP was only for your physical health, not your mental health as well.' The workshop exposed an educational vacuum around mental health which urgently needs to be fixed.
The kind of education we need about mental health isn't only about being fed information, but being provoked to develop our own ideas. The Freedom of Mind Festival has been a celebration of the power of art and culture to engage people with a social issue, using events including a night of local music, a comedy evening, a film screening and a political debate to stimulate thought and discussion.
60% of young people with problems such as anxiety and depression don't receive treatment. But rather than looking for someone to blame for this tragedy, the conference was aimed at 'How can we change this?'
Over the course of the afternoon, one solution emerged as particularly important – involving young people with the decisions made on our behalf. Mental Health campaigner Amy Frounks talked about how she has been able to make a real difference through her involvement with the Children and Adolescent Mental Health Services (CAMHS) Participation programme and the NHS Youth Forum.
Meanwhile Rebecca Cross, the NHS decision maker on commissioning children's health services in Bristol, highlighted the value of a consultation in 2015 which involved almost 300 young people and returned essential information about how CAMHS needed to improve.
The mayor of Bristol, Marvin Rees, stated: 'There should not be a single policy in the city that gets passed without you getting your fingerprints on it. What I would like to see is mental health policy reaching into everything – social care, housing, transport policy.'
I walked into the conference with the cynical belief that the mental health crisis of my generation was inevitable but came away with a clear sense of direction. We need to construct a new public dialogue, breaking silence and stigma to value mental wellbeing in the same way we value our physical wellbeing. We need to learn from medical professionals and make sure every child gets basic mental health education. We need to break down barriers between service users and providers to make sure that treatment is accessible and effective.
However, there's still one thing missing. With only 60% of young people referred to CAMHS receiving treatment after months on waiting lists and only 11% of the NHS budget allocated to mental health, it's obvious that our mental health services are undervalued and under-resourced. We desperately need investment in frontline services to follow on from political rhetoric. Perhaps our best weapon against mental illness is, in fact, our vote.