"Justifiable" discrimination: 500% fee increase for asylum appeals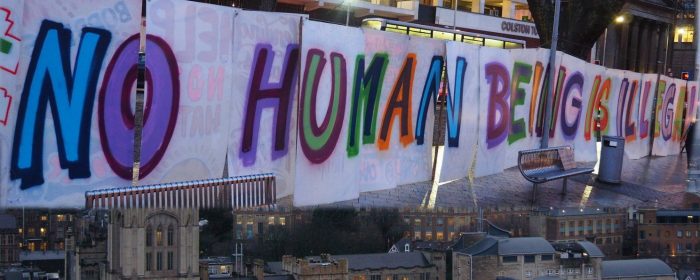 "A Dafuri man claiming asylum has been trying for two years to bring his wife here. If he can't afford to even go to court and appeal the Home Office refusal, he will never be able to reunite with her."
– Mark Shepherd, Legal Aid lawyer with Bristol's Migrant Legal project.
Bristol lawyers and charities say the government is shutting asylum seekers and migrants out of justice, after raising appeal fees by more than 500%.
The increase, which started last week, means that asylum seekers and immigrants appealing Home Office decisions about their right to remain and family reunions through the Asylum and Immigration Tribunal court now have to pay five times more to cover the cost of the hearings.
This all started in April with a six-week consultation – in which just 5 out of 147 respondents, including law firms, charities and unions, supported the government's plans.
Nonetheless, the Ministry of Justice has pressed ahead, citing the need for court costs to be fully recovered to ensure a sustainable future for justice.
"The Government does not believe that it is reasonable to expect the taxpayer to subsidise access to this tribunal. It is right, as a matter of principle, that those who use the immigration tribunals and are subject to a fee should pay the cost of the service they receive."
The repeated claim that the higher fees are essential to protect British justice is challenged by lawyer Mark Shepherd, who believes it will have the opposite effect.
"It's just going to further restrict access to justice. It's going to make it harder for people, who've got a legitimate case, to get justice."
Previously, an application for a first-tier tribunal hearing (the first stage of appeals after a refusal by the Home Office), cost £80, now it will cost £490. Applying for an oral hearing would have cost £140; this has risen to £800.
If your initial appeal is refused, you can move to the latter stages of the appeals process, the upper tribunal. Asking for permission to do this has not cost anything up until now. Now the government is looking to charge £455 just for this permission. The application itself would cost £350, with a £510 fee for the actual hearing.
These fee hikes follow years of cuts to Legal Aid, with a particularly sharp round starting in 2013 sparking protests by lawyers in Bristol and around the country.
Very few people can avoid paying these fees; it is mainly those who qualify for Legal Aid, and those who can prove that they're destitute.
"About 150 asylum seekers in Bristol have become destitute. This number is now certain to increase."
Basic asylum claims are covered by Legal Aid, but there is much more that asylum seekers need that isn't covered. Everyone has a right to family life under the Refugee Convention – but reunion appeals, to allow your family to join you here once you're granted asylum, do not receive Legal Aid. If you're refused asylum and want to appeal, you only get Legal Aid if lawyers decide you have at least a 50% chance of winning. If it's calculated that you don't, you're on your own, and have to pay the high fees.
As for destitution, lawyers say it is increasingly difficult to prove as you move through the appeals system. People often become destitute once their asylum claim has been refused, with welfare support withdrawn while they struggle to make a fresh claim in a court that is now even more expensive.
Caroline Beatty of Bristol City of Sanctuary, which supports destitute asylum seekers in Bristol, says these new fee hikes will have "devastating" consequences:
"Almost half of all applicants are refused asylum, and then lose all support and accommodation. About 150 asylum seekers in Bristol have thus become destitute. This number is now certain to increase, as it becomes harder for sanctuary seekers to live in dignity and security while trying to access justice."
Iranian refugee Davoud was unable to get support after his first asylum claim was refused: "I became homeless … moving 30-40 times between friends, sleeping in a park. That was a very difficult, very terrible time."
He says his life was saved by Bristol Hospitality Network, and Bristol Refugee Rights, who help asylum seekers and refugees find practical, emotional and legal support. BRR's Tom Daly says the fee hikes put further roadblocks in the path of people seeking help.
"People will no longer be able to challenge wrong decisions made by UK Visas and Immigration. We know that many wrong decisions are made because at the moment lots of appeals are won.

"The likely outcome will be many miscarriages of justice. We are talking about people trying to reunite their families, scattered by war and persecution."
Who is most at risk?
The government says it must protect long-term "access to justice" by making savings. Its own Impact Assessment suggests that in reality poorer people and minorities will be the ones to pay for that.
The assessment explicitly states the hope that the higher fees will discourage those who can't pay from making appeals – described as a "key benefit" of the policy. The Ministry of Justice estimates a 20% drop in appeals:
"Other key non-monetised benefits by 'main affected groups': HMCTS may experience lower running costs if a lower volumes of cases go to the tribunal."
The government has also chosen to ignore concerns about discrimination. Its Equalities Statement acknowledges the policy could indirectly discriminate against BME people, who are more likely to be in the appeal courts and to be at a financial disadvantage.
It then goes on to say,"To the extent that increased fee levels would put individuals sharing a protected characteristic at a particular disadvantage, the Government believes this is justifiable."
Some of those consulted also said the policy would disproportionately impact women, children and LGBT people. The government disagrees that this would be the case.
Local groups like Bristol Refugee Rights, City of Sanctuary, Migrant Legal, Bristol Hospitality Network and Avon & Bristol Law Centre play a vital role in supporting vulnerable people fleeing persecution. They say the government has just made it harder, but no-one is giving up.