Reimagining Cathy: "Lots of people are struggling to pay the rent"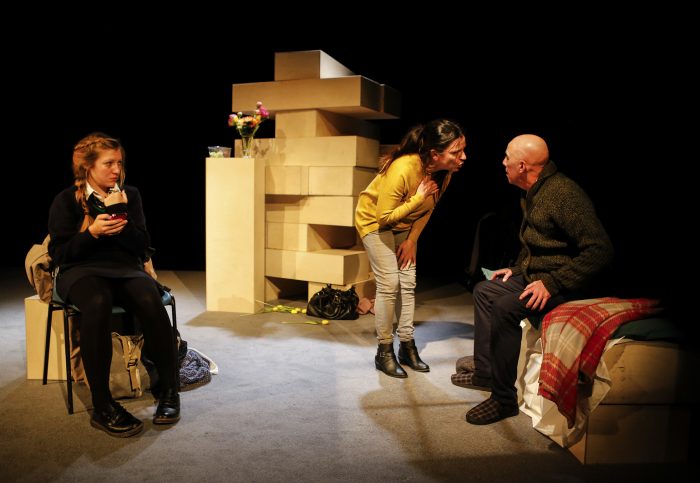 A new play responding to Ken Loach's classic Cathy Come Home is coming to the Trinity Centre. We caught up with writer Ali Taylor to discuss displacement, hidden homelessness and inviting audiences to challenge the system.
Ken Loach's revered drama Cathy Come Home, first broadcast 50 years ago next month, famously rammed the issue of homelessness into an unsuspecting public's consciousness. Questions were asked in Parliament and the national charity Crisis was set up in its wake.
Writer Ali Taylor makes no boasts that his new production Cathy, showing at Trinity this weekend, will have the same seismic effect. But he hopes the play, which responds to Loach's film and updates its themes to reflect the housing crisis (or rather crises) engulfing much of the UK, will spark plenty of debate among audiences.
"[Housing pressures] are just an issue so many people face – lots of us are in low-paid jobs and struggling to pay the bills, the rent or the mortgage," he tells the Cable.
Forced out
The original Cathy Come Home traces the story of a young couple coming to the big city and falling victim to a chain of events that ends in destitution. Taylor reverses that script, following a middle-aged woman and her daughter as they are squeezed out of a settled existence as London renters and into the hands of an overloaded and unhelpful system.
With more than 300 Bristol households being found statutorily homeless over the past year because of the termination of a private tenancy, it's a tale that's becoming horribly resonant here too.
"I went to meet women who'd been evicted from accommodation in London and 'resettled' in places like Luton, Welwyn Garden City and Basildon," says Taylor. He researched the new Cathy with the help of charity Shelter. Its main narrative, based on one interviewee's story, is interspersed with real-life testimonies of other people displaced from their homes.
"We saw the places they were now living in, their issues with mould and cramped conditions," he goes on. "Often people were receiving benefits but also working – their wages were not enough to keep track of rents going up, up, up, and they ended up evicted."
"Anyone who has experienced a rogue landlord or revenge eviction will have entry point; anyone who has had to deal with the labyrinthine benefits system – but fundamentally it's about a mother's relationship with her daughter"
Taylor says he was shocked to discover the degree to which homelessness now cuts a swathe across people from many different backgrounds. In Bristol, as elsewhere, growing numbers of rough sleepers have become its most visible faces in recent years. "But homelessness encompasses such a wide range of circumstances – sofa surfing, temporary accommodation units around the country, people stuck on waiting lists – we came across heartbreaking stories," Taylor says.
Drawing on experience
Some of the people bringing Cathy to the stage will be familiar with such situations. The play is presented by the 25-year-old Cardboard Citizens theatre company, which has drawn much of its membership from people with experience of homelessness.
But Cathy's audiences are also being encouraged to chip in. As a piece of 'forum theatre', the production invites input and opinions from the people watching it, as to how its arc might develop differently. Should that landlord have been allowed in to serve an eviction notice? Ought this housing worker's offer of a temporary home in a strange town to be accepted, or declined?
"We've had an amazing reaction so far – there was an initial expectation of British reserve, but once issues begin to be debated, people are very keen to come on stage and offer solutions," says Taylor. "It's dynamite to watch and quite novel for a lot of people."
Different crowds are likely to contribute different perspectives. Cathy is travelling not only to places where rising rents are forcing people out, but to some of the towns they are likely to end up in. As well as theatres, it is showing in hostels and prisons. But Taylor says he hopes it can connect in a variety of ways.
"Anyone who has experienced a rogue landlord or revenge eviction will have entry point; anyone who has had to deal with the labyrinthine benefits system," he says. "But fundamentally it's about a mother's relationship with her daughter; doing everything she can to keep her stable and safe. Lots of people can respond on an emotional level to those pressures."
Cathy is at Trinity on Friday 21 & Saturday 22 October