The politics of mental health in Bristol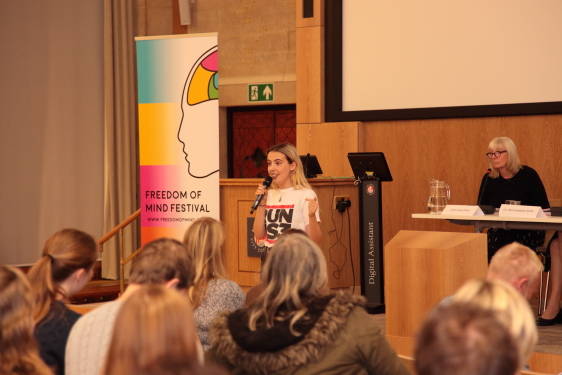 On Monday, the Freedom of Mind festival kicked off with a panel discussion on Bristol's mental health services – and what we can do to make it better.
Photos: Dean Ayotte
Teaming up with Festival of Ideas, the event in City Hall brought together a panel of politicians, councillors and advocates to tackle questions from youth mental health, to investment and cuts in services to the role of stigma in addressing mental health issues.
I sat among an almost-full house of listeners, 90% of whom were under 30. It was inspiring and comforting to be amongst such a high number of people my age, all there with the same interest and intention. It was also great to see such a higher number of men at the event.
Here are some of the highlights of the discussion…
Young People
Young people were discussed first, with Thangham Debbonaire MP explaining how the PSHE (Personal, Social, Health and Economic Education) on offer in schools is not adequate enough, and needs to be more student-led.
The rest of the panel echoed the need for this to be improved, and spoke of the need to keep mental health awareness and provision relevant to the challenges young people face today.
Councillors Fi Hance and Clare Campion-Smith both agreed that being a young person in today's society holds more opportunities for intense emotional challenges than their generation experienced pointing, for example, to pressures from social media and the impact that can have on a person's emotional wellbeing.
Early-intervention
Every panelist agreed that early intervention in mental health is what matters, and where current mental health services need to be more focused.
"The sooner you intervene, the better the outcome", says Dr Dominique Thompson, director of Students' Health Services at the University of Bristol. "Otherwise you are trying to come back from a more difficult foundation than if you'd have gotten involved earlier."
Dr Dominique Thompson
Early-stage intervention saves money and pressure on resources further down the line, however, the money saved doesn't necessarily go back to the people who spent out the money in the first place.
"For example, for every pound spent on alcohol treatment of somebody you get something like £578 back within 5 years, but that money isn't going back into the council budget, it's going into the pocket of the NHS, so we need to find some way of the council and the NHS working together", explains Hance.
Hance also spoke of the need to address waiting lists, where people can be stuck for months after they have taken the courage to reach out and ask for support. Dr Thompson also described how thousands of people "fall through the gaps", because they are considered "complex" and the NHS' limited model of 12 sessions of CBT/counselling can do more harm than good – an issue I've previously written about in the Cable.
There's also the issue of continuity for those transitioning from child to adult services: "You fall off a cliff from child services into the adult mental health system", explains Dr Thompson, who spends 90% of her time as Director of Students Health Services at the University of Bristol, dealing with mental health issues.
"Money saved [on early intervention] doesn't necessarily go back to the people who spent out the money in the first place."
Each panel member encouraged people to vote when the time comes. Government reports, full of promises and commitments to change, are written – but nobody makes sure the government delivers what they promised. If the government was held accountable, argued Dr Thompson, there could be fundamental change within the mental health system.
Chatting to Dr Thompson after the panel discussion, she explained that we need to elect a government that cares about peoples well being. "There are too many people in the current government who don't", she said.
Trans health
Cheryl Morgan, presenter on Ujima Radio and trans awareness trainer, was an inspiring speaker, describing her own personal experience, and that of people she has worked with during her time working within trans health. There are shockingly high statistics of self-harm and suicidality amongst the Trans community, yet "there are no gender services for people in Bristol – people have to go elsewhere".
She shared her frustration about the NHS saying gender services are "too expensive", despite the fact that (unlike other mental health services that are unavailable from the NHS in Bristol due to the services needing to be open-ended/long term, for example) gender services support someone over a set period of time, with 90% of Trans people reporting to feel better after that period of support.
Stigma and Mental Health
Stigma was also an important part of the evening's discussion. The panel was in agreement that although there is not as much stigma as there used to be, with the younger generations having greater understanding of mental health difficulties and increased emotional literacy, stigma does still exist on a large scale.
Stigma can impact individuals in many different ways, from feeling and becoming isolated to self-harm and feeling suicidal. Another way it can impact someone is through their experience of trying to access support services in Bristol. "Someone might be 'being the difficult person'", Debbonaire described, "but we need to help them anyway."
Another point raised was the ways that someone's living situation can have a huge effect on someone's mental health, for example the impact of homelessness or the strain caused by the housing crisis and unstable home environments.
"We need better communication between service providers – we need to tease out when housing providers need help from NHS professionals, for example," explains Debbonaire. "Sadly, during this time of austerity, professionals often end up triaging – it becomes a case of, 'who can I most help today', instead of 'who most needs my help today?'"
What can I do?
"If the government was held accountable there could be fundamental change within the mental health system."
The evening ended with an excellent motivational speech from Ella Marshall, one of the co-founders of Freedom of Mind, in which she told us to "have conversations": talk about your emotional wellbeing and share any challenges you are experiencing.
"We need to create a social change because it isn't coming from the government", explains Marshall. 'Conversation, education, change', is the phrase of the festival.
Better communication between government and local councils, and between service providers, was something that seemed to come up over and over again during the discussions. Debbonaire encouraged everyone, and young people especially, to write to your local politician/councillor about your experiences of the current mental health system.
On a wider scale, Dr Thompson talked about Sustainability and Transformation Plans. "Look them up, read about them, ask what's happening with them, push back", she said. "It's all happening in secret and it's not right."
The political climate has a direct impact on our emotional well being. During this time of austerity it feels even more important to have sufficient mental health support within the city. Sadly, there is still a major lack of support available, but there is not a lack of people – because we have each other, we can support each other.
Check out the Freedom of Mind website for the events coming up over the next few days.