Bristol Uni: Don't waste opportunity to divest from climate change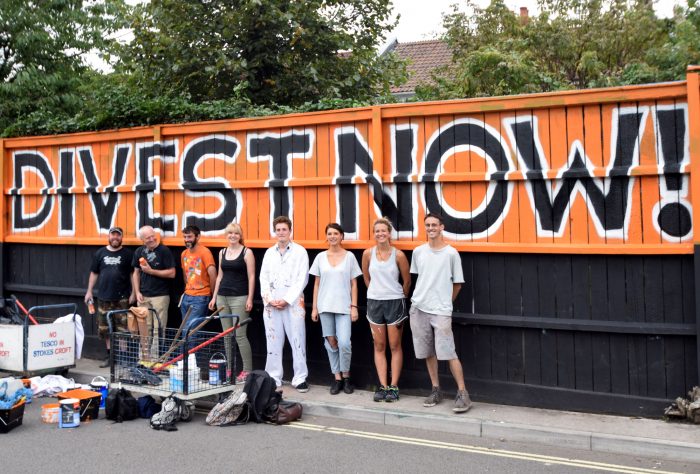 Public institutions must live up to social responsibilities.
Photo: Fossil Free Bristol University
This September, I was looking forward to starting a new life studying at Bristol Uni, the European Green Capital partner and champion of sustainability. But on the M32 into the city, the first feet of clay appeared.
The University of Bristol, despite the gloss and the awards, maintains a significant financial interest in the biggest threat the world has ever known: Human made climate change. In the coming weeks, though, there is an opportunity to set this right. A new, bolder University finance director seems to be listening, and a range of local graduates, councillors and other luminaries will be asked to vote on a motion to divest from fossil fuels at a meeting of the University's advisory "Court" on the 2nd of December.
These developments are the recent culmination of a campaign that began with students confirming the University maintained investments in oil, coal and gas. This was was followed up by a thorough investigation by the Bristol Cable, discovering that nearly 6%, or £3 million of a £56 million investment portfolio was invested directly in fossil fuel companies.
Armed with this new information, the Fossil Free Bristol campaign was born, organising and making headlines in September by painting the M32 banner (pictured). The Bristol campaign are not alone: groups locally, nationally and internationally are building pressure to divest. Pension funds, dozens of universities and charitable foundations, among others, are being forced to confront and turn away from the short term thinking that plagues such institutions.
Yet, even beside the huge moral and environmental case, there are also financial reasons to divest.
Alongside oil market volatility (which has seen oil prices plummet in the past year), there is also the issue of "stranded assets"; where fossil fuels will become unprofitable, due to competition from green-tech, pressure from environmental regulations and the increasingly risky and difficult exploitation of remaining resources. In this scenario, the University's investments will be dramatically reduced in value, leaving us all worse off.
Despite being armed with these arguments and a 2,200 petition, the campaign at Bristol has faced stiff opposition. Indeed, although the University is bound to not invest in arms and tobacco, the protection of the environment has not registered as yet. The former financial director was unwilling to listen, lacklustre comments were made, and the issues glossed over.
The first sign of change was at the 2015 meeting of the University Court. A motion was proposed to divest. The motion fell by 71 to 65 votes. In two weeks, the campaign meets with the new director of finance, who has been receptive to our concerns. And on December 2nd the Court meets again. It's more than time for the University to live up to it's public responsibilities and divest from a failing future.
Joseph Groves is member of Fossil Free Bristol University