Opinions: If it ain't broke don't demolish it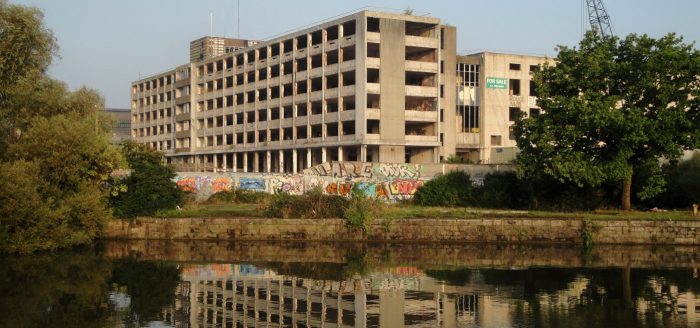 Members of the newly formed Sorting Office Revisioning Team group (SORT) argue that the development of the Temple Meads site should truly reflect the needs of Bristol residents and the environment
Words & photos: SORT
The wasting edifices of the old sorting office behind Temple Meads station stir a sentiment in all who pass. Eyesore/icon, abandoned to dereliction for 18 years, planned for, speculated on…
There has been much enthusiasm about transforming the key five-acre site since the Temple Quarter Enterprise Zone (TQEZ) was launched in 2011. Last year Bristol council acquired it for an estimated £5.4m: a huge opportunity for a development worthy of Bristol's progressive spirit – but will it happen?
Hold the wrecking ball
The TQEZ's Spatial Framework requires it to "showcase adaptive reuse which minimises energy requirements". Yet the council has budgeted £2m for the building's demolition, according to cabinet meeting minutes from March. In response to an FOI request about the rationale for demolition, the council described its vision of "high quality, commercially led, high density mixed use development" for the levelled ground.
An economic model predicated on replacing old buildings with new ones mirrors the thinking that has led us to potential ecological catastrophe. "A clear opportunity will be missed if the sorting office is not developed in line with a view of a sustainable economy," says Dr Yannis Dafermos, economics lecturer at the University of the West of England and research associate at the New Economics Foundation. Resource efficiency, reusing materials and re-visioning buildings are key parts of this economy. 'Knocking down the sorting office is a lazy and wasteful option – the council are not thinking creatively or sustainably," adds Lucy Pedler, director of The Green Register, a not-for-profit sustainable construction training organisation.
Refurbishing is possible: the previous owners had planning permission for refurbishment until 2015. This and the EZ's commitment to adaptive reuse suggest the council's rationale for demolition is based on damning structural surveys. But it has never referred to any such survey; instead it cites market demand, cost efficiency and the opaque "maximisation of economic benefits".
Money isn't everything
Which economic benefits? For whom? Making money on the site is allegedly key to funding Bristol's Arena Island – the council hopes to raise more than £15m from it. Yet vacant sites abound in the TQEZ, such as Glassfields and Bristol Assembly. The Arena will bring "millions in additional spend to the region" via major musical and sporting events. It's vital to the overall TQEZ development, but as it was planned before the sorting office acquisition, other funding must be available without selling off assets of enormous potential to the community.
The council faces the ubiquitous public sector conundrum: how to balance financial considerations with community needs. The pursuit of economic growth informs its decisions – but what of localism? Suppose it invited a range of community stakeholders, progressive thinkers and academics to share their visions for the site. What might we hear?
For one thing, Bristol has a housing crisis. Private rents leapt 18% between 2014 and 2015. Over 8,000 people are waiting for council houses while just four have been built in five years. Mayor Marvin Rees has committed to building 2,800 affordable homes during his tenure; some of these must surely feature in plans for this area.
There's also the problem that alternative economies are stifled: "'Makerspaces' are a growing industry, yet we have to turn people away," says Pete Fry of community interest company Old Market Manor, a creative centre for hot-desking freelancers.
New economic frameworks
Reframing the parameters by which we measure any redevelopment's success, from a profit-and-loss model to one reflecting broader community, social and environmental values, could help to shape a new vision for this site. Housing, work and creative spaces, community and learning areas, food production, transport, and more could all combine to showcase Bristol as an innovative, radical, creative powerhouse. Our community has a wealth of expertise that could richly enhance this vision. Certainly there are better ways of spending £2 million than just knocking this building down.
The sorting office affords the city an opportunity to transform a building from an eyesore into something genuinely iconic, addressing economic needs both globally and locally. We ask the Council to consider its position on the building wisely, and we ask readers to sign the petition at www.thesortingoffice.org.uk for an open consultation.