Elderly and disabled people's bus access under threat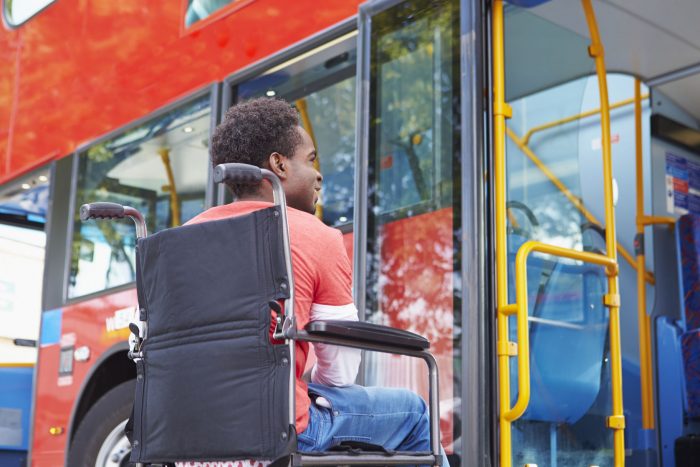 'Keep Bristol Moving' is a key aim of the Mayor, but low income disabled and elderly people could be left without the means to travel under cuts proposals.
Photo Credit: Cathy Yeulet
On a weekday morning when she volunteers, Judith Brown usually gets on the 512 bus from Windmill Hill to the city centre to make it in for a 9.30am start. If she misses it, the next service is an hour later. As a 77-year-old bus user and chair of the Bristol Older People's Forum (BOPF), Judith knows just how much concessionary bus pass holders value public transport. Among her peers, taking the next bus could mean not making a hospital, dentist, or GP appointment. An early morning bus service is crucial says Judith, as "many older people, like me, are up early and at their best in the morning."
Yet catching an early bus may no longer be possible for disabled and elderly people who benefit from concessionary travel allowing them to travel for free. In the wake of funding cuts from the Department for Transport, the council's new transport business plan suggests following government guidelines to allow concessionary travel only from 9.30am onwards.  Revising the operating times of this scheme could save council £70,000 a year but will seriously impact the lives of many Bristolians, says Judith.
"They cannot set budgets that disproportionately disadvantage those most reliant on their services."
But proposed cuts to the transport services don't stop there.  On top of reducing operating times for the concessionary bus passes, companion carers' bus passes and reimbursements for the use of Community Transport may be cut altogether.
Laura Welti, manager of Bristol Disability Equality Forum (BDEF), says, "Given that those facing greatest inequality are those in need of most of the services a council provides, they cannot set budgets that disproportionately disadvantage those most reliant on their services."
Concessionary bus passes provide free travel for carers who assist elderly or disabled people who are unable to travel on public transport for the whole journey without help, or are unable to walk to a bus stop and get on/off a bus without help. The council has outlined its intention to "stop delivering (…) or reduce significantly" the concessionary bus passes for companion carers, which amounts to cuts worth £400,000.
In response to the proposed cuts, Paula O'Rourke, Green councillor for Clifton, said: "What sort of society do we want to live in? One in which people who volunteer to care for others are told that what they offer is of so little value that they are not entitled to a free bus ride?"
"6.8million people provide unpaid care for a disabled, seriously-ill or older loved one in the UK save the state £132 billion a year" according to research by Carers UK.  And "3 in 4 working age carers (74%) did not feel that the support needed to juggle care with work was sufficiently considered."
In 2015, the Care Act legislation was passed to better provide for the needs of carers, with varying degrees of success. Demand for support has rocketed in recent years. Mike Hennessy, the council's service director for adult care and support, said there was a "23% percent increase in carers asking for an assessment" to be recognised as in need of support.
A solution for public finances?
This past October, a celebration for the 10 years existence of the bus pass was held. Elderly people came from across the city to  demonstrate their appreciation and need for concessionary passes. "I would not be able to get around in my wheelchair very often as the fares are very high," said service user Bridie. Already affected with financial complication due to welfare reforms, disabled and elderly people are also faced with rising costs of having personal assistants.
Beyond the added costs for individuals, cuts to transport provision have further damaging consequences says Judith Brown who is part of a local walking group.  "The effect (bus passes) have is to increase health by saving money to the NHS and council, ward off loneliness and isolation." Brown says this  "decreases depression in older people – saving GP visits and social care needs – and getting people out of the house, increasing mental stimulation, which helps to ward off dementia."
Laura Welti echoed this: "Carers already save the city a fortune in providing disabled people with support so (the council's) response is especially ungrateful. To withdraw carer bus passes is to condemn some people to live in isolation, thereby undermining their well being and increasing the costs of their dependence on other health and social care budgets."
"We are under no illusions about the reality of some of these proposals."
Figures provided to the Cable via a Freedom of Information request show that between 2011-16, 5267 people had successfully applied for a concessionary bus pass. Of these, 65.5% were disabled, 29% were elderly, and 12% were fully blind or partially blind.
A spokesperson for the council asserted that the proposals had been through an equalities screening process, which looks at the impact on local people against the public sector's duty to equality of services. However, the proposal may need to go through a full impact assessment before they can be approved. The spokesperson added, "We are under no illusions about the reality of some of these proposals and realise that they will not be welcomed by everyone in the city."
Council reimbursement of travel fares to the Community Transport also enables free travel to concessionary bus pass holders. That service too is down for the axe to save £195,000. Community Transport will have to decide whether to continue offering free travel. It remains unclear whether the council has received any feedback from the company. The Cable has received no comment from them.
The council are aware of the difficult decisions ahead. "All the options that we have put forward in our draft Corporate Strategy are simply proposals at this stage for how we think we could overcome our financial challenge" a council spokesperson said, adding "we need to be open to the possibility of doing things differently in the future which is what this consultation process is exploring." Public participation is open until January 2017 with a final Full Council decision due in February.